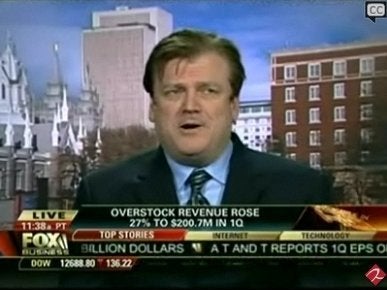 Talky Overstock.com (OSTK) CEO Patrick Byrne is still blaming short sellers for his company's woes. The new twist: He's now lashing out at CNBC journalists -- while appearing on their rival Fox Business Network.
Said Byrne: "I happen to know for a fact there is a fax machine in the CNBC offices where every morning hedge funds send in the instructions. The journalists sit around and take their instructions."

Fox anchor Liz Claman, a former CNBC employee, responded: "I used to work at CNBC and I never saw the fax machine."

Byrne: "I have a good source on that."
Related
Popular in the Community