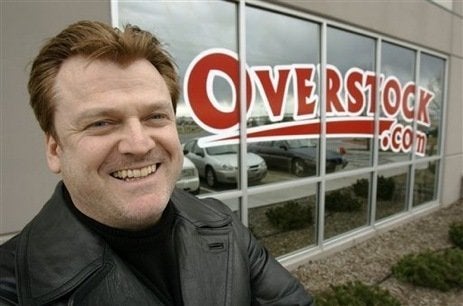 For those of you who aren't aware that there is this thing called a "Fox Business Channel" which tens of Americans watch everyday, most believing that they are tuning into FearNet, well... there's a Fox Business Channel. And if you were lucky enough to be, say, trapped under a heavy piece of furniture in your own home, and unable to reach the remote to change the channel, you might have seen a segment on SEC regulations, featuring Patrick Byrne of Overstock.com. Byrne was touted as an expert on the matter, as well he should be, considering the fact that he and his company are in the middle of an SEC investigation. Not that this was disclosed!
Byrne was his typical, charming self. He invented a story about an anonymous "friend's" dealings with the SEC. He managed to mention Overstock.com's official media arm "DeepCapture." He again claimed SEC officials are, or were, on the take.

What Byrne - and the Fox Business anchors - didn't mention in this probing interview about the SEC? That Byrne's company, Overstock.com, has been subpoena'd by the SEC and is being investigated on Overstock's previously-announced restatements of its financial statements in 2006 and 2008 and other matters. It is the second time in three years Byrne and Overstock have been investigated by the SEC.
Quoth Joe Weisenthal: "For all CNBC's problems, this is the kind of bush-league move it would never pull."
Popular in the Community