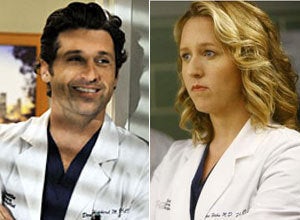 Today "Grey's Anatomy" star Patrick Dempsey goes on Ellen and talks about the surprise firing of Brooke Smith, one half of the show's new lesbian relationship:
"ABC actually sends me over what I should [say] ...," he tells Ellen DeGeneres on her talk show Wednesday.

So what's the official spin?

"ABC's response ... is that [I] should say: 'We've had a great time working with her and that the conclusion of her [character] has been orgasmic' -- I'm sorry, I'm dyslexic! -- 'organic' ending to the story line.' "

Some have argued that Smith was axed because of her character's developing relationship with Dr. Callie Torres (Sara Ramirez).

Grey's Anatomy's creator, Shonda Rhimes, previously released a statement insisting that "Brooke Smith was obviously not fired for playing a lesbian."

"Thursday night is her last show, which is too bad she has been great character," McDreamy continues. "I don't know what happened with that story line. They decided not to continue it for some reason."
WATCH DEMPSEY:
Popular in the Community