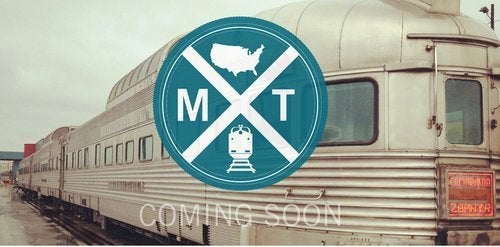 The Jagriti Yatra (Hindi for "journey of awakening") is a 15-day tour of India by train that hosts 450 young Indians concerned with improving the state of their country through enterprise. The train stops at 12 locations along the way and allows the "Yatri" to see and experience diverse solutions to India's challenges. It was while on board the Jagriti Yatra that Patrick Dowd had a realization: This idea could seriously improve the jobs crisis and spur innovation in the U.S. The Millennial Trains Project, started by Dowd eight months ago, is the result of that realization.
Dowd, 25, of Washington, D.C., was in India on a Fulbright scholarship producing a documentary on e-waste recycling when he joined the Jagriti Yatra as "a sort of camp counselor." His experience on the train had a profound effect on him. "What struck me was the enthusiasm that you saw among young people about India and where they want the country to go," Dowd says. "India remains a poor country, so it surprised me to see such enthusiasm and positivity. I thought it could be used in America to great effect."
What he saw on the Jagriti Yatra resonates with the American entrepreneurial spirit: young people doing daring and experimental things. Dowd believes that today's "millennial" generation needs to use that pioneering spirit to combat the growing feeling among today's Americans that the next generation will be worse off than their own. "Our grandparents' generation often said that they were the greatest generation," Dowd says. "I think the point is not to compare ourselves with them but to stand on their shoulders and say, 'This is our time to build on their accomplishments.'"
Dowd started the MTP after leaving his job at JPMorgan as an investment banking analyst, and since then the project has experienced nothing but success. "Within two weeks of leaving my job, I was sitting in an office with the secretary of the Smithsonian and the secretary of the U.S. Patent Office," Dowd recalls. "They said, 'This is an extraordinary idea and we want to help you however we can.' I thought, 'Wow, we need to build this now.'" The biggest challenge quickly became matching the overwhelming interest with concrete results.
Eight months later the MTP has raised seed money from private donors, started soliciting sponsorships and obtained backing from industry-leading companies that provide free services to Dowd and his team. The MTP has received pro bono services from McKinsey and Company, Covington and Burling, and others.
Dowd attributes much of the project's success to the group he has assembled. "I think what we have going on here is a lot bigger than my personal story," explains Dowd. "We have this really diverse group who are all committed to nation building through enterprise. We have a true diversity of life experiences and angles of the American experience being poured into this project. That gives me confidence that this is something that will be successful."
The core team is made up of young innovators from a variety of backgrounds. The chief advisor of rail operations, Seth Moulton, is a graduate of Harvard Business School and served two tours of duty in Iraq as a Marine Corps officer. Don Atkins, the director of operations, is a classically trained pianist and was a Fulbright Scholar in Vienna, where he performed German art song. Other team members include graduates of Georgetown, UC Irvine and the American University in Cairo.
The project has three trips planned for 2013: one route from Los Angeles to Washington, D.C., one from Northern California to New York, and one from Portland, Ore., to Boston. The main goal of the trips is to expose participants to regional challenges and innovative solutions while inspiring them to answer the call to tackle unemployment. "We see ourselves as having impact in three areas," Dowd explains. "1) On the actual train, which is going to be like a leadership development lab on rails; 2) in the communities where we're stopping, where we're convening and connecting people in new ways on local issues of concern; and 3) on the national level, as an example and inspiration for entrepreneurship across America." At the end of the three trips all of the participants can attend a summit to discuss what they learned.
Though the MTP is still in the planning stages, Dowd has already seen how it can affect people and help spur growth. After speaking to a group of entrepreneurial military veterans at Georgetown University, one of the attendees sent Dowd an email expressing his interest in the train and pledging to make efforts to connect other emerging pioneers. "That really touched me, because it showed me that the train is already leading people to lead their lives in a powerful way," said Dowd. "If we can get a lot of people to do that, it will make a huge impact."
"Jobs are created when brave people step forward to address unmet needs in their local communities and then get others to support them," Dowd added.
This profile is part of a series featuring innovative small-business owners taking part in The Huffington Post's Entrepreneurship Expo, in Tampa and Charlotte, in conjunction with the 2012 political conventions and HuffPost's "Opportunity: What Is Working" initiative.
REAL LIFE. REAL NEWS. REAL VOICES.
Help us tell more of the stories that matter from voices that too often remain unheard.
BEFORE YOU GO