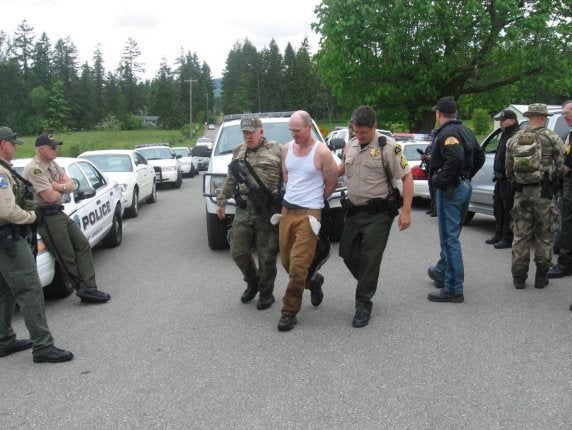 SEATTLE, June 5 (Reuters) - A Washington state man arrested in the shooting deaths of two sex offenders told investigators he had planned to keep killing sex offenders until police stopped him, authorities said.
Patrick Drum, 34, who is scheduled to appear in court on Wednesday, faces two counts of murder in the shooting deaths, which occurred over the weekend in the Olympic Peninsula in the far northwest part of Washington state.
One of the two men killed, Gary Blanton, 28, was a roommate of Drum's, authorities said. He also knew the other local man he is accused of killing, Jerry Ray, 56, they said.
Both Ray and Blanton were listed as Level Two sex offenders, which meant they were considered at a moderate risk of re-offending. Blanton had a conviction for third-degree rape from when he was a juvenile, and Ray was convicted of rape of a child, state records show.
In an interview with detectives, Drum said he shot and killed Blanton and Ray because they were sex offenders, according to probable cause papers filed in Clallam County Superior Court.
"Drum also stated that he had intended on driving to Jefferson County (Washington state) where another sex offender lived, with the intent to kill him too," the papers said.
Clallam County prosecutor Deborah Kelly said at a court hearing on Monday, where Drum was ordered held without bail, that he had told investigators he planned to keep killing sex offenders until he was stopped.
Drum has a criminal record with convictions for residential burglary and drug offenses.
Drum, who was carrying a 9mm pistol in a shoulder holster, was taken into custody on Sunday afternoon in a forest in the Olympic Peninsula, after a manhunt involving a helicopter and police dogs, authorities said.
He is due in court on Wednesday for a return on first court appearance hearing, Kelly said.
Washington in the early 1990s became the first state in the country to require sex offenders to register within their county of residence, said Dawn Larsen, project manager for the Washington Association of Sheriffs and Police Chiefs.
State residents, through a public website, can find names, photos and residential blocks where Level Two and Level Three sex offenders are living. (Writing by Alex Dobuzinskis; Editing by Vicki Allen)

Related
Popular in the Community