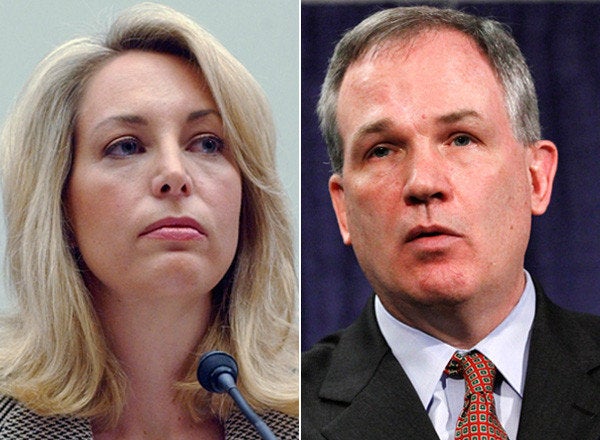 WASHINGTON -- U.S. Attorney Patrick Fitzgerald's prosecution of former CIA officer John Kiriakou for talking to journalists about the Bush/Cheney torture program has at least one thing in common with his conviction of I. Lewis ("Scooter") Libby in 2007.
In the Plame case, Fitzgerald prosecuted Libby, then-vice president Dick Cheney's chief of staff, for perjury and obstruction of justice related to the leak of Valerie Plame Wilson's identity as a covert CIA operative. But he stopped short of charging Cheney or top presidential adviser Karl Rove -- both of whom had been targets of his investigation.
Fitzgerald was appointed as a special prosecutor in late 2003 to investigate the July 2003 leak of Plame's identity, which came during a White House effort to discredit her husband, former U.S. Ambassador Joe Wilson.
Wilson was trying to expose how the administration had twisted intelligence to make its case for the war in Iraq, launched a few months earlier, and the White House was desperate to prevent that narrative from establishing itself before the 2004 elections.
The evidence that came out at trial clearly established that Cheney was the first person to tell Libby about Plame's identity and that Cheney wrote talking points that likely prompted Libby and others to raise Plame's role with reporters.
Libby, before falsely claiming he had heard about Plame from NBC News host Tim Russert, told FBI agents he might have discussed Plame's employment with reporters at Cheney's direction.
In his closing arguments in the Libby case, Fitzgerald famously declared: "There is a cloud over what the vice president did that week. … That cloud remains because the defendant has obstructed justice and lied about what happened."
In a subsequent court filing, Fitzgerald wrote that "there was reason to believe" the leak had been coordinated by Cheney and that the vice president may have had a role in the cover-up. "When the investigation began, Mr. Libby kept the vice president apprised of his shifting accounts of how he claimed to have learned about Ms. Wilson's CIA employment," Fitzgerald wrote.
But Cheney was never charged.
"I think the chances of it being a show trial and losing really weighed heavily on him, in terms of the political fallout," said Michael Genovese, director of Loyola Marymount University's Institute for Leadership Studies.
Rove, who confirmed Plame's identity to then-Time magazine reporter Matt Cooper, had repeatedly told the president, the White House press secretary, the press and Fitzgerald's grand jury, that he had no role in the leak. But in his fourth and fifth grand jury appearances, after Rove and his lawyer realized that an email message they had already turned over to Fitzgerald proved he had spoken to Cooper, Rove changed his story. He insisted that he had honestly forgotten, until his memory was jogged by the email.
According to James B. Stewart's 2011 book about celebrated liars, Tangled Webs, the FBI agents on the investigative team were "unanimous that Rove should be charged with false statements, and Fitzgerald seemed to agree."
But, for reasons he has never publicly explained, Fitzgerald ultimately chose not to indict Rove either for the leak or for obstruction of justice.
The conservative critique of Fitzgerald's investigation is that he went too far. Once he found out that the first mention of Plame to reporters came not from the White House, but from then-State Department official Richard Armitage -- without apparent ill intent -- he should have shut things down.
But Marcy Wheeler, who was one of the foremost chroniclers of the Libby trial, said Fitzgerald's investigation didn't go far enough.
"The FBI agents believed that they had the case against Rove nailed down," Wheeler said. And Fitzgerald "actually had Dick Cheney in his teeth."
Popular in the Community