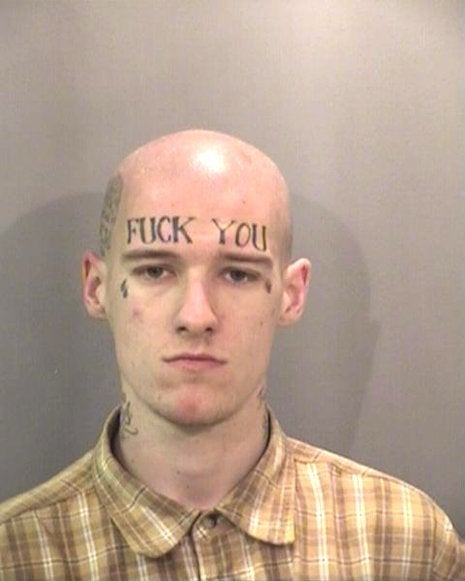 "F**K YOU." That's the message Patrick Francis Brooks apparently wants to get across to anyone who dares gaze upon his shiny forehead.
The expression of contempt is hard to miss since it is tattooed in bold black letters across the center of his forehead. And thanks to a new mug shot that is going viral online, the 21-year-old California man's message is getting widespread attention.
According to the Shasta County Jail, Brooks is being held without bond on charges of burglary, receiving stolen property, forgery and violating the terms of his parole for a previous conviction.
Brooks was arrested by the Redding Police Department on July 11 after he tried to cash a forged check from Cottonwood Bible Baptist Church. According to authorities, his artsy childish body art played a large part in his arrest.
The owner of the check-cashing store told police he was initially suspicious of Brooks because of his custom body art, and his skepticism grew when he noticed someone had crossed out the church's telephone number on the check.
Contacted by the check-cashing merchant, the pastor of the church named on the check confirmed it was from his church but said he did not write it. During a subsequent search of the church, authorities discovered someone had broken in and stolen several checkbooks and more than $200 in cash.
According to KRCR News Channel 7, the stolen money had been collected during several fundraisers for the church's teen youth group camp.
Brooks has pleaded not guilty to all charges. If convicted, he will likely have a significant amount of time to ponder his message in the mirror that will adorn his prison cell.
PHOTO GALLERY
Dumb Crime: Masterminds Need Not Apply
Calling all HuffPost superfans!
Sign up for membership to become a founding member and help shape HuffPost's next chapter