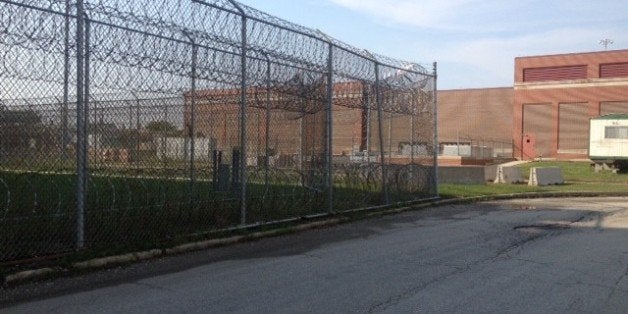 CHICAGO -- Before he was an inmate, a middle-aged man in a tan correctional uniform heard voices and believed he was God.
Former Rep. Patrick Kennedy, the Rhode Island Democrat who retired from Congress in 2011, and Cook County Sheriff Tom Dart listened intently as the inmate, who declined to be named, talked about living with schizophrenia in the lockup. The man attends group therapy sessions and receives other treatment inside what is now the largest mental health care provider in Illinois -- the Cook County Jail.
Kennedy, visiting Chicago for meetings related to next month's Kennedy Forum on mental illness, intellectual disabilities and addictions in Boston, toured the jail Thursday after learning the sheriff and his team devote much of the 10,000-inmate facility to mental health care. As a longtime mental health advocate, Kennedy worked with his father, the late Sen. Ted Kennedy, to write and pass the Mental Health Parity and Addiction Equity Act.
Inmates were advised not to comment on their pending cases, but many volunteered the medical conditions that led to arrests. Common diagnoses were depression, anxiety, bipolar disorder and schizophrenia. Several said they had criminal records that included trespassing and drug and alcohol-related crimes.
"It's not bad people trying to get good, it's sick people trying to get well," Kennedy said of mentally ill inmates.
"The number of people here talking about hearing voices and seeing things, it's hard for me to accept that we as a society can't make a better distinction between someone who made a decision that is reprehensible and you want to punish it versus someone who is ill and acts out that illness through symptoms we deem criminal behavior. Then we treat them in a prison as opposed to where they need to be treated: in a mental health clinic."
Kennedy said improving treatment -- and ultimately, perception -- of mentally ill Americans is a civil rights issue.
"During segregation, you had a way to treat people differently, separate but equal. The new generations are going to grow up and think to themselves, 'Why are we treating people with mental illness differently?' We have two tiers when it comes to illnesses: mental and physical. And that's not equal."
The Cook County Jail population has exploded to 99 percent of its roughly 10,200-inmate capacity as Illinois has closed mental health hospitals. The jail earned distinction as the state's largest mental health provider around 2008, Dart said.
"The fact of any jail being the state's largest hospital is outrageous," Dart said. "First we were naively trying to alert people. Then we found out no one cared."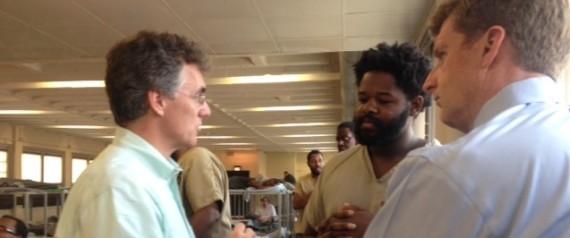 From left, Cook County Sheriff Tom Dart, a county inmate and former Congressman Patrick Kennedy tour an inmate dorm.
The Cook County Jail 96-acre campus -- one of the largest single-site county pretrial detention facilities in the nation -- also houses Cermak Health Services, where inmates with the most severe mental illnesses are kept out of the general population. At Cermak, the inmate population is 130 percent of capacity. "I have guys sleeping on the floors," said the sheriff.
As Dart, Kennedy and a small entourage of jail officials visited one of the general population dorms, a white-haired man walked up to the former congressman with a question. Within seconds, Kennedy pegged the man as a military veteran. Dart signaled a county worker to help the man get information on veterans assistance.
The U.S. Department of Veterans Affairs "does not have a real-time count of how many of our nation's heroes are locked up in state, local and county jails and prisons in this country," Kennedy said, shaking his head.
"CVS and Walgreens can tell you everything you bought a week, a month ago. It's shocking that in this day and age, we don't have a day-to-day count of how many Iraq and Afghan veterans and all other war veterans are behind bars as a direct result of the fact that we haven't treated these 'invisible wounds.'
"They fought for our freedom and what do we do in response? We take away their freedom. You can't make this up. They're prisoners of their war injuries. They're POWs. Not only figuratively, but now they're actually prisoners."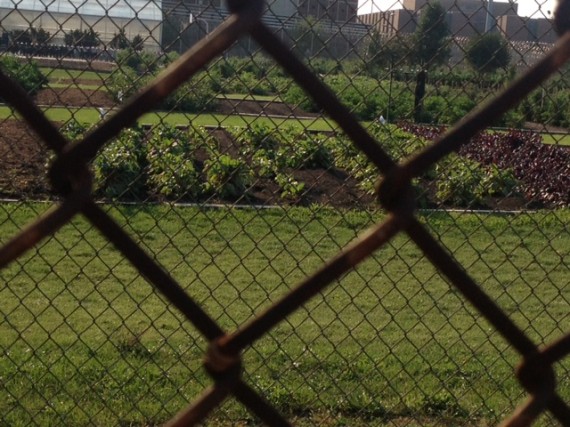 One of the gardens on the Cook County Jail campus tended by inmates.
It costs Cook County about $143 a day to house an inmate. Ben Breit, spokesman for the Cook County Sheriff's Office, estimated housing mentally ill inmates cost from about $190 a day on the lowest end, though the cost is often much higher due to expensive medications and the need to provide specialized mental health training for correctional officers. At any given time, mentally ill inmates make up 25 percent to 30 percent of the jail's population.
Dart said the jail -- "which was never meant to be a mental health facility" -- is inadequate for inmates' mental health needs. Nevertheless, the sheriff said he personally takes inmate grievances twice a week and has added to therapeutic options that include counseling and drug therapy. Inmates can become certified to farm on jail property, for example, which include gardens and a chicken coop.
"I want people to understand these are not these evil, bad people," Dart said. "They're people who have made mistakes in their lives and they're people that, but by the grace of God, could be us."
Support HuffPost
The Stakes Have Never Been Higher
Related
Before You Go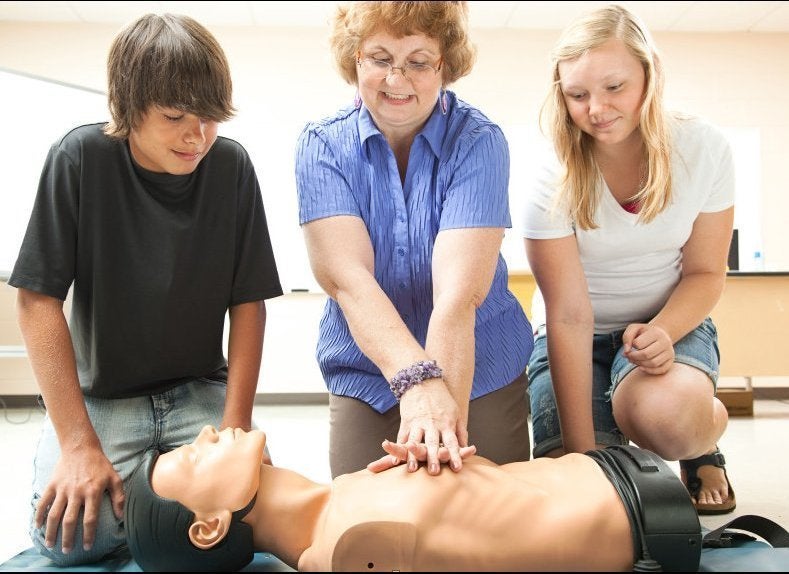 What Twitter Tells Us About Health
Popular in the Community