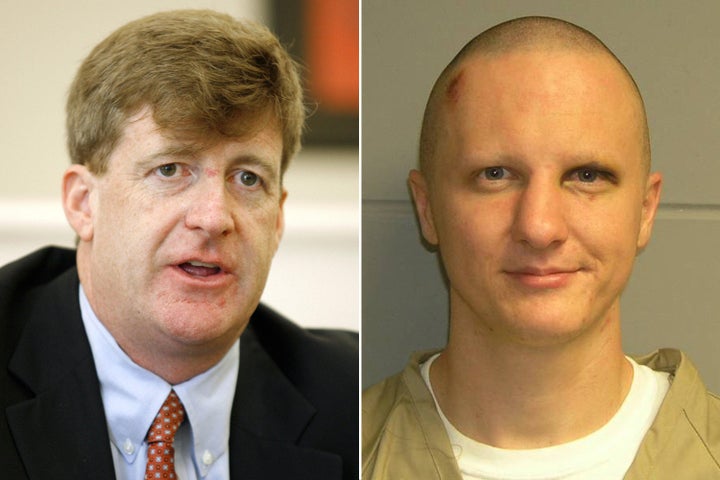 In an interview with Dr. Sanjay Gupta, former U.S. Rep. Patrick Kennedy (D-R.I.) argued that Jared Loughner deserves sympathy for his apparent mental problems. Loughner is the 22-year-old man charged in the Jan. 8 shooting in Tucson, Ariz. that killed six people and left Rep. Gabrielle Giffords (D-Ariz.) with a traumatic brain injury.
"It's an irony," Kennedy told Gupta, "but we think no stigma towards Gabby and her brain injury, but [Loughner] has a brain injury as well, because clearly his brain was not working properly when he picked up that gun and shot all those people."
"We failed as a society," he added, "because every time we see someone who's -- and we use the pejorative words -- 'crazy,' 'psycho,' 'nuts,' we look the other way."
Kennedy's statements aired as part of "Dr. Sanjay Gupta Reports: Patrick Kennedy -- Coming Clean," an exclusive interview with the former congressman that was filmed in a Boston hotel room in early April and premiered May 22 on CNN. The interview focused on Kennedy's own battles with depression and substance abuse, his campaign to destigmatize chemical dependency and mental illness; and on his ambitious mission, inspired by his struggles, to ramp up funding for brain research.
Kennedy made his first trip to rehab in 1985, for cocaine abuse, when he was a 17-year-old high school senior in Andover, Mass. Around that time he also received a diagnosis of bipolar disorder, although he now says he suffers from a different, unspecified mental disorder.
In 1995 Kennedy was elected to the U.S. House of Representatives and held the seat until 2011. During that time, several incidents signaled his continuing struggle: he was caught shoving a security guard at Los Angeles International Airport and got in a fight on a yacht that attracted the attention of the Coast Guard. In May 2006 he crashed a green Mustang convertible into a concrete barrier just blocks from the U.S. Capitol shortly after 2:30 a.m. Blaming the crash on sleeping pills, he announced that he would seek rehabilitation at the Mayo Clinic in Minnesota.
After emerging from treatment, Kennedy didn't run from the attention but rather made the destigmatization of addiction and mental health his signature cause. He framed the issue as a personal one: in addition to his own struggles, his aunt, Rosemary Kennedy, was mentally disabled and lived most of her life in institutions, and his uncle, Sargent Shriver, had Alzheimer's disease.
In 2008, Kennedy and his father, Sen. Ted Kennedy (D-Mass.), pushed legislation for "parity," which would require that insurance companies cover mental illnesses, including addiction, just as they would any physical illness. President Bush signed the Mental Health Parity & Addiction Equity Act into law in 2008.
Describing the rationale for parity, Kennedy told Gupta, "If you have diabetes and have a chemical imbalance that you need more insulin, you don't have any question about it. But if you need some more serotonin or dopamine, you need a neurotransmitter, then [people] look at that as something askew, as if the brain isn't a part of the rest of the body." This double standard, he says, is part of the continuing stigma against mental disorders.
Two months before his father's death from brain cancer, Patrick Kennedy checked into rehab again; the stress of his father's illness had renewed his depression and substance dependency. The elder Kennedy died in August 2009. Six months later, Patrick Kennedy announced that he would not seek reelection to the U.S. House of Representatives. He left office in January 2011, having spent more than half his life in public office.
Meanwhile, he'd battled mental illness and substance abuse for 25 years and checked into rehab "easily half a dozen times," he told Gupta.
Kennedy explained that the strain of public office contributed to his ultimate decision to leave it behind. "That's why I chose not to run for reelection because frankly, living in the public eye and in political life was not conducive to really getting that kind of long-term steady recovery," he said.
"I've put certain days together and managed effectively just to live and fight for another day, legislatively," he added. But, "I'm looking to live more than just surviving. I'm looking to live a life that's fuller than sobriety. I could function [in office], but that's not all I want to do. I want to live."
Gupta asked Kennedy if he sees addiction as a moral failure or a disease of the brain. "It's a disease of the brain," Kennedy responded without hesitation. "This is totally a neurological disorder."
While some clinicians hesitate to take the disease model so concretely, it is this approach that informs Kennedy's commitment to destigmatizing mental illness, and his dedication to his newest project: this month, he and a group of neuroscientists and representatives from government, advocacy groups and the pharmaceutical industry launched One Mind for Research to increase funding and unify research efforts in brain science. The group has drafted an ambitious plan to complete a detailed map of the human brain and lay out scientific roadmaps for the treatment of "every kind of brain disease," including mental illness, addiction, neurogenerative disorders and paralysis -- all within the next 10 years. In that timeframe, they hope to raise $5 billion from philanthropists and secure an additional $1 billion in federal funding.
"We need to go to the inner space of brain science for our moonshot today," the former congressman told a crowd outside the John F. Kennedy Presidential Library in Boston. He calls this a "moonshot" medical research effort, no less ambitious than the race to the moon that his uncle, President John F. Kennedy, began in 1961.
Indeed, he goes to great lengths to liken his project to his uncle's. "Tell me that a paralyzed person, because neuroscience reconnected the spinal cord, allowing someone to walk for the first time again, is not as powerful as putting a man on the moon and letting [him] step that first step," he said.
Even if the One Mind campaign does not achieve its goal in the next 10 years, Patrick Kennedy will probably succeed at chipping away some of the stigma attached to substance abuse and chemical dependency, simply through his willingness to speak candidly about his own struggles with these issues. And this might be the key to helping the next Jared Loughner get the support and treatment he or she needs before it's too late.