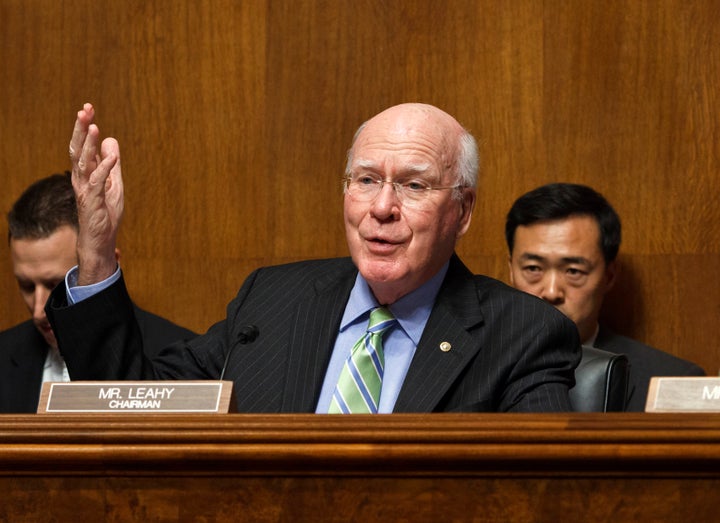 WASHINGTON -- Sens. Patrick Leahy (D-Vt.) and Susan Collins (R-Maine) will reintroduce the Uniting American Families Act on Wednesday, increasing the pressure to include equal treatment for same-sex couples in immigration reform.
"Too many citizens, including Vermonters who I have come to know personally and who want nothing more than to be with their loved ones, are denied this basic human right," Leahy said at a Judiciary Committee hearing. "This policy serves no legitimate purpose and is wrong."
House members reintroduced the bill earlier this month, also with bipartisan support -- albeit many more Democrats than Republicans -- and it is expected to be more of an effort to bring light to the issue for comprehensive reform than to be passed as a separate law.
The bill would allow same-sex couples to be treated in the same way as heterosexual ones under immigration law, permitting them to petition for green cards for partners and spouses. Under the Defense of Marriage Act, the federal government does not recognize same-sex marriages that are legal on the state-level. That leads to many couples being separated by immigration law or American citizens being forced to leave the country if they want to be with their partner.
President Barack Obama has come out in support of including same-sex rights in immigration law. Homeland Security Secretary Janet Napolitano told the committee that she does not think concerns about things such as green card fraud should impact the debate the issue.
"Our adjudicators are experienced at fraud detection ... we don't see that as a barrier to achieving equality," she said.
Some Republicans have said inclusion of LGBT rights provisions could kill immigration reform.
"Which is more important: LGBT or border security?" Sen. John McCain (R-Ariz.), who is working on an immigration bill, said at a Jan. 30 event. "I'll tell you what my priorities are. If you're going to load it up with social issues, that is the best way to derail it, in my view."
But Leahy said he sees it differently.
"I have heard some disparage fairness in our immigration law as a 'social issue' that threatens their narrow view of what immigration reform means," Leahy said. "Well, to me, the fundamental civil rights of American citizens are more than just a social issue."
Calling all HuffPost superfans!
Sign up for membership to become a founding member and help shape HuffPost's next chapter
BEFORE YOU GO
PHOTO GALLERY
Gay Marriage In The United States