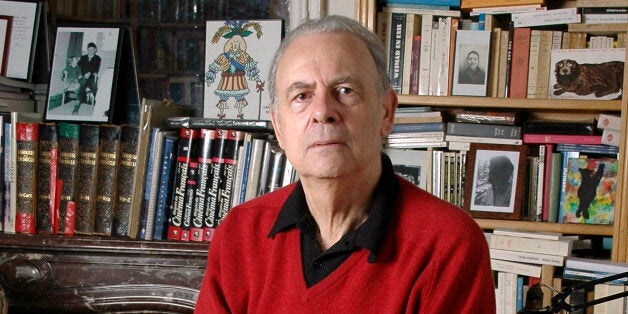 PARIS -- Ever since I read Villa Triste in my late teens, I have been captivated by Patrick Modiano's forays into the shadowy atmosphere of ravaged memories that make up his novels. I am far from alone, since Modiano is somewhat of a cult figure in France, read by thousands.
Still, it came as a surprise when it was announced that he had won this year's Nobel Prize in Literature. Not well known abroad, few of his novels have been translated into English. He is also a writer's writer, and perhaps his fans don't want to share him too widely. In his infrequent television appearances, he cuts a handsome, slightly perplexed figure, mumbling away sentences often left hanging in the air, drifting into parenthetical thoughts, clumsily correcting himself.
His first novel La Place de l'Étoile, a story blending fiction and reality about the German occupation and its legacy, came out in 1968, and since then Modiano has published a book about every two years. As he readily admits, each novel is a variation on common themes of memory, identity, absence and loss.
Inspiration may have been derived from the tightly controlled detective novels of Georges Simenon, but from the start Modiano shaped his own universe. Atmospheric scenes, furtive impressions, characters emerging from distant, hazy memories, yellowed newspaper clippings from an unfathomable past -- these contribute to the haunting quality of his prose.
It is a world peopled by eccentric yet oddly endearing characters: English jockeys, Baltic aristocrats, would-be fashion photographers, adventurers of uncertain origins and closeted homosexuals. The family albums thus stitched together seem lightweight at first sight. But the novels are oddly bewitching over time and linger in our consciousness with their fragmented melodies. Modiano's prose is straightforward, made up of pared-down, lucid sentences. There are hesitations here and there, false leads, allusions that ask the reader to piece together events; some given, others withheld.
For many, his masterpiece is not a novel, but a story in the shape of an investigation into real people and destinies: Dora Bruder (1997). A small insert in a wartime issue of Paris-Soir launches the narrator's research into the past of a young girl who disappeared in the thick of the German occupation. The author tries to retrace her steps, but also his own father's, who was living in hiding at the same time. Their destinies are intertwined, until Dora Bruder meets her tragic fate at Auschwitz.
"I cannot provide the reality of facts, I can only present their shadow."
Modiano was born in 1945 in the wealthy Parisian suburb of Boulogne-Billancourt among the ruins of the war. Of Jewish Alexandrian origin, his father was an improbable adventurer who dabbled in finance and in the oil trade, sold perfumes and reinvented himself as an antiques dealer. He was also a black marketeer during the occupation, yet most of the time he succeeded in eluding the authorities.
Modiano's mother was a Flemish actress by the name of Louisa Colpeyn. Raised by absent parents, the boy was received into the Catholic Church, his Jewish origins glossed over. His unhappy adolescent years were spent in a second-rate, grimy boarding school from which he ran away several times. A family friend, the author of the wonderful Zazie dans le Métro, Raymond Queneau, encouraged him to pursue a literary career. He also fell out with his father, whom he never saw again. His father reappears many years later in his autobiography, Un Pedigree (2005), the occasion for Modiano to piece together his father's double life during the war years, his detention and eventual liberation thanks to the notorious French Gestapo on the rue Lauriston.
Usually written in the first person, Modiano's novels reflect a desire to excavate shards of memory from a more or less distant past. By salvaging the fragments of the past, a new layering of reality emerges as each novel unfolds. As a matter of fact, Modiano's narrator is often confronted by a lack of tangible reality, as if the world around him was a puzzle in need of reconfiguration. Yet the investigation is slippery and connections hoped for are never made, wholeness elusive. Modiano's investigations shatter our sense of personal identity, our construct as historical persons with a past, present and future.
There's a slippery quality to past events, to memory, and ultimately, to truth. The constant back and forth between past and present is one of Modiano's great themes. His novels attempt to retrace those steps that elude us; they try to grasp and take hold of those evanescent images that constitute memory.
His situation in post-war French literature is that of an outsider, even if he achieved a widespread recognition early on (starting with the Prix Goncourt in 1978 for Rue des Boutiques Obscures). Modiano is not known for his political views, in a country in which engagement is everything and all too often defines one as a writer. But that doesn't mean that there isn't a political dimension to his work, especially in his renewed focus on the decidedly murky, half-buried days of the occupation.
Needless to say, post-war France was not ready to look into its not-so-glorious wartime history. But the tide has shifted over the years, and Modiano looms large in the uncovering of the war years. (Modiano also co-wrote the script for Louis Malle's Lacombe, Lucien, the story of a young man who becomes a member of the Gestapo after being spurned by the French Resistance).
The English philosopher Galen Strawson has spoken of two opposite narrative modes: diachronic and episodic. For the diachronic writer, there is a sense of continuity between past and present, on the model of an unbroken chain of events. This points to a traditional conception of existence in terms of time. Plato and Nietzsche are two examples of this approach; the episodic writer rejects such a sense of continuity. Memory plays a different role, in which what truly matters is not memories, but what the author makes of them and how they fit with him into his present. In the footsteps of Stendhal, Proust, Borges and Virginia Woolf, Modiano is one of the great episodics of our times.
His latest novel, Pour que tu ne te perdes pas dans le quartier ("So that you don't get lost in the neighborhood") starts with a quote from Stendhal:
"I cannot provide the reality of facts, I can only present their shadow."
The world is indeed indebted to Modiano's shadows.
Support HuffPost
The Stakes Have Never Been Higher
Related
Popular in the Community