WASHINGTON -- Most people have never heard of Patrick Murphy.
As the Democratic challenger to Rep. Allen West (R-Fla.), the 29-year-old family businessman knows he's going to be outspent, out-publicized and generally overshadowed by the Tea Party-backed lawmaker with a penchant for sparking controversy. But that's exactly why Murphy thinks he can beat West in November.
"Yup," Murphy said bluntly when asked, during a sit-down interview last week with The Huffington Post, if his biggest campaign asset is West himself. "Look, I've got no ego. Running against him is a big part of the race."
Murphy, who is new to politics, overwhelmingly won Tuesday's Democratic primary and plans to spend the coming months doing everything he can to build name recognition around Florida's 18th District. His strategy is simple enough: Meet with as many voters as possible and remind them that he's not Allen West.
"Look, I certainly think I have something to offer. I certainly think I have a vision for the country. I think that our generation ... [has] to do something about what's happening to our country. So that is a big part of why I'm doing it," Murphy said of entering the race. "But I'm also not an idiot and realize that everyone knows who West is, and I hope I'm a good contrast to him."
Despite casting himself as the anti-West candidate, Murphy wants people to see that he has a vision of his own, too. He's a pro-choice, pro-LGBT rights but "not ultra-liberal" Democrat who values fiscal responsibility. He's the vice president of his family construction business, and before that, he was a CPA at Deloitte & Touche. He also spent months in the Gulf of Mexico leading an effort to remove oil spilled during the BP disaster.
It was largely West who led Murphy into politics. The Florida native said he was so taken aback by some of the things West was saying in Congress and on TV that he felt compelled to run against him. Among West's more colorful moments, he has said that dozens of House Democrats are members of the Communist Party, that people would be "on a suicide mission" if they questioned his support for the House Republican budget and that Social Security is "a form of slavery." He has also compared being gay to picking an ice cream flavor.
"His extremism and radicalism and the hatred he preaches -- my gosh, whether you're Republican or Democrat, I mean, this is what's killing the country right here. This is totally unbecoming of a leader," Murphy said. "I couldn't believe he got away with it, and then how he was cheered for it."
Murphy is already showing how he plans to use West's words against him. Less than 24 hours after winning the primary, he released a 30-second TV ad that quotes West saying, "If you support Medicare the way it is now, you can kiss the United States of America goodbye." Murphy's campaign spokesman, Anthony Kusich, said in a statement that Murphy's team "need only to show the Congressman's unedited words to demonstrate how out of touch he is."
Murphy and West are competing for a newly drawn district that runs along Florida's Atlantic coast, from just north of Palm Beach up to Fort Pierce. West currently represents Florida's 22nd District, but when 2010 redistricting left that district more Democrat-heavy, West moved to Florida's 18th District. Murphy followed him there to run against him.
Florida's 18th District is about as diverse as they come and is considered the biggest swing district in the state: it breaks down to about 40 percent Republican, 40 percent Democrat and 20 percent somewhere in the middle. President Barack Obama carried the region in 2008, but only by 3 percent.
For those reasons, Murphy thinks he has a real shot at winning if he targets independents and moderates who might be fed up with West's politics. But he faces an uphill battle when it comes to money. West has a national following and ranks among the top fundraisers in all of Congress, pulling in $2.2 million in the second quarter of this year alone. By contrast, Murphy brought in about $507,000 for that same period.
Murphy was quick to point out why he thinks he can compete financially. For starters, West spends most of his money as soon as he raises it. Of the $2.2 million West raised in the second quarter, he has already spent $1.9 million of it almost entirely on mass mailers that went outside of the state, Murphy said. In addition, since West relies so heavily on raising money out of state via direct mail pieces, Murphy is predicting he'll eventually hit a saturation point.
"There's sort of this law of diminishing returns I've learned about with politics," he said. "You hit a saturation point and then it's kind of like another million, it's saturation, it's not as effective as that first million."
The Democratic Congressional Campaign Committee has already ranked Murphy's race as one of its top three priorities in the country. And a poll the DCCC conducted in May revealed something that few expected: Murphy and West were dead even in support, with 45 percent among voters in the district, despite the fact that Murphy was virtually unknown and his campaign hadn't done much at that point. That finding reinforced Murphy's belief that the more West talks, the more he does to help Murphy. And if that's his most effective campaign tactic, so be it.
"The fact that we're tied just shows how many people dislike West," he said. "They're saying, 'I don't know who Patrick Murphy is, but I'll vote for this guy.'"
Before You Go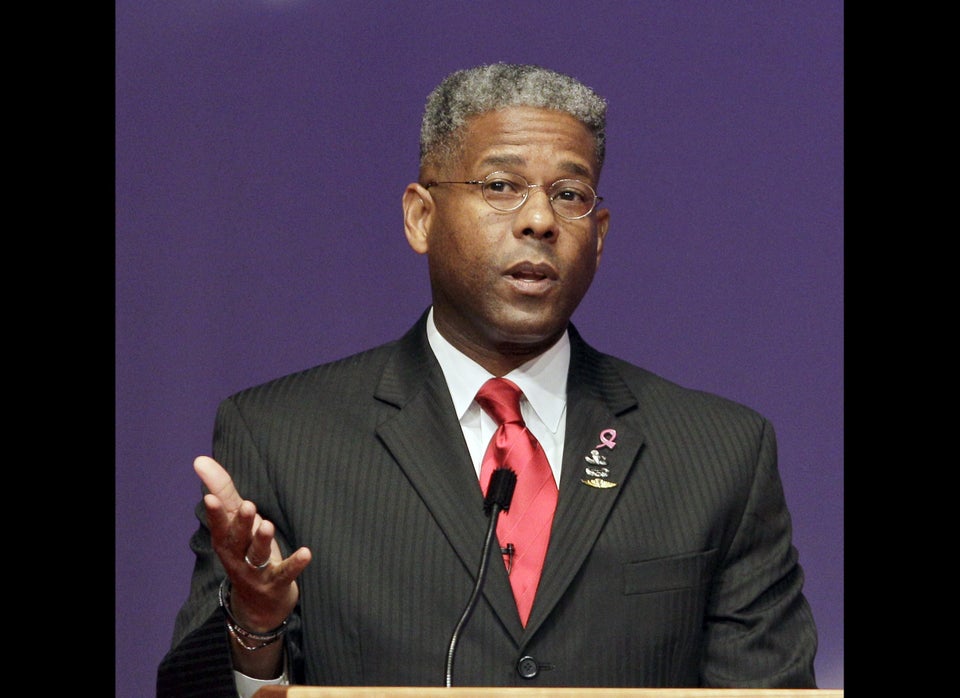 The World According To Allen West
Popular in the Community