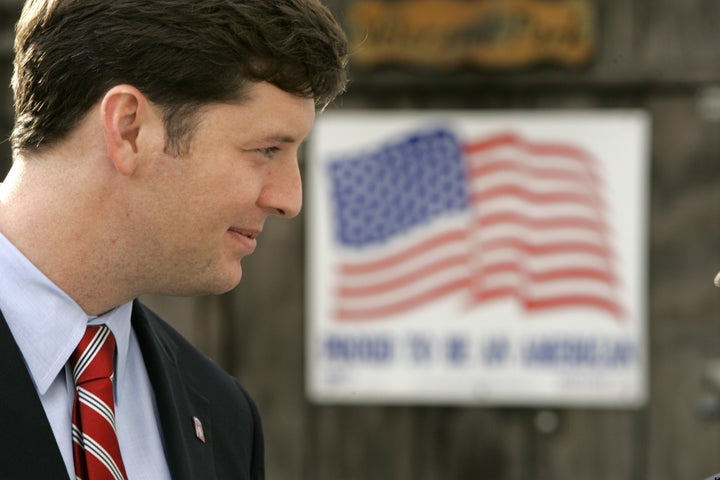 As gay men and women get closer and closer to being legally allowed to serve openly in the U.S. military, the man who has been the movement's champion in pushing this legislation forward in Congress is fighting for his life in one of the toughest re-election battles in the country. Rep. Patrick Murphy's (D-Pa.) progressive supporters are doing all they can to make sure that he returns to Congress to see his signature issue, an end to Don't Ask, Don't Tell (DADT), become a reality.
"Absolutely not," said Murphy in an interview with The Huffington Post when asked whether he has any regrets about leading DADT repeal. "I took an oath to support and defend the Constitution as an Army officer and as a Congressman. I take that oath to heart, and I'm going to fight for the values that are in our Constitution. I'm going to fight to make sure that our military has the best personnel policy that it can, and that means repealing the outdated and the dangerous Don't Ask, Don't Tell policy."
In 2009, Murphy took over as the chief proponent of DADT repeal legislation after then-Congresswoman Ellen Tauscher, who was the chief sponsor of the Military Readiness Enhancement Act, left to join the State Department. He made a particularly strong spokesman for the issue, as an Iraq war veteran who was awarded a Bronze Star, a former West Point professor and ex-military attorney.
Murphy said that his constituents in the eighth district of Pennsylvania appreciate all the work he has done on repeal, insisting the issue isn't as controversial as it plays out in Washington.
"I was with 80 seniors at a senior home called Ann's Choice, in a Republican part of my district, and I was there for over an hour talking to them, doing question and answer," he recounted. "One asked about Don't Ask, Don't Tell, and I told them what I told everybody: The paratroopers in the 82nd Airborne Division that I served with didn't care if you were gay or straight; they just cared if you did your job so they could all come home alive. And that was the only time I got a standing ovation [that] night. People across America and in Buck's County, Pennsylvania -- they are way past this. The only people that are behind are the folks in Congress and the folks who don't want to support repeal of Don't Ask, Don't Tell."
The Huffington Post contacted the Fitzpatrick campaign for comment but did not receive a reply.
Murphy has been a strong ally of House Speaker Nancy Pelosi (D-Cali.), and in a year when Republicans are doing all they can to cast her as a villain (e.g. the Republican National Committee's "Fire Nancy Pelosi" bus tour), many political observers believe that his support for her has hurt him in his district.
Aubrey Sarvis, executive director of Servicemembers Legal Defense Fund, also stressed that DADT repeal is one issue that doesn't seem to be hurting Murphy in his re-election bid.
"We haven't seen, and we've been watching this rather closely, any Congressional races where a member's vote for repeal, or his or her advocacy for repeal, have hurt them," said Sarvis. "Those who voted for repeal had not gotten any backlash either from opponents or from the constituents. And primarily the reason is most Americans, 75-80 percent favor repeal. Most Americans who are voting next month are primarily concerned about economic issues. They're concerned about their jobs, they're concerned about their livelihoods, and they're concerned about their standard of living and the way it is falling."
One area where Murphy does disagree with President Obama is in the administration's decision to appeal the recent court decision striking down DADT. But he added that, ultimately, Congress, not the judicial branch, must be the one to put an end to the ban.
"It was an act of Congress that put this policy in place, and it should be an act of Congress to undo it," he said, adding, "There are a lot of folks who say, let the president do an executive order. That is what Bush would do, and I would criticize George Bush for doing those executive signing statements or executive orders, that basically say, let's just disregard what the Congress passed. It's up to Congress. We can't punt our responsibility to the courts or to the president on this one."
*************************
What's happening in your district? The Huffington Post wants to know about all the campaign ads, debates, town halls, mailings, shenanigans, and other interesting campaign news happening by you. E-mail us any tips, videos, audio files, and photos to election@huffingtonpost.com.