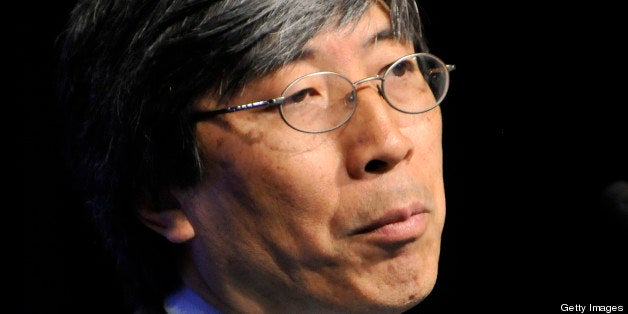 Los Angeles has a rep for having tremendous riches and a paucity of rich people who give. But in fact, the city ranks second nationally in terms of philanthropic giving. Patrick Soon-Shiong is no doubt one reason for that statistic. The wealthiest person in the city, he's put together a philanthropic enterprise that has pledged hundreds of millions to local hospitals, and he plans to give out $1 billion more. Born in South Africa, Soon-Shiong moved to LA in 1979 and joined the surgical residency program at UCLA, where he performed the school's first pancreatic transplant operation. That experience led him to pioneer a new method for treating diabetes and later to invent the cancer drug Abraxane—one of dozens of patents to his name. Along the way he spun off two pharmaceutical companies. More recently Soon-Shiong, who's 60, has also branched out beyond medicine. He bought Magic Johnson's share in the Lakers (you can often spot him courtside at Staples Center) and is part of a group bidding for Philip Anschutz's AEG, the sports and entertainment colossus that is aiming to crown LA Live with an NFL stadium. Soon-Shiong sat down in the Santa Monica showroom of Jakks Pacific, the toy company in which he owns a stake, to discuss giving—as well as what's ailing LA.
You grew up in South Africa under apartheid. Do you see any parallels between that system and American health care? Very much so. In South Africa being Chinese meant I wasn't white and I wasn't black. I trained in Baragwanath Hospital, the largest black hospital in South Africa. That was around 1976, the time of the Soweto Uprising, when police fired on children and students who were protesting. I was part of the group of interns who volunteered to treat them. After that, I continued my training in the clinics in the townships, where I treated kids with tuberculosis. I was injecting them with this drug called streptomycin. I realized that I had no idea what I was doing for or to these kids. There were no X rays, no tests. No ability to actually watch the progress or do anything. I said, "I don't know if I'm helping or hurting these kids." That's when I had the vision of what I wanted to do: leave South Africa and identify the technologies that would allow me to treat these kids as if they were at the Mayo Clinic.
Do you think your life might have turned out differently if you had landed in Australia or Singapore instead of Los Angeles? Oh, definitely. I don't think the entrepreneurial capacity and risk taking — the ability for people to really execute their dreams — exists anywhere else in the world, whether it's China, Japan, Canada, South Africa, or Europe. That's the beauty of this country. I think of LA as truly the melting pot. It's basically a mini country unto itself.
You pledged $100 million to help reopen Martin Luther King Jr. hospital in South LA. Shut down in 2007 because of severe mismanagement, it's a place that many others had given up on. Why did you want to get involved? Martin Luther King said that medical care is actually a human right and that the greatest insult to humanity is to not provide care to people who really need it. When Martin Luther King hospital was shut down, it just bothered me. I read in the newspaper that this Hispanic lady went to the hospital and ended up having to call 911 from the emergency room and later died. So I went down there afterward to talk to the doctor and walk the halls, and I said, "Show me, just show me what happened." This was a little island that was ignored in our own community. Here there is wealth and knowledge and information, and nobody wanted to take this on. So I went to UCLA leadership and said we must help them. Working with [County Supervisor] Mark Ridley-Thomas, we took on this fight. We tried to shame institutions into helping. It emerged that there was this big financial risk that no one wanted to take. So I said, "I'll take the risk." Hopefully the hospital will open again soon.
To read the complete interview, click over to Los Angeles Magazine.
Calling all HuffPost superfans!
Sign up for membership to become a founding member and help shape HuffPost's next chapter
BEFORE YOU GO
PHOTO GALLERY
The Richest People In LA