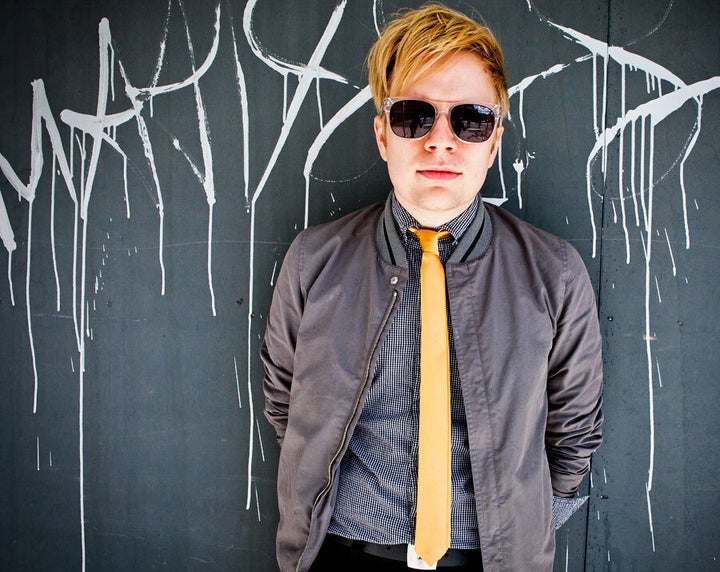 Patrick Stump is over trucker caps. Since Fall Out Boy effectively split up (they've officially been on hiatus for almost two years), Stump has ventured out on his own, shedding the pop-punk persona for a sound, and a look, a little more grown up.
"There was this me in there I was totally scared of -- it's always been there, but I was terrified of what people would say," he says. "I was worried about cool."
Though he's best-known as Fall Out Boy's lead singer, fans of the teen anguish FOB peddled back in the day would be hard-pressed to recognize the Stump seen belting out Michael Jackson hits on YouTube, clad not in baggy black, but in crisp button-ups and slim ties.
A button-up and tie is exactly what Stump is wearing when he sits down for an interview with The Huffington Post, fresh off a performance in the AOL studios. Stump talks to us about his upcoming solo album, his new musical sensibility, and what's changed since Fall Out Boy.
Stump's new wardrobe could be in part due to the significant amount of weight he's lost since leaving the group, a change he attributed to health reasons in an interview with New York Magazine. But the biggest reason, he says, is that he's hated the punk caps all along.
"One of the funniest things is I did it for 10 years because I was just scared and whatever, but it wasn't comfortable," he says.
Stump is set to deliver his first solo record, Soul Punk, this October, and while the album's lyrics, at least, nod to the depth of frustration that punk embodies, the songs themselves are far more heavily influenced by soul, R&B, pop, and funk. It's not, in other words, the kind of music that 14-year-olds can scream along to.
"Basically [this album] is all the stuff I couldn't do in Fall Out Boy," Stump says.
While the band has not broken up, and are officially on a hiatus, Stump is not the only member of Fall Out Boy to make music outside of the band. Pete Wentz, whose marriage to Ashlee Simpson (they've since separated), pushed him into the media spotlight, has formed an experimental group called Black Cards.
Wentz's rise to fame was reportedly a cause of contention in the group. Wentz himself has said that "the world needs a little less Pete Wentz." Meanwhile, Joe Trohman and Andy Hurley now play together in a heavy metal supergroup called The Damned Things.
"I'm nowhere near the metal aficionado that Andy or Joe are," Stump notes.
Everyone, it seems, has gravitated towards their natural musical sensibilities now that they're freed from the band. No one, however, is making the kind of pop punk that made Fall Out Boy big.
But Stump seems to have reached the point where he can make the music he wants to make without caring too much about what other people are saying about it. Aside from the musical self-discovery, Stump's entire goal now seems to be to embrace himself -- whatever that might be.
"The whole goal is just to be patently honest about everything -- I think I'm just old enough now that I don't care anymore," Stump says. "High school is enough of a distant memory that I'm totally over it."
Instead of singing about broken hearts and teenage angst, Stump is singing about gentrification and economic decline. The passion that once was channeled into music aching with teen rebellion has been redirected into political frustration. Stump's own investment in the state of the country is evident as he gets worked up, discussing the extremism he perceives overtaking the discourse.
"Lyrically, I personally lean towards venting," he says.
Stump would hardly be the first front man to venture out on his own. In recent years, Julian Casablancas, Brandon Flowers, Joe Jonas and Noel Gallagher have departed from their respective bands to pursue solo careers, to varying levels of success. On the one hand, there's Beyonce, whose career post-Destiny's Child has made her another one-name diva. On the other hand, there are all the former members of New Kids On The Block.
But either way, Stump seems at peace with the music he's making now, no matter what happens.
"I just want to make a lot of records," he says.
Calling all HuffPost superfans!
Sign up for membership to become a founding member and help shape HuffPost's next chapter