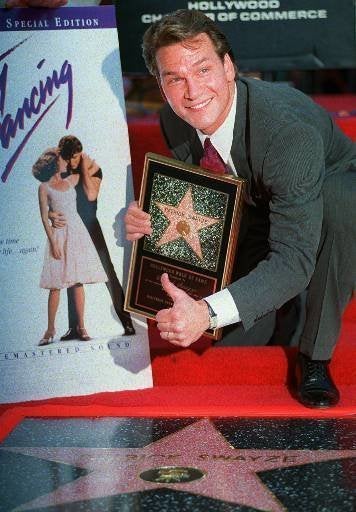 The National Enquirer on newsstands tomorrow has an article about beloved "Dirty Dancing" actor Patrick Swayze, claiming the 55-year-old is dying of pancreatic cancer. Late Wednesday afternoon, his publicist confirmed the diagnosis. But his doctor is downplaying the severity of the illness (scroll down for that statement). An excerpt is on the Enquirer website:
In a shocking world exclusive, The NATIONAL ENQUIRER has uncovered the devastating news that the beloved Hollywood actor and dancer was diagnosed in late January with pancreatic cancer that has spread to other organs.

Full details are in the print edition of the NATIONAL ENQUIRER that goes on sale tomorrow.

For the past month, Patrick, 55, has been traveling to Stanford University's prestigious cancer center in Palo Alto for radical chemotherapy, but his doctors are no longer optimistic that the treatments will be successful.

Patrick and his wife Lisa Niemi -- who both have pilot's licenses -- have been flying their private Beechcraft plane into Palo Alto's airport, minutes away from the Stanford Cancer Center, where the actor has received outpatient treatment.

He received three doses of chemotherapy and the tumor shrank, but less than his doctors had hoped for -- and Patrick was told he should prepare for the end.

"He was told he could have two more treatments, but his cancer was not responding. In short - they held out little hope for a cure," said an insider.

The man who danced into the hearts of audiences worldwide in the 1980s in Dirty Dancing and then broke them in the poignant love story Ghost in the early '90s has lost more than 20 pounds in the past few weeks and is restricted to a liquid diet because he has trouble keeping down solid food, added the insider.
A statement released to TMZ late Wednesday:
"Actor Patrick Swayze has been diagnosed with Pancreatic Cancer and is currently undergoing treatment."

The statement continues, "Patrick's physician Dr. George Fisher states, 'Patrick has a very limited amount of disease and he appears to be responding well to treatment thus far. All of the reports stating the timeframe of his prognosis and his physical side effects are absolutely untrue. We are considerably more optimistic.' Patrick is continuing his normal schedule during this time, which includes working on upcoming projects. The outpouring of support and concern he has already received from the public is deeply appreciated by Patrick and his family."
Flashback: Watch Swayze thrill a "Dirty Dancing" fan on Oprah last year.
REAL LIFE. REAL NEWS. REAL VOICES.
Help us tell more of the stories that matter from voices that too often remain unheard.