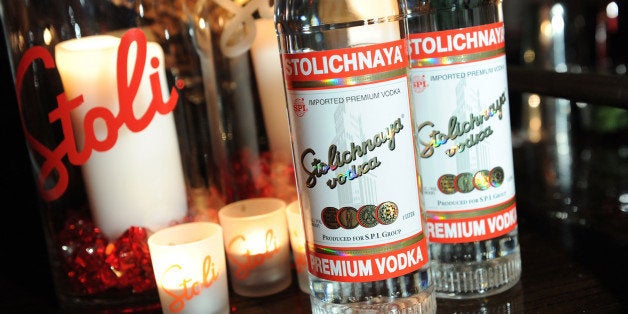 When the Russian Duma passed strong anti-LGBT legislation in June, it stirred controversy and raised hackles around the globe. Given Russia's already poor record on LGBT rights, this blatant stripping of civil rights inspired many in the West to action. Stolichnaya, long associated with Russia -- and indeed at one point owned by the Russian government -- became probably the most highly visible target of a broad boycott of Russian goods set into motion by gay activists such as Dan Savage and Cleve Jones, and the mother of all gay activist organizations, ACT UP. Almost immediately the logic behind the boycott against Stoli in particular was called into question in places like The New York Times (here and here), with the repeated assertion that the vodka is not produced in Russia but in Latvia. But the protesters have continued unabated, including a recent ACT UP disruption of a "Most Original Stoli Guy" national finals -- a combination of a talent contest, "originality" and, naturally, an Andrew Christian underwear competition -- at the Marquee nightclub in New York City. This protest and others like it have garnered a lot of Internet attention on sites like The Huffington Post and Towleroad. The persistence of these protesters' actions in the face of what seemed to be a strong case for Stoli not being Russian has been puzzling and leads one to question that very assertion. Do the protestors know something we don't? Is Stolichnaya concealing something?
Patrik Gallineaux has had the job of being Stolichnaya's LGBT National Brand Ambassador for three and a half years. When the boycott in the gay community began, it made him either one of the most valuable and key people in the Stoli organization, one of the most beleaguered, or, most likely, a combination of the two, but he is unflappable and cheerful. Whether you look at Stoli's ongoing courtship of the LGBT market as a desperate charm offensive or simply business of usual (what liquor brand doesn't want thirsty gay consumers to buy their product?), the company has clearly got its work cut out for it in trying to keep its LGBT consumers on board. The prevailing sense of confusion over the details of Stoli's provenance and the wisdom and effectiveness of the boycott have lingered on, so when I ran into Gallineaux -- quite by chance -- unwinding at the Island House in Key West after a challenging four months, I tried to clarify some of the issues that were troubling me. Although you've always got to be wary of taking a corporate spokesperson's words at face value, Gallineaux's sincerity and dedication to his community are hard to deny.
Jason Rowan: What was the presence of the ACT UP disruption at the event on Sept. 19 like for you, as the host, and as the person who planned the entire event and program?
Patrik Gallineaux: It was something that I anticipated might happen, but I wasn't concerned about it. I always remember something I was told a long time ago: In the face of great adversity, remain calm and observe. We tend to overreact sometimes. For me, seeing people putting themselves in a position of being thrown from the stage was also the behavior of children, a little bit, and that's OK, because it's energy that comes from a time that they remember, and I remember. I'm very blessed to be the age that I am, which is 22. [Laughs.] Not! And we're that Generation X that is old enough to remember what it's like to be gay-bashed, that remembers that horrible pain and exclusion that I grew up with that is in fact just a small amount of what's happening to people in Russia. And you could see that those people on the stage felt that pain and that hurt, and to me they seemed not to know where to direct it, flinging themselves in all directions. ... [S]omething like the Stoli Guy program that celebrates young men that can hopefully go on to change the world for the better ... I think the worst thing is for our community to actually stop that kind of good energy that's there. If our organization can help any other organization, then that's a gift and a blessing, but I don't think that's happening here. We've tried to open a dialogue with the protesters, but it hasn't been successful.
Rowan: You've said that you've tried to reach out to ACT UP. What has the response been?
Gallineaux: It's interesting, because on June 11, when Duma passed the current anti-LBGT legislation (clearly with pressure from Putin), the first thing that I did was to meet with Russian friends. I have a background in ballroom dancing, and there is a big history of ballroom dancing in Russia, and I know a lot of Russian nationals and always have; I've been trained by them. I wanted to reach out to get information from my friends; we can't make assumptions that things in Russia work the same way they do in the United States, so I wanted to get this expert insight into the situation there. The takeaway was that things are going to be very messed up, and making resources available to people there affected by this would be important: helping people who would be fleeing the country, help with visas. So I was aware of what was happening, and I advised my company, and they responded brilliantly, so I thought we were on a good track. But when everything blew up, and when Dan Savage decided to make a statement, and Cleve Jones began to do all the postings and calling on people to protest and get arrested, I decided it was time to reach out to these members of my own community, and I wrote a letter to Cleve Jones -- we were Facebook friends, and we both live in San Francisco and are both very active in the community -- thanking him for all he's done, with the rainbow flag, and with ACT UP, and asking him if he could help advise me, with all his experience, to advise my company and see how we could all work together and with Russian nationals and all do the right thing. And I was a bit stunned that someone I look up to, and who I know would have the knowledge and the experience to help make a difference, responded with hostility towards me and call me "odious." I consider myself a very dedicated member of the community, and I serve on the leadership council for the the Gay & Lesbian Alliance Against Defamation, I work on an organization that raises funds towards HIV and AIDS awareness, so it just baffled me a bit that this man very quickly wound up Facebook-blocking me and going in this direction. That said, we're in a new and very interesting time where people who have done great things may not have the skills in 2013 to lead internationally. Someone who is doing great things is Stuart Milk, Harvey Milk's nephew, who, that same weekend that all the calls to boycott were happening, was in Latvia leading one of the first pride events in the entire Baltic region that was organized by MOZAIKA, which is an LGBT rights organization in that region, which is of course made up of former Soviet states. Stuart led about 500 citizens through city streets, having eggs thrown at them; it's a very different environment there, not as bad as Russia but still not good. And he actually led them past the Stoli facility where Stoli is actually made, and bottled, and shipped, and what was interesting to me was that he came back with a message from MOZAIKA, a letter that's been circulated, asking for people not to boycott Stoli because we are one of the only companies in the region that supports LGBT rights.
Rowan: So what is the "Russianness" of Stolichnaya right now?
Gallineaux: What percentage of Stoli is actually Russian, you mean? Look, I would be the first one to admit it's understandable why people would be confused on this point; I would be too if I had not worked for this company for three and a half years and done extensive research on it before I took this position to make absolutely, 100-percent certain that they cared about our community. So the "Russianness" of Stoli? Make no mistake: Stoli has a very proud heritage within the Russian community. There's a tremendous, fabulous history of vodka in Russia that goes back centuries, through the czars. That said, unfortunately, although Stoli once was owned by the Russian state going back to the 1960s, in 1997 a brilliant, crazy (which is why I love him) Russian named Yury Shefler (who is very gay-friendly) purchased Stoli from the Russian government, at which point it was privately owned by him. And in 2000, weeks after Vladimir Putin took office, government forces stormed Yury's offices (called SPI Group) and stole Stoli and the corporate documents and all files from him and drove him out of Russia. Yury cannot even go back; he will be arrested. And what's super-confusing is that Putin began producing a Russian Stoli, so there are two Stolis, which is the basis of so much of the confusion around the boycott.
Rowan: Is it the same packaging on the Russian-made Stolichnaya?
Gallineaux: It's similar. I mean, Putin was pissed off that he couldn't have Stoli, so he copied it pretty closely on the packaging. But there are no flavors with the Russian Stoli. There's no Elit by Stolichnaya, our high-end vodka, only a "regular" Stoli, but it's a completely separate product from what we know in the West, and it's a completely separate company and separate ownership than what you get in over 150 other countries in the world.
Rowan: So the SPI Stoli that we get is produced in Latvia?
Gallineaux: Yes, produced and bottled in and shipped from Latvia. And the headquarters are in Luxembourg. And Yury himself splits his time between Luxembourg and ... the UK. And he is Russian, which is, again, part of the confusion. He's had his company seized by the Russian government and has been forced out of the country. But if you're, say, American and are forced out of the U.S. and you make hot dogs, and you want to keep producing them, that's still your brand identity, and you're going to want to make the best, most all-American hot dogs you can. Unfortunately, we can't even call the vodka Russian anymore, legally, because Putin has been trying to steal the brand around the world. He has some of the most manipulative, crazy lawyers in the world, who are suing to get different courts around the world to return Stoli to him. And one of the rulings meant that we can't even use the word "Russian" anymore, which is ironic, because if you want to boycott a Russian vodka, we're not even Russian anymore because of the same terrible, unacceptable Russian government that is causing damage to our own community within that country. And we're one of the only companies -- Stoli SPI -- that is daily fighting the Russian government in courts. And no, of course it's not all about LGBT rights, but the company does stand 100-percent in support of those rights, and I know because I'm one of the only people in the world who's spoken to every executive in the company through every transition, and I have never worked with an organization that has walked the walk and stood in support of me and my community as completely as SPI. So it's ironic. I think it's unjust. I don't think we should ever fight injustice with injustice. Stoli is not Russian. Stoli does still source -- and I want to clarify this, because this is the one thing that ACT UP and others will pull out at the end of the day, when they realize that a mistake was made, and they want to find a little bit of truth to support their actions -- we are still able to source wheat from the same farm in Russia that Stoli has always used. And I think it's wonderful and amazing that Putin has not been able to get his hands on that farm, and that we are still able to get that wheat.
I'm hoping to go over to the Baltic region, and even go to Russia, if possible, with Stuart Milk. I feel like we need to get as close as possible, and if we have a friend such as Stoli that can be supportive who has any sort of effect in Russia or in the region, we need to look at how we can work with them to influence and affect things in Russia. But don't run around trying to demonize everything Russian. We saw terrible things happen in regions that were demonized for 9/11 because they were Muslims: They were considered evil, and they were good people. It's a really bad situation right now. We need to think more globally in 2013, and more carefully.
Rowan: Do you think there are any Russian products where a boycott would have some kind of impactful, productive effect on Russian policy?
Gallineaux: Speaking personally, I'm not a big fan of boycotts in general. Boycotts are probably one of the easiest ways to try to make a difference, and there have been boycotts that were productive. With the Coors organization, someone in the family said something negative towards our community, and even though that may not have reflected [on] the organization as a whole, a boycott was organized and did probably result in much more pro-LGBT policies from Coors. But my understanding is that the majority of the Coors family was gay-supportive, and I don't believe it's appropriate to target a company or organization where the majority are supportive of our community. But if one of the members of the organization does something hurtful, they do need to be held accountable. That's why I'm on the board of GLAAD.
There are other vodkas that are Russian, that have the word "Russian" in their name, where a boycott would make more sense if you believe that a boycott is going to hurt Vladimir Putin. But I don't think it will. I do understand sending a message to our brothers and sisters in Russia to let them know we care and we are supporting them; if any of that message has gotten to them, then perhaps there is a value there. But what I believe is that we can only make long-term strategic plans to help effect change. I was proud to be part of a fundraiser recently at XL Nightclub for TK organization, who are doing exactly what my Russian friends advised me to do: These are all gay Russian Americans who are raising money to help gays who are fleeing Putin's government come to this country, or to get medical supplies to people who need them, or setting up Skype services to offer counseling and legal advice to members of our community there.
There are things we can do to help effect change. But even if we've made a mistake targeting Stoli as a fully Russian brand, now is the time to say, "OK, let's change gears and start working with companies like Stolichnaya to effect change for the better." And companies that support LGBT rights should be supported. Thirty years ago here it wasn't that great, and there's always the possibility of things turning back. But I've been really impressed with Stoli through this whole thing, and I think they are taking the high road and continuing to try to communicate and be supportive.
Rowan: You mentioned that a lot of the Stoli team is actually gay.
Gallineaux: Yes, there's a new team being set up. SPI is setting up direct shop in the U.S., which means that rather than being distributed and marketed by a fabulous company like William Grant & Sons, as it has for the past four years, it will be all in-house. I am tickled pink that the company is hiring so many amazing members of our community to work on the brand -- the CFO, our Brand Manager, and beyond -- hiring really talented gay people, not because they're gay but because they are great at their jobs. But we all know we are just a little bit more fabulous. [Laughs.]
Rowan: Do you see things being resolved with ACT UP?
Gallineaux: I did go to a protest at the Russian consulate in San Francisco that ACT UP had organized. I actually didn't even realize it was ACT UP; I just went as a community member to support. And I showed up in stilettos and a red boa because I had read that you were supposed to show up in red. And unbeknownst to me, it quickly became an anti-Stoli rally. And all of a sudden someone is screaming at me through a megaphone, and I couldn't see who it was, and this anger was so strong, and the feeling was basically being bullied, as I remembered so vividly from my youth. And the megaphone came down, and it was Cleve Jones. And I was shaking. It was horrible. And I was able to stand up and read the letter from MOZAIKA that Stuart Milk had forwarded. The response was actually quite positive, and a lot of people came up and spoke to me and were supportive. I remember one man said, "We're all on the same side, but you're having to take one for the team this time." After I spoke, I hung around for a while, and one of the members of ACT UP got up and spoke, and I don't know if he forgot I was there or if he was just being transparent, but he delivered basically a plan to everybody there about boycotting, and I heard him say that they were aware that the boycott might not work but that [they] needed to take responsibility for any damage they could inflict on my brand. So, on a deeper level, there is some political maneuverings here. They are using it because Stoli is available everywhere, and by identifying it as Russian, it gives people everywhere the chance to make a statement, and it's basically a convenient if incorrect target. Two wrongs don't make a right. We all make mistakes, and no one's perfect. But when we start to make demands that are not born of honesty, getting things done out of fear, that's what Putin's government is doing. We need to counter that with truth, and light, and class, and kindness. It's OK, mistakes were made, but we need to think about how we are going to lead in 2013 and move ahead, and I'm proud to work with Stolichnaya.
REAL LIFE. REAL NEWS. REAL VOICES.
Help us tell more of the stories that matter from voices that too often remain unheard.