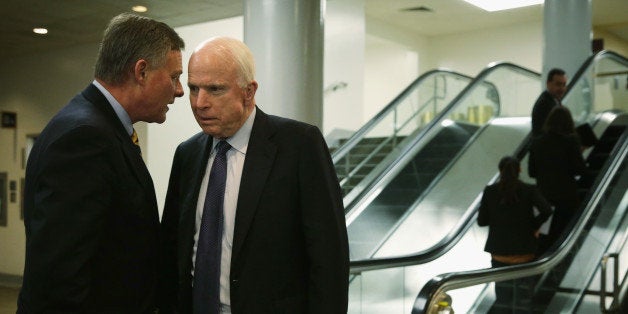 WASHINGTON -- With senators appearing steadfastly divided on whether to renew expiring Patriot Act provisions or replace them with a bill to curb government spying, Senate Intelligence Committee Chairman Richard Burr (R-N.C.) said he has a plan.
And it's "a win-win solution," Burr told reporters Thursday evening.
His idea is to allow the National Security Agency two years to transfer its bulk data collection of ordinary Americans' phone records to telecommunications companies. The end result resembles the scenario outlined in House-passed legislation.
Friday is the last day the Senate is scheduled to be in session before parts of the Patriot Act expire on June 1. Lawmakers in the House, who overwhelmingly passed the USA Freedom Act last week, left for a Memorial Day recess on Thursday afternoon and indicated they will not comply with a Senate attempt to extend the Patriot Act -- even temporarily.
But Burr said he suspects the House may be willing to approve his alternative, which adopts reforms included in the House legislation on a slower timeline.
The deadlock between senators who want to extend the Patriot Act and those who want reforms leaves Burr and Senate Majority Leader Mitch McConnell (R-Ky.) -- both ardent supporters of existing surveillance -- with limited options. They could allow a vote on the House bill, which they claim dangerously restricts spy agencies' ability to intercept terrorist communications. Or they could try to push a Senate vote to extend the Patriot Act, risking shutdown of the surveillance program if the House refused to pass the extension.
The Senate is scheduled to vote on both options Friday, and Burr predicts both will fail.
Senate supporters of the USA Freedom Act, which leaves in place several aspects of the Patriot Act, but revokes that government's authority to collect and store bulk metadata from Americans' phone records, concede they don't yet have 60 votes to pass the bill.
"But we're building momentum," said Sen. Mike Lee (R-Utah), one of the few Senate Republican backers. "We're getting more and more support. We're getting closer to 60 every second."
Some Republicans who had been lukewarm to the bill have begun to view it as the best option. "I want something to pass," said Sen. Jeff Flake (R-Ariz.). "I think that's got the best chance of passing."
When asked if the reform bill was likely to pass, Armed Services Committee Chairman John McCain (R-Ariz.) made a snoring noise. "They're just lurching back and forth right now," he said. "But again, as I predicted to you before, when Friday rolls around, the spirit of reconciliation becomes more prevalent throughout the body."
While McCain prefers a Patriot Act reauthorization, his priority is preventing a lapse in the NSA's surveillance program. "If there has to be some negotiation, okay. We've got to avoid the whole thing being shut down. We can't have that happen. That would be a dereliction of duty."
Gaining the support of surveillance hawks isn't the only challenge to passing the USA Freedom Act. Sen. Rand Paul (R-Ky.), one of the biggest critics of the NSA's bulk data collection program, opposes the bill because it doesn't do enough to rein in the intelligence agencies.
"I understand where Rand is coming from," said Sen. Joe Manchin (D-W.Va.), who joined Paul briefly on the Senate floor during the marathon speech. But Manchin said the House measure is an appropriate compromise.
"It still allows us to chase the rabbit down the hole as they say, find out who's the bad guy and who all is talking to bad people. But it doesn't have the bulk," Manchin said. "The bulk has been ruled on as being illegal. Why would we extend something that's been ruled on as illegal?"
Manchin was one of a handful of senators who visited the White House Thursday, where top presidential advisers briefed members on the surveillance program and asked for their support on the USA Freedom Act.
"The only thing I can tell you is my feeling is that there will not be a lapse," said Manchin, referring to the NSA's surveillance program. "I don't think anyone wants to take that risk."

REAL LIFE. REAL NEWS. REAL VOICES.
Help us tell more of the stories that matter from voices that too often remain unheard.
BEFORE YOU GO
PHOTO GALLERY
New Congress Members