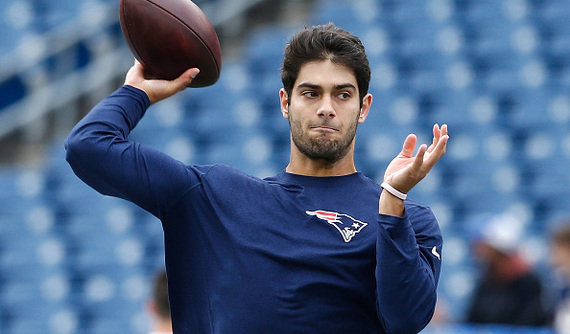 Brady has given up on fighting his four-game suspension, but it's not the end of things. His beleaguered Patriots team still has plenty of chances to win with seasoned backup Jimmy Garoppolo at the helm.
The season opener will take place in Glendale, AZ, where Garoppolo will be leading the charge against a very formidable Cardinals team. But even without Brady commanding the crew, Garoppolo could still shine and help the team overcome the four games they'll be going without their leader.
Thinking back to the 2008 season, when Tom Brady tore his ACL and was out for the entire season, Matt Cassel came in and helped the team go 11-5. That season resulted in the Patriots not making the playoffs, the first time that an 11-5 team didn't make the cut since the league expanded the playoffs to 12 teams in 1990.
Cassel subsequently was traded to the Chiefs in the offseason, and helped bring them to the playoffs in 2010. Cassel matured into a quality quarterback for three reasons: He was talented, he had the right coaches, and he learned under Brady. The same is true for Garoppolo, who has only played in 11 games, and who only has one NFL touchdown pass under his belt thus far.
But Garoppolo is playing for a coach that has amassed over 180 wins, and who holds four Lombardi trophies. What's more, he's learned directly under one of the best quarterbacks to ever play the game, a man who also has four shiny rings on his finger as a result of his prowess under center.
Josh McDaniels will also help, and has four rings, too. He helped get Cassel ready in 2008, and can surely aid Garoppolo today. With weapons like Rob Gronkowski on the team, the Patriots have the ability to make do without Brady for a few games.
In all likeliness, the team can go 3-1 before Brady returns. The Cardinals will be their toughest matchup. However, after that game, they play the Dolphins followed by the Texans and then the Bills. Brady returns in Week 5 for their matchup against the Browns, when it should be all smooth running once again.
As for Garoppolo, let's also not forget that he broke the record that Tony Romo set at Eastern Illinois, putting up 5,050 passing yards with 53 touchdowns during his senior season. So yeah, there's that, too.