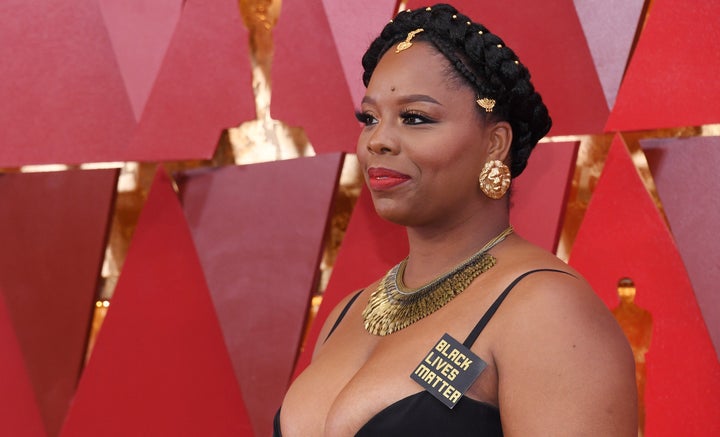 Patrisse Cullors knows that queer black women are at the heart of progress for the LGBTQ and black communities.
"I am part of a legacy of queer black women who have fought for the freedom of Black people across the globe," Cullors, 34, told HuffPost ahead of LGBTQ Pride Month.
Cullors, along with two other queer black women, Opal Tometi and Alicia Garza, co-founded the Black Lives Matter movement in 2013 after George Zimmerman was acquitted of shooting and killing 17-year-old Trayvon Martin. The Los Angeles native was an organizer her entire life, but after creating the Black Lives Matter movement, her activism took off.
"While there have been some challenges from right-wing forces and homophobic people, I have not let that deter my goals," Cullors said.
When she first came out as queer in high school, Cullors said it was as if her "entire world opened up," the activist explained in a 2016 essay for Esquire. And that's when she first learned of the queer black women who came before her.
"I read everything and anything related to being queer. I found solace in reading authors like Audre Lorde and bell hooks, who would become my activist staples ― their words helped me grow up and taught me how to be bold and courageous," she wrote. "By studying them, I came to understand that being young and queer and black would not be easy."
"We have to remember that corporatized pride has been incredibly damaging to the plight of Black communities."
Social justice work ― the type that takes full body and soul to do every day ― takes its toll. The most recent example was the death of activist Erica Garner, daughter of police chokehold victim Eric Garner. She died from a heart attack at the young age of 27. Cullors knows that self-care, or rather "collective care," is imperative to surviving another day.
"I believe that every black person should have a therapist, and [therapy] should be a part of a reparations package," she said. "I think collective care is more appealing than self-care. We should be developing spaces and places that are thinking about how we care for the group vs. asking the individual to take care of themselves."
She added that her two-year-old child, who she cares for with partner Janaya Khan, also motivates her to wake up every day and keep fighting.
When asked what pride means to her, Cullors was quick to point out that the LGBTQ community's push for progress has been commodified and whitewashed.
″The first pride was a riot," she told HuffPost. "I think we have to remember that corporatized pride has been incredibly damaging to the plight of black communities. A mainstream queer and trans movement isn't going to support our liberation. We have to look at queerness as a means towards challenging normativity."
She added that a queer future "looks and feels like transformation, healing and courage."
And to young queer people who feel powerless under the current administration, Cullors gave wise words of advice: "Be a part of the larger resistance and movement that is trying to change the destiny of this country."
For LGBTQ Pride 2018, HuffPost is highlighting 30 different cultural influencers who have shifted the narrative when it comes to queer issues and whose work has contributed to building a more inclusive and equitable future for us all.
#TheFutureIsQueer is HuffPost's monthlong celebration of queerness, not just as an identity but as action in the world. Find all of our Pride Month coverage here.
Support HuffPost
Every Voice Matters
Popular in the Community