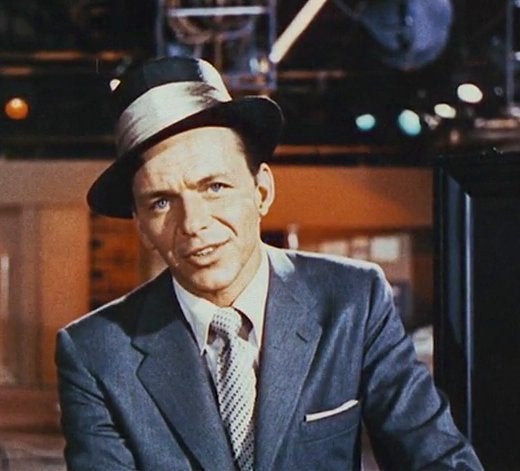 Patsy's Italian Restaurant is the most authentic restaurant in New York. There aren't many restaurants that have been open since 1944 and are still family owned and run. It's no surprise that it was Frank Sinatra's favorite because there is something for everyone and the members of the Scognamillo family go out of their way to make you feel welcome. Patsy's Italian Restaurant is just as relevant today as ever, and I caught up with Chef Sal Scognamillo to discuss how he makes it work.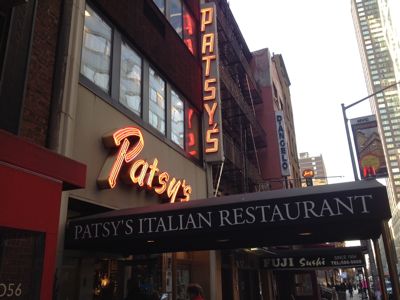 JZ: How's Patsy's doing?
SS: We are very lucky because we have a loyal legion of customers who when they are in town they come and see us and if not they tell their friends to come in. They always tell their friends if they are coming to New York they have to go to Patsy's. To me there is no greater endorsement than when your family or friends tell you about a restaurant.
JZ: Who was Patsy?
SS: Patsy was my grandfather. His name was Pasquale. He got the nickname Patsy when he came to America and it just stuck with him. He worked at many restaurants before he opened Patsy's in 1944. He worked his way up from waiter to a manager where he was running the restaurants. He became well-known in the business, so when he opened up Patsy's he was lucky to have some loyal people follow him.
JZ: What's it like working with your family?
SS: I like working with my family, but it's a tough business. There are sacrifices because I don't get to see my wife and children as much as I would like to, and I when I was young I didn't get to see my dad a lot. It's nice now to spend time with my mom and dad in the restaurant.
Joe Scognamillo, Sal Scognamillo and Frank DiCola
JZ: What advice do you have for people who work in a family business?
SS: The most important thing is to be flexible. You have to understand what your responsibilities are and try not to step on any toes. My cousin handles the reservations and he knows I'm in the kitchen so he doesn't have to worry about it. Not in a bad way but he doesn't have to be in the kitchen and I don't need to worry about the reservations. With family everyone should have their own responsibility and just take care of it.
JZ: How do you keep Patsy's so authentic?
SS: As long as our customers still want what we do we are going to stick to what made us famous. What keeps us here all these years is the Neapolitan southern Italian cuisine. All the red sauce dishes like steak pizzaiola, stuffed calamari and even the chicken cacciatore, those are all dishes that were on the original menus in 1944. It's important for restaurants not to be something they are not. We are what we are and will keep it that way as long as the customers are happy.
JZ: There is just so much history here.
SS: It's been a wonderful history in part due to Frank Sinatra. People laugh at me but I say our success is based on food, family and Frank Sinatra.
Frank Sinatra knew my grandfather two years before he opened Patsy's and was introduced by the bandleader Tommy Dorsey. Frank and my grandfather became good friends. What really solidified the relationship was in the early '50s when Sinatra was down on his luck and his career was in a slump. He would be having lunch by himself and he would tell my grandfather that all the people around him were his fair-weather friends who only came out when the sun was shining. Usually people would clamor to buy him a drink or pick up his check but because he was down and out he was alone. One day in late November he asked to make a lunch reservation for one not realizing it was Thanksgiving. There were signs in the window but my grandfather didn't have the heart to tell him it was closed. So after he left my grandfather told the staff to please come in and bring their families for Thanksgiving. It wasn't until later in his life that Frank realized my grandfather opened for him but he never forgot it. There was never a time when he was in New York and he didn't go to Patsy's for dinner at least once. He brought all his friends here and a guy like Frank Sinatra has a lot of friends.
JZ: Restaurants don't do that anymore.
SS: You are right. That's because so many restaurants are run by corporations and not families. That's one of the things we pride ourselves on, that there is always one member of the family here.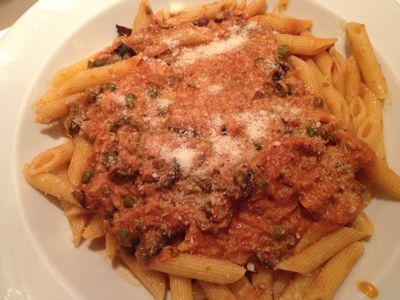 Pasta a la Michael Bublé. This is what Michael eats when he's at Patsy's. It's penne with tuna, capers and olives in a pink sauce. It's delicious and perfect if you don't eat meat.
JZ: What made you decide to jar and sell the sauce?
SS: I had been after my dad for a while to do it. I finally convinced him when it was our 50th anniversary that it would be a good way to mark the anniversary. It's actually bought a lot of business to the restaurant. We have so many people who try and love the sauce that they make a note to visit us when they are in New York. It's like a business card that you can taste.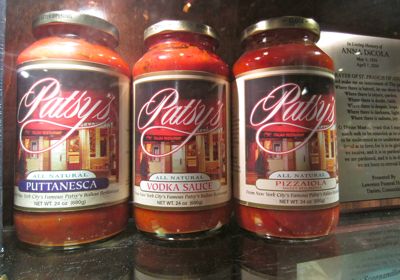 JZ: You are active on Facebook and Twitter. How important is that for a restaurant?
SS: It's invaluable. It's a wonderful way to communicate directly with customers. What I love is when people on Facebook write that they are coming into the city to come to Patsy's. I will always write back to them to tell the waiter when they get here because I would like to meet them in person. The great thing is even if you haven't met the customer knows someone from the minute they walk in the door and it makes them feel comfortable.
JZ: Do you love your job?
SS: Yes. I have been working here for 27 years full-time. The old adage applies to me that if you like what you do you never work a day in your life. I just love making people happy and I'm never upset to come into work.
JZ: What do you know now that you wish you knew when you started?
SS: I always go by the saying that you can always learn something new. You should never be at a point where you think you know everything.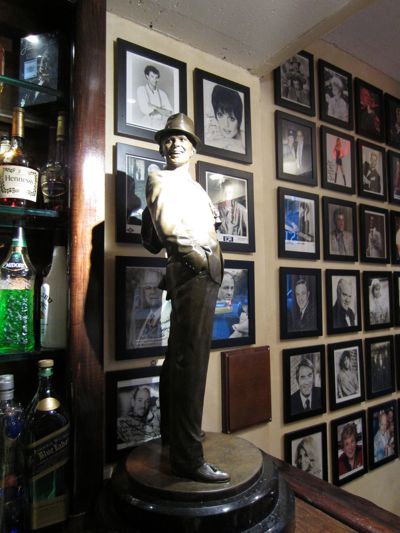 Patsy's Italian Restaurant is located at 236 West 56th Street. (212)247-3491

Popular in the Community