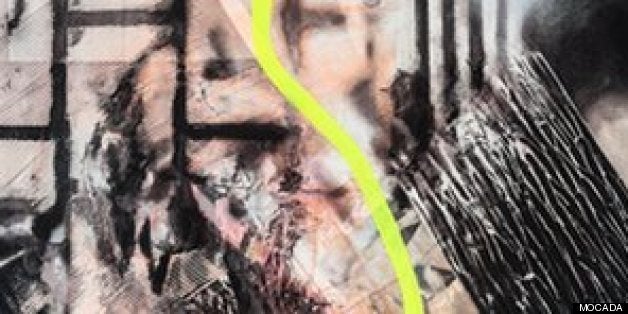 Last Thursday's exhibition opening at the Museum of Contemporary African Diasporan Arts in Fort Greene was quite the social soiree. The museum packed-in a full house far after the open bar was depleted. Museum-goers poured out into the space's back patio, where a DJ spun hip-hop selections for the duration of the event. Throughout the evening, the museum's small exhibit space was crawling with a constant stream of curious onlookers.
"Curious" was exactly the type of person that the exhibition's curator, Dexter Wimberly, described as its audience. "This exhibit is not for everyone," he laughed when asked about the exhibition's appeal to a more general audience. "If you're not walking in with a critical mind, you won't enjoy it."
The exhibition's central theme examines our innate desire to comprehend patterns or meaning in the data that surrounds us. Through abstraction, the show also explores themes of history, consumerism, and the tension between art and commercialization. Ideas of identity, spirituality, and politics are present throughout the works.
Sociopolitical themes are particularly apposite in the works of Rushern Baker IV, whose father Rushern Baker III is an active Maryland politician. Currently the artist-in-residence at 39th Street Gallery, he says of his work, "[My] paintings aim to create public discourse through an aesthetic investigation into U.S. foreign and domestic policies, the crisis of modernity, and warfare. The paintings capture a general sense of unrest that permeates the mindspace of my studio."
Found objects also play an integral part in many of the installations, such as enormous converted steel slabs used by Hugo McCloud. "Each place that I travel within my work, I grab something from those different places that I take and I put into my work," says McCloud of his textiles. "It's trying to recreate the textures that have been created over the wear-and-tear of time."
MoCADA will host a number of events with the Pattern Recognition artists throughout the coming months. Of note, Sam Vernon and Rushern Baker IV will be leading a teen workshop in landscape collage on Saturday, August 24th (RSVP is required). A full list of all of the upcoming events associated with this exhibition can be found on MoCADA's website.
All images courtesy of the artists and MoCADA.
REAL LIFE. REAL NEWS. REAL VOICES.
Help us tell more of the stories that matter from voices that too often remain unheard.