Scroll down for the potentially NSFW-photo.
Former first daughter Patti Davis nearly reprised her role as celebrity centerfold for More magazine's latest issue, baring both her body and soul at age 58.
The offspring of Ronald and Nancy Reagan first made it to the gym in her twenties after years of amphetamine and cocaine addiction, and in 1994, at 42 years old, she decided to pose for Playboy:
I told the magazine the kind of layout I wanted to do: athletic, artistic, focused on the shape and musculature I'd worked so hard to achieve. They quickly agreed. If they had insisted on some bedroomy, frilly layout, I would have walked away. I wanted what I'd envisioned all those years earlier, and I wasn't willing to compromise. I knew, given my reputation as the rebellious First Daughter (although my father was out of office by then), that I'd get criticized for doing Playboy, but I didn't care. I wasn't doing this to spite my parents; I was doing it for me. This was my victory lap. This was standing naked in front of the world when it was a miracle that I was even still in the world. I am proof that it isn't that easy to die, because from the age of 15, well into my twenties, I was working on dying. Most addicts are.
And, Davis writes, "Despite all the criticism I got, which was plenty, I'm still proud of that shoot." She adds that she's continued to work out over the years and decided to strip down once again, this time for More, upon the suggestion of her kickboxing teacher, noting, "My muscles are leaner, longer, more defined now."
Davis also opened up about going under the knife:
Speaking of plastic surgery, let me answer the question that inevitably comes up: I have had nothing surgical done below the neck, but I did have a face-lift at 50. And frankly, the minute something in that zone starts drooping, I'm going to have it hoisted back up. There is just no reason to not like your face in the mirror. You see it first thing in the morning, and brushing your teeth in the dark is silly.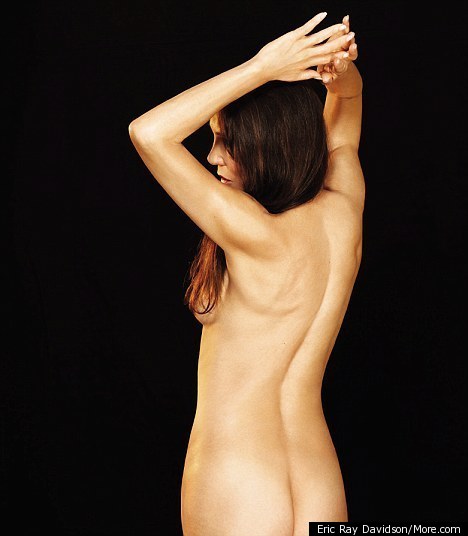 Related