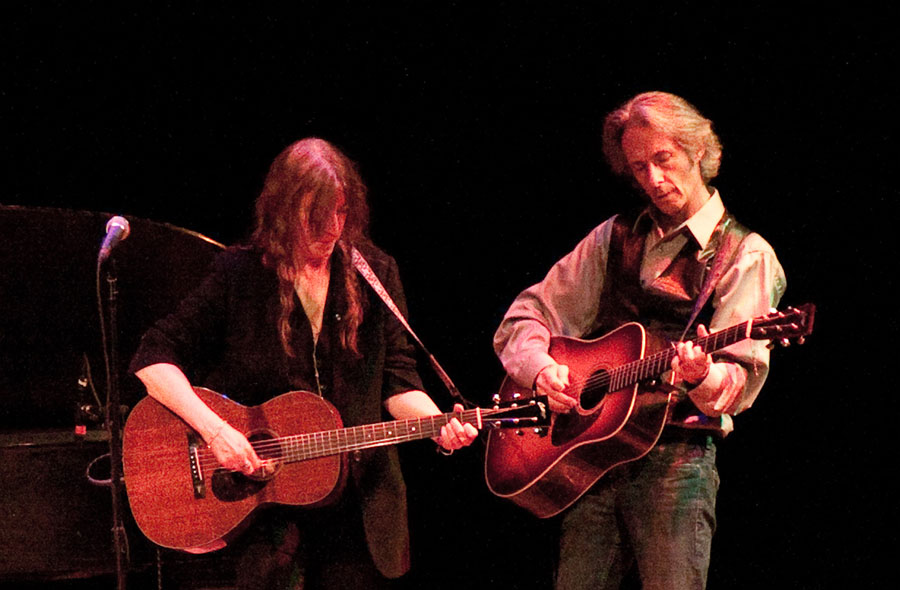 Photo credit: Diana Guay Dixon. Courtesy of the Wadsworth Atheneum.
For the opening of her exhibit, Patti Smith: Camera Solo at the Wadsworth Atheneum in Hartford, CT last week, Patti Smith gave a concert celebrating essential connections between art, music, and literature.

Fishing for her reading glasses in the hip pocket of her black blazer, Smith, 64, held court on the modest stage of the museum's basement theater. Referring to a photograph from her exhibition, William Blake, a blurred portrait of the poet's life mask, she read Blake's "The Tyger," in an incantatory, sing-songy voice, gesturing with her hands as his words took possession of her. Then, accompanied by her daughter Jesse on the piano and her longtime guitarist Lenny Kaye, she unleashed her song: "My Blakean Year."
Over and over, during the concert, Smith conjured her deceased muses through sung recitations of their writings. Over and over, she related stories about these people to images in her exhibit of seventy-odd photographs. Over and over, she sang songs that felt like the culmination of her intense longing for artists, writers, and even family members, who, although gone, will forever inspire her.
Smith's voice is as powerfully lugubrious as it ever was. On stage, she is warm—as my son, who accompanied me, said, "human." Like a mystic or, even more unexpectedly, an evangelist, she effectively breathed new life into old poems and novels, and by extension their authors. The effect was palpable, as the crowd clapped in rhythm and belted out in unison "Because the Night."

What follows here is my attempt--based upon interviews with Smith--to connect, in yet another form, her words to her pictures.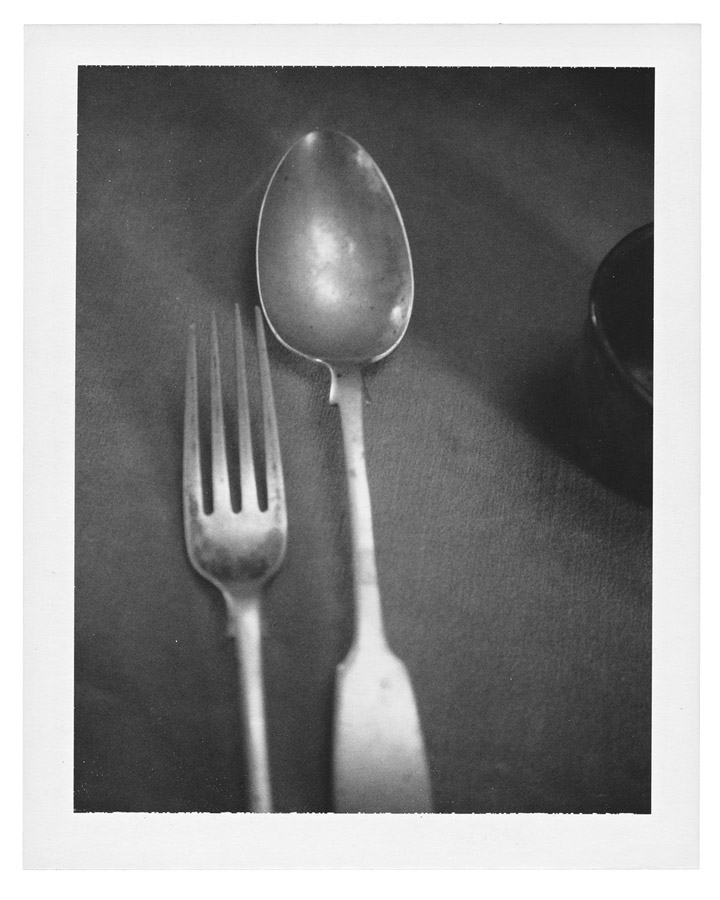 Patti Smith (b. 1946), Arthur Rimbaud's Utensils, Musée Rimbaud, Charleville, 2005. Unique Polaroid Print, 4 ¼ x 3 ¼ in. © Patti Smith. Courtesy the artist and Robert Miller Gallery.
When Smith first visited the Rimbaud Museum in Charleville, France in 1973, she said, she marveled at the fork and spoon once used by late 19th century poet, "never dreaming that one day I, too, would actually hold them in my hands."
More than three decades later, Smith was permitted not only to handle these coveted objects—which Rimbaud had brought back from a trip to Ethiopia, and which Smith said looked as if they were made of "old pewter"—but also to arrange them for a photograph.
This unusual opportunity presented a daunting challenge, however. "The museum has these horrible fluorescent lights," said Smith, adding that she was "too shy to ask the man to turn off."

Smith is returning to Charleville to give a concert honoring the anniversary of Rimbaud's death on November 10th (which is also the date of the 1975 release of her debut album, Horses).
She plans to take more pictures at the museum during her visit. Fluorescent lights should no longer be a factor, she said, since "they've promised to turn them off."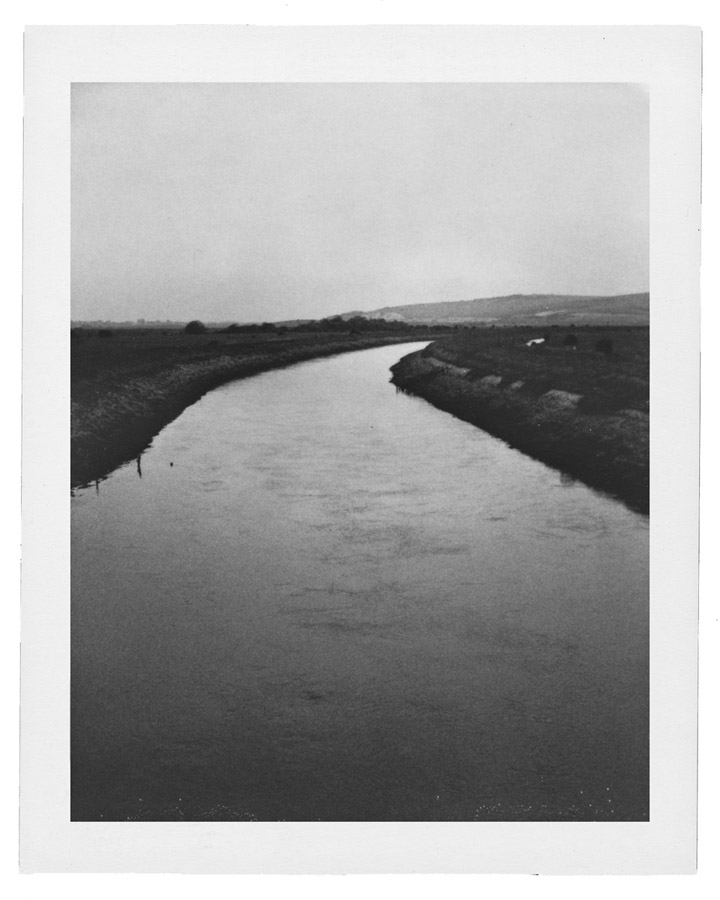 Patti Smith (b. 1946), The River Ouse, East Sussex, England. 2003. Gelatin Silver Print, 4 ¼ x 3 ¼ in. © Patti Smith. Courtesy the artist and Robert Miller Gallery.
Smith's fascination with Bloomsbury, the renowned group of early 20th century English intellectuals, is longstanding. She has taken many pictures at the country houses of Virginia and Leonard Woolf, and Vanessa Bell and Duncan Grant. And she's even read from Woolf's novel The Waves, for her family's descendants and their friends, in a field outside of Monk's House in East Sussex.
Once, she said she wandered down to the river where Woolf was said to have drowned. Standing at on the bank, Smith spotted what she called "these perfect smooth, heavy, stones, true river stones," which reminded her of the stones Woolf must have used to weigh down her pockets, before descending to her watery grave.
From a nearby bridge where Woolf's body was eventually discovered amid "tangled weeds," Smith said she looked out at the river, and thought, "'This was Virginia's final voyage.'"
The atmosphere in this dreamy photograph, Smith attributed to the overcast weather, which she said, produced "a perfect light, silvery and moody."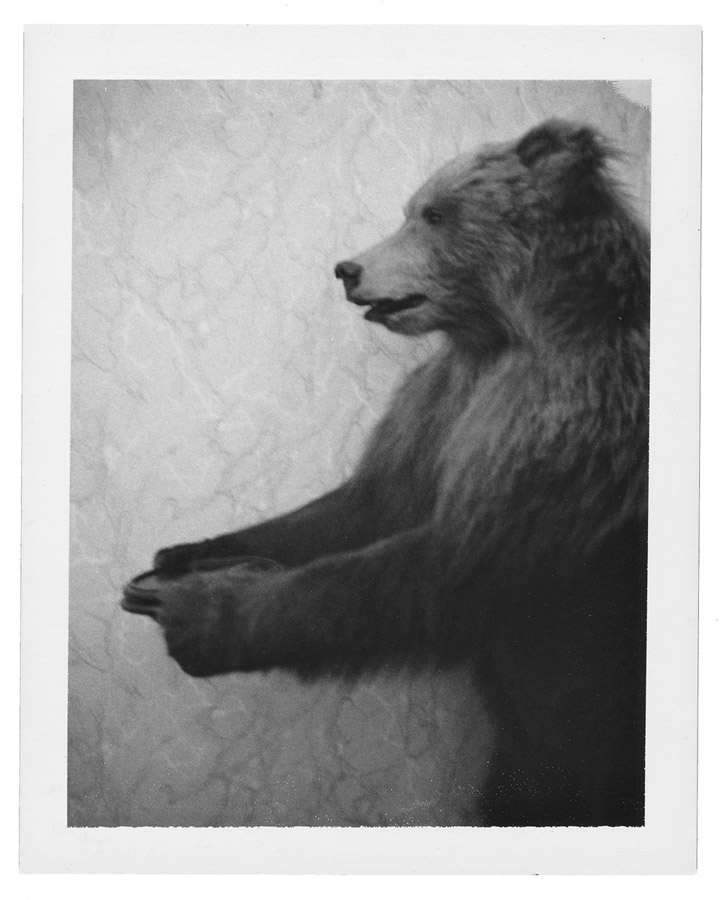 Patti Smith (b. 1946), Bear with Calling Card Tray, Tolstoy's Home, Moscow, 2005. Unique Polaroid Print, 4 ¼ x 3 ¼ in. © Patti Smith. Courtesy the artist and Robert Miller Gallery.
In Moscow, Smith said that when she wasn't performing to effusive fans, she was repeatedly ambushed by journalists and their flashing camera bulbs. ("I didn't know there were that many newspapers there," she said, ruefully.) Seeking a much-needed refuge in Tolstoy's house, she encountered more paparazzi, and finally, she said, "I got really mad."
"I want to be able to enjoy life. I don't want people to photograph me looking at Tolstoy's desk," she said she told the gathered crowd.
Tolstoy's desk, as it turned out, was roped off, and impossible to get a good angle on, Smith recalled. But standing at the foot of the front staircase, was a hip-high taxidermied bear, holding a calling card tray. The bear, which resembled a dancing bear in the circus, she said, was "just charming." It brought to mind Tolstoy "sauntering over to see who had stopped by while he was working," she said.
"It's funny, I'll often go to a place looking for one thing, but then I'll find something different," she said, adding, "I didn't go to Tolstoy's house thinking I would photograph a stuffed bear butler."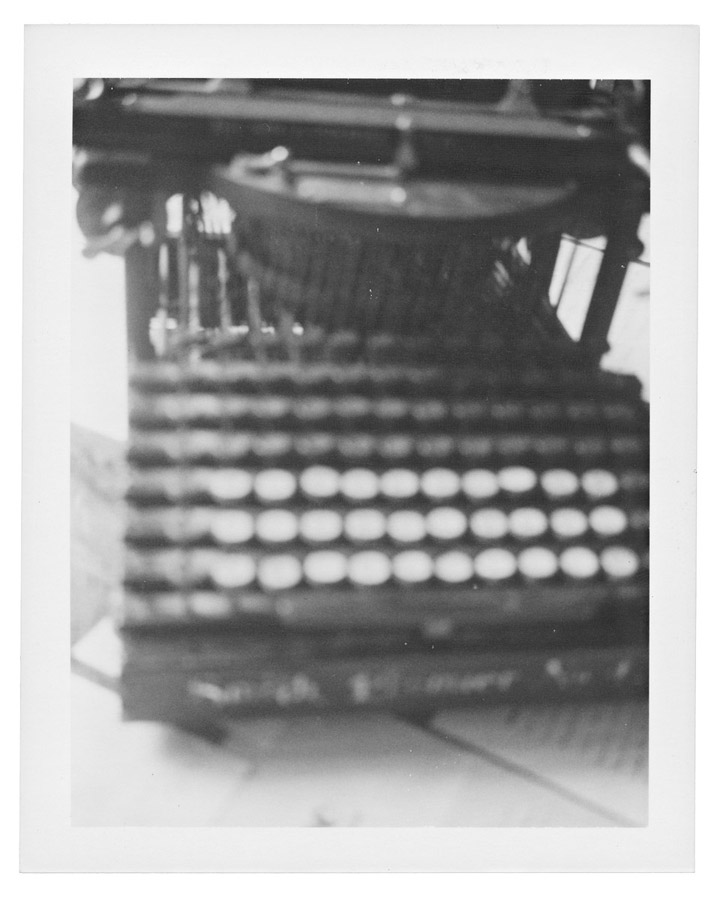 Patti Smith (b. 1946), Hermann Hesse's Typewriter, 2003. Unique Polaroid Print, 4 ¼ x 3 ¼ in. © Patti Smith. Courtesy the artist and Robert Miller Gallery.
In return for giving a fund-raising concert for the Hermann Hesse Museum in Lugano, Switzerland, Smith said she was permitted to photograph some of the objects on display there. At first she said she gravitated toward Hesse's glasses, turning them over in her hands. But in the end, it was his typewriter—which coincidentally bore her surname—that stole her heart.
Hesse's 1943 novel, The Glass Bead Game, Smith's favorite book by the author, was apparently written on this typewriter.
Admitting that "I've always loved word plays, and double meanings," Smith said she attempted a visual pun relating to Hesse's opus. "I wanted to make the keys look like beads."
Placing the cumbersome typewriter below a window so that sunlight poured down on its frame, she said, she then eschewed her normal frugality with film, allowing herself as many shots as she would need to achieve her desired effect.
After about nine tries, she said, "the light fell on the keys so that their letters were obliterated." Smith had her picture.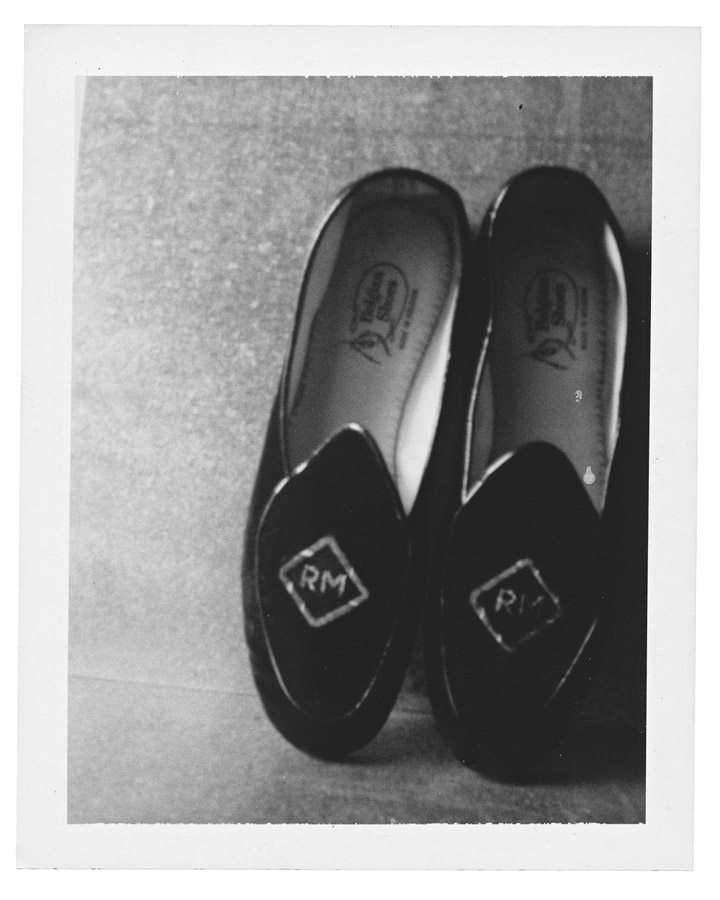 Patti Smith (b. 1946), Robert's Slippers, 2002. Unique Polaroid Print, 4 ¼ x 3 ¼ in. © Patti Smith. Courtesy the artist and Robert Miller Gallery.
Smith occasionally photographs objects in her own home, as was the case with the slippers once belonging to her dear friend, the photographer Robert Mapplethorpe.
One day in 1987, when Mapplethorpe was beginning his battle with AIDS, Smith said she went to visit him. "He was feeling a bit ill," she recalled, adding that, in spite of this, he had donned a beautiful robe, and a pair of custom-made black velvet slippers, bearing his embroidered initials.
Two years later, after Mapplethorpe had died, Lynn Davis, a photographer and mutual friend, inherited the slippers. Smith pined for them, she said, and eventually Davis entrusted the slippers to her. As a token of Smith's gratitude, she said, she photographed them, so Davis would also possess "something of the slippers."
Smith usually keeps the slippers in a glass case reserved for her most precious possessions. She agreed to loan them to the Atheneum for the duration of Camera Solo, partly because the museum has actively supported Mapplethorpe, and partly because, she said, "I thought Robert would have wanted them there."
"Luckily," she added, "I'll be on tour for a lot of the time," so their absence from her apartment, "won't be so painful."
(Patti Smith: Camera Solo will remain on view at the Wadsworth Atheneum in Hartford, CT, through February 19th.)
Related
Popular in the Community