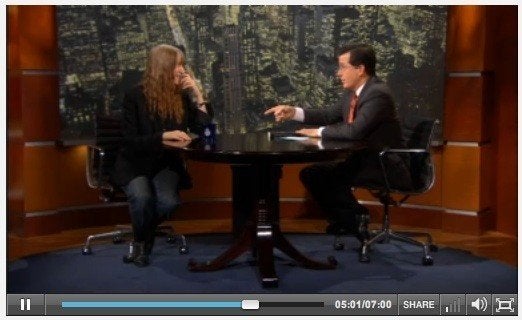 Stephen Colbert told Patti Smith last night on his show: "Some have said you're the mother of the punk rock world. That must be a difficult family to raise."
Smith, affectionately referred to as the "Godmother of Punk" for her influence on the New York City punk rock scene as a singer-songwriter and performer, recently won this year's National Book Award in Nonfiction for her new book, "Just Kids." The book chronicles her days living with visual artist Robert Mapplethorpe in the 1970s and speaks to themes of artistic integrity and the life of an artist.
Colbert asked Smith if New York was still a "friendly" city for artists.
"I think New York is one of the greatest cities in the world in terms of diversity, but it's not welcoming to the young artist," Smith replied. "It's very expensive now, it's shifted its perspective and I think that's a sad thing."
The two also spoke about how Smith's own status has transformed over the years, from an anti-authoritarian punk rock singer to a major prize-winning author.
"Aren't you an authority now?" Colbert asked. "You're a big fat winner of the National Book Award. Now, that's the authority, that's the man ..."
"No, I like my award," she said. "I know, as an artist, I know who I am, I know what I work for ... I try to do good work and give things of merit to the people. I don't work to win an award, but if I get one, I'm really happy."
"Me too," Colbert said, beaming.
About being an artist, Smith told Colbert later in the interview: "You have to be ready to sacrifice -- it's like being a mother, it's a full-time job."
"That's why I'm a father," Colbert was quick to reply.
WATCH:
Popular in the Community