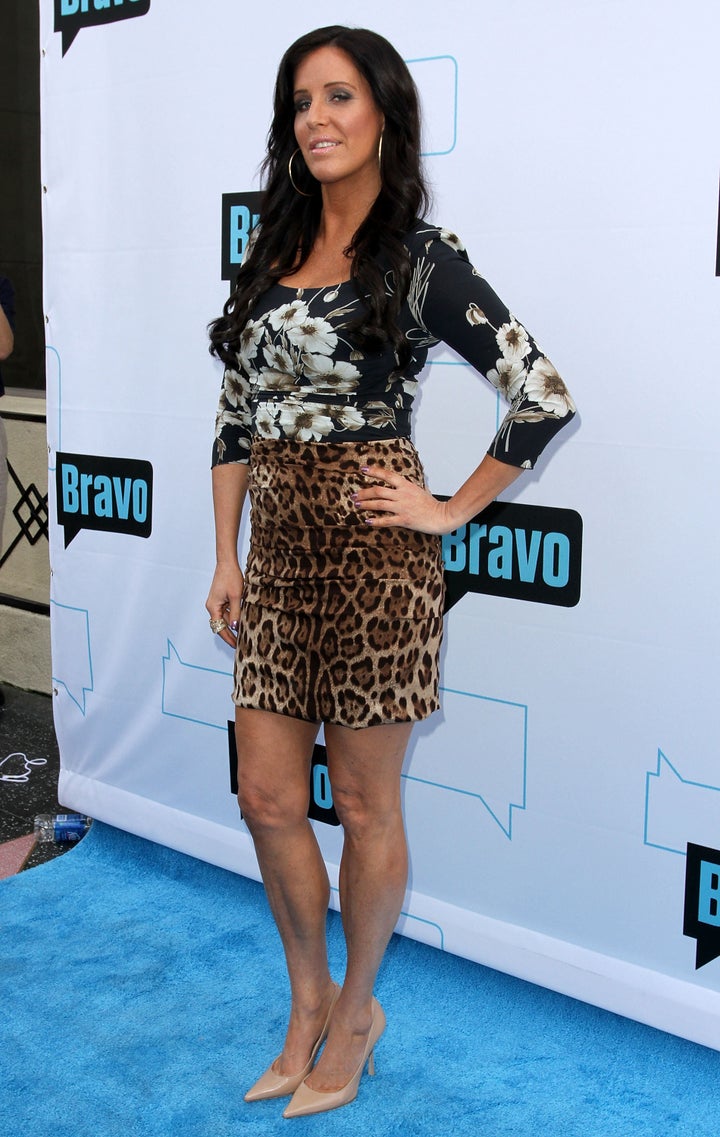 It's one of the great paradoxes of our time, in line with Bristol Palin's campaign for teen abstinence, genuine pleather and, gosh, is Jessica Simpson actually really smart? Now Patti Stanger, creator and tour de force behind Bravo's hit reality show "Millionaire Matchmaker" gears up for season five of television's most exclusive club in high spirits — and highly single.
To her credit, what Patti sells isn't guaranteed marriage or even coupledom — not to the aloof-but-wealthy men she coaches, or to the sexed-up women she reigns in for the meet-and-greet sessions she calls "mixers." That's usually the case, at least, though Patti's worked with millionairesses and gay millionaires too.
No, what Patti sells is far more enticing: the prospect of finding love.
"Everyone deserves love," the upbeat New Jersey native has repeatedly quipped throughout the seasons, and judging from her recent weight-loss post-breakup from fiance Andy Friedman last year, she still firmly believes it. She's also the first to tell you that at, age 50, she's still on a learning curve: "Things are going to change for me." Now the woman behind such wacky-but-wise axioms such as "let the penis do the picking" and "beauty fades, dumb is forever" tells HuffPost Entertainment what to look forward to in season five, premiering on Bravo August 15th, why New York women are the stupidest (in the world!) and how Marc Anthony's control issues lost him Jennifer Lopez.
Hi Patti! Tell us what we can look forward to in Season 5 of "Millionaire Matchmaker."
It's a whole new world roller coaster ride. I'm single now, so I will be dating and having my own episode and my own mixer. We also have celebrity experts, like Tori Spelling and Jennie McCarthy, my friends. We're going to mostly work on men. One millionairess who's as crazy as Shauna -- made Shauna look like a pussycat. Sex Toy Dave comes back. So we've got an eclectic ride: 13 episodes, one extra indulgence this season instead of 12.
You shot last season in New York, which was interesting to watch, especially since you're from New Jersey originally. What are the men of New York like in comparison to Los Angeles?
I think the men in L.A. are very rugged, good-looking. Men in New York look metro with their manis and pedis and their Bruno Magli loafers, but inside they're very masculine -- aside from the Meatpacking district. The problem is the men in New York are five to one: five women to one man.
And the New York women?
[New York] women are city snobs. They won't go outside to the suburbs to find true love, even though in a down economy men buy real estate. They're really stupid women in New York. I'm going to say they're stupidest women in the world. Here's my quote: "Smart in business, dumb in love."
If I told you your husband lives in Lawrenceville or Connecticut or you had to go to Pennsylvannia, you'd get on a train tomorrow. No, they're like, "No, I only want to be in my own zip code in the Upper West Side or downtown." They're dumb. They're bright, they have an education and they have breeding and they went to Harvard and Yale, yet they can't get around the block to find their love life.
Whew! We're almost afraid to ask what the women in Los Angeles are like now…
For the women in California, they're just downtrodden because they're so gorgeous here. Every hot cheerleader comes to California to make it. The men don't want to get married, they're lazy lions. Matthew McConaughey is their poster boy so they can procreate and live on the beach in the trailer and have kids and have money and be hedonistic.
So what advice can you give to girls who are in their early twenties? Or just about to graduate from college?
Get a job. Make money. Learn how to make money on your own. I don't say you can't marry a millionaire. What I say to you is it's no longer a given that you're going to marry a millionaire and get to stay at home and have that option of not working... Go out, mosey about your business, find a passion you're interested in, get involved in it. If you can make money on it, fantastic -- that's even better. Then he'll show up.
The world is a different place. We're equal now and we shouldn't be. Men are going, "You can make money, you pay the bill." And yet we're picking up the laundry, doing the grocery, picking the kids from school, and we're fucking exhausted. We're doing everything. We're becoming superwomen. As Oprah says, you can't do it all at the same time. And that's the problem. If business doing good, your love life sucks. If your love life's good, you can't find a job.
We were sad to hear about your breakup from fiance Andy. How will things be different for you this time around?
There are a lot of millionairess situations. I'm one of them. I've always dated down financially. And now I'm changing my tune on that one. Things are going to change for me. That's what happening… All it takes is one. Let's put it this way. If I told you it took one, you'd be like, then the odds are in my favor.
Any thoughts on the Marc Anthony and Jennifer Lopez breakup splashed all across the tabloids? We were rooting for those two.
I can watch his body language. He was kinda snarky, and he had kind of an edge. He seems controlling. If you've got two kids and this person is controlling, no matter how much you try to work this relationship out, it could even end up in violence for all we know. She hit the wall. Her career went down when she went with him. He's not known in our country. We don't listen to Latin music. If you were to ask me who my favorite singer is in the Latin community, it's Luis Miguel. And I grew up half the time in Miami so I knew the Latin culture.
"American Idol" put her back on top, she got all her endorsement deals, and he probably said, "No, I want you to be with me, you got your one year to be on 'American Idol.'" And she's like if I go right, and end up with the man, I end up with nothing. And she is competitive. I don't know what the one thing was that changed her mind and made her walk out but I'm sure it's something very big.
Finally, inquiring minds want to know: what is your hatred for redheads all about? It seems personal...
I don't hate redheads! The millionaire men -- wealthy men -- never pick them. Every time I offer them they say no. I could say the most gorgeous redhead in the world and they'll say no, they don't want it. Now if you ask an Irish guy in Ireland, he says yes. Because that's indigenous to that country. It's not me, it's the men. Same thing with curly hair. My cousin is a Rockette, there was an Elle magazine spread last year and they told her I said that. She almost killed me.
WATCH:
Popular in the Community