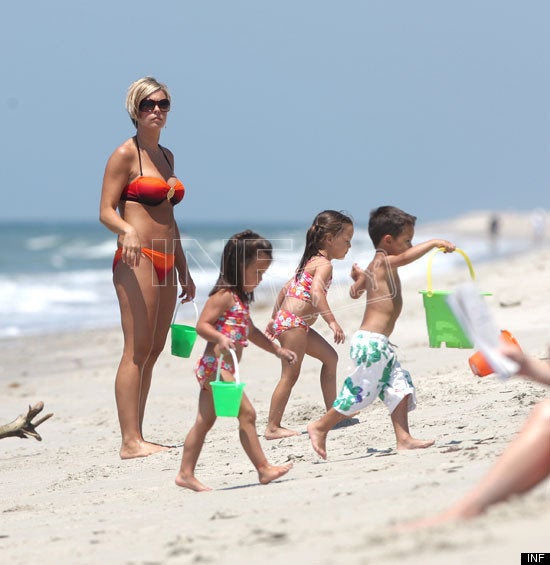 What a difference a week makes. Last week, Brad Pitt & Angelina Jolie dominated the celebrity weekly covers. Not this week! Chace Crawford wins People's Hottest Bachelor, Robert Pattinson & Kristen Stewart are the hot couple of the week, Britney Spears is getting married and Stephanie Pratt is bulimic. What about the Gosselins? Trouble for Kate! She got caught hitting her daughter and In Touch has the pics to prove it.
Let's take a closer look at the just-released cover stories of the week!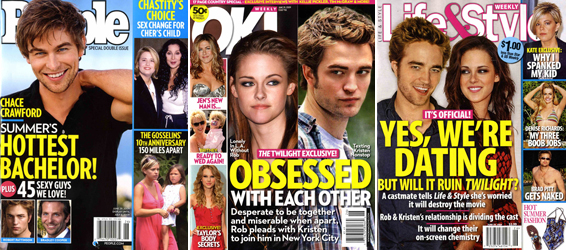 Gossip Girl hottie Chace Crawford takes home People Magazine's Hottest Bachelor Award. Who were the runner-ups? It looks like Twilight's Robert Pattinson and rising-star Bradley Cooper fell short of the big prize.
Is Chace Crawford the hottest bachelor in the country? Vote here!
OK! Magazine releases its third Twilight cover in a row. What's happening this week between Robert Pattinson & Kristen Stewart? The Twilight couple is obsessed with each other. They're desperate to be together and miserable when apart. With Robert in NY and Kristen in LA -- they are clearly having a tough time being apart. The solution? Robert has asked Kristen to join him in NYC!
Should Kristen Stewart accept Robert Pattinson's invitation to NYC? Vote here!


Life & Style Weekly is reporting Robert Pattinson and Kristen Stewart are dating -- but asks will it ruin Twilight. A castmate told the magazine that she's worried it will destroy the movie and their relationship is dividing the cast. Plus, the magazine predicts this relationship will change their on-screen chemistry.
Do you believe Robert Pattinson and Kristen Stewart's off-screen relationship will ruin Twilight? Vote here!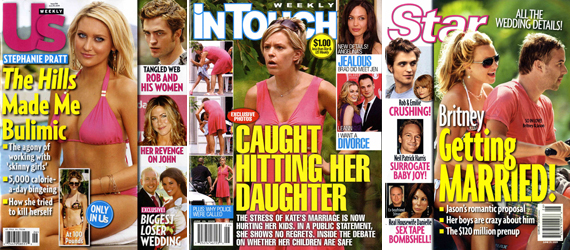 Us Weekly features The Hills' Stephanie Pratt and her struggle with bulimia on its latest cover. (And, no Jon & Kate on this week's cover.) Back to Stephanie. The Hills is apparently the reason she was bulimic. She was stressed out over working with "skinny girls," binged 5,000 calories a day and even tried to kill herself. At one point, the "other" Pratt was only 100 lbs.
Should Stephanie Pratt have quit The Hills if the show was causing her to be bulimic? Vote here!
In Touch Weekly features photos of Kate Gosselin getting caught hitting her daughter. This doesn't look good for Kate. According to In Touch, the stress of Kate's marriage is now hurting her kids. Plus, there's a debate going on asking if her children are safe. To top it all off, Kate apparently made a public statement and showed no regrets.
Will Kate Gosselin lose the kids? Vote here!

Britney Spears is getting married, according to Star Magazine. The pop-star apparently is in love with her manager Jason (the guy with her on the motorcyle). Inside you find out about Jason's proposal, how Britney's boys feel about him, as well as the $120 million prenup. BTW -- this would be Britney's third marriage!
Do you believe Britney Spears should get married? Vote here!
Want to see the full-sized images of this week's celebrity covers? Click here!
Vote for you favorite celebrity weekly cover story here!

Sound off below about this week's covers!
REAL LIFE. REAL NEWS. REAL VOICES.
Help us tell more of the stories that matter from voices that too often remain unheard.