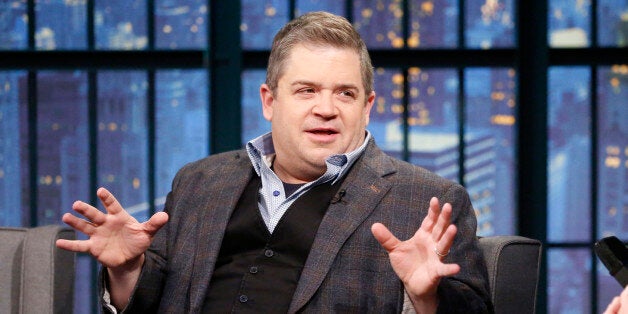 Playing one of the most respectable theaters in the world is an accomplishment for any performer, but it's especially validating for a comedian. Everyone's heard the joke about how you get to Carnegie Hall, but not many comics ever get to tell jokes on its distinguished stage.
On Friday night, Patton Oswalt was able to do just that as he performed for a sold-out crowd of over 2,000 people. As you can imagine, he treated it very seriously:
Here are a few things you missed if you weren't there:
1. He gave this world-renowned venue what has to be its raunchiest opening act they've ever had.
"Carnegie Hall, I have a pussy!" greeted the inimitable Bridget Everett, a comedian after our own hearts in terms of her body positivity and untamable, burlesque-inspired comedy. After a solid set by comedian Myq Kaplan, who managed to get an upper class, midtown audience of varying ages to laugh at jokes about autism and pedophilia, Everett took things up a notch by appearing on stage in one of her signature, barely-there ensembles to sing a song with her two backup dancers Adam "Ad Rock" Horowitz and Carmine Covelli:
The song? That would be Everett's fabulously bawdy "What I Gotta Do?" which she both sang and prompted the audience to sing the rest of the titular question ("... to get that dick in my mouth?"). It's not what you typically hear at Carnegie Hall.
2. His new jokes were as varied and spirited as his previous albums, but with a new maturity. He's not the "angry young man" anymore.
Tonight I got to see @pattonoswalt dominate at Carnegie Hall. Hilarious, top of his game, a total triumph.

— scharpling (@scharpling) January 10, 2015
Ever since the birth of his daughter and his 2011 album, "Finest Hour," Oswalt's material has become more thoughtful and introspective rather than lead by raw emotion. After joking about his frenzied, sweatpants-clad days as a new father on "Finest Hour" and "Tragedy Plus Comedy Equals Time," this is a man who has a handle on being a dad to his five-year-old daughter and feels comfortable wearing a dapper suit with a vest. You could also tell that this is a performer who just wrote his second memoir.
His Carnegie Hall set ranged from a spot-on story about the implausibility of the song "Little Drummer Boy" to his bit about wanting to play "the first dumb, gay best friend" to the poignant realization that even cool presidents (like Barack Obama) always come with something scary (like drones). Remember all that hilariously edgy stuff he had to say about politics and shitty rock music back in the "Feelin' Kinda Patton" days? Now, he internalizes that passion and gives it back to the audience in a more rational, perceptive way. He said he doesn't "hate" any type of music anymore, even Nickleback and Creed, but that doesn't mean he still can't do a great set about how ridiculous they are.
3. He was humbled by the venue and really used the stage -- as soon as he remembered that he could.
If it wasn't already obvious that playing Carnegie Hall was a huge achievement for Patton, he admitted on stage that if it came down to having one moment of his life play over and over again on a loop, it would be a tough choice between the day he met his wife, the day his daughter was born, and this show. He was gracious and engaged the audience members, especially the ones who paid to sit all the way up in the nosebleed section. At one point, he realized that he had been standing in the same spot on the massive, completely open stage with not set dressing and started walking around to explore the space. The wide, open stage came in handy for his bit about a creepy, half-assed clown who emerged out of the woods to perform at his daughter's friend's birthday party. At the end of his set, as the audience roared with applause, he simply laid down on the stage and stayed there for a minute, soaking it all in.
4. He proved that his daughter is only going to keep making him funnier as she gets older.
Patton may have a new comedy writing partner in his daughter, Alice. Some of his best jokes from Friday's show were about her hilarious behavior, including sending a "Sicilian message" to her BFF after she dared to insinuate that Alice's hair is shorter than hers (it is) and accidentally offending an elderly black man in a Starbucks all thanks to "The Lion King." His funniest story of the night had to be the one about accidentally showing his daughter a few seconds of a gory werewolf movie, then, not realizing that she wasn't afraid, spending the rest of the day trying to make her forget about it and accidentally terrorizing her with an episode of "Schoolhouse Rock," of all shows. His earlier jokes about the stress of parenting have been replaced by fascination with this little person and settling into the being a father who is often inspired by his daughter's humor.
5. He got a little help from an audience member to remember his encore joke.
Patton ended his set by walking off the stage and immediately returning for an encore, joking that only rock stars make people wait 10 minutes for the extra set. However, he did somewhat channel a rock star when he asked the audience, "What do you guys want to hear?" and listened to people yelling the names of popular bits ("KFC's Famous Bowl! KFC's Famous Bowl!") before finally settling on the "The Ham Incident" from "Finest Hour." The only problem? He couldn't exactly remember the bit, save for the "I want all the ham" sound bite that his fans love. Instead of bailing on the joke, he leaned down over the stage an allowed a man in the front row to whisper it into his ear and finished strong.
Now, that's how you do Carnegie Hall.
Calling all HuffPost superfans!
Sign up for membership to become a founding member and help shape HuffPost's next chapter
BEFORE YOU GO
PHOTO GALLERY
Smart Comedians