Tuesday night, Patton Oswalt joined the family of his late wife, crime writer Michelle McNamara, at a promotional event north of Chicago to promote I'll Be Gone in the Dark, a new book about McNamara's scrupulous hunt for a serial killer who terrorized California in the late 1970s and early 1980s.
Hours later, his line read as prophecy. On Wednesday afternoon, Oswalt watched with a breathless online community of true-crime enthusiasts as authorities in Sacramento, California, announced the arrest of a man believed to be the so-called Golden State Killer, who has eluded justice for decades. 
"I think you got him, Michelle," Oswalt wrote on Twitter on Wednesday alongside a news article on the suspect's arrest.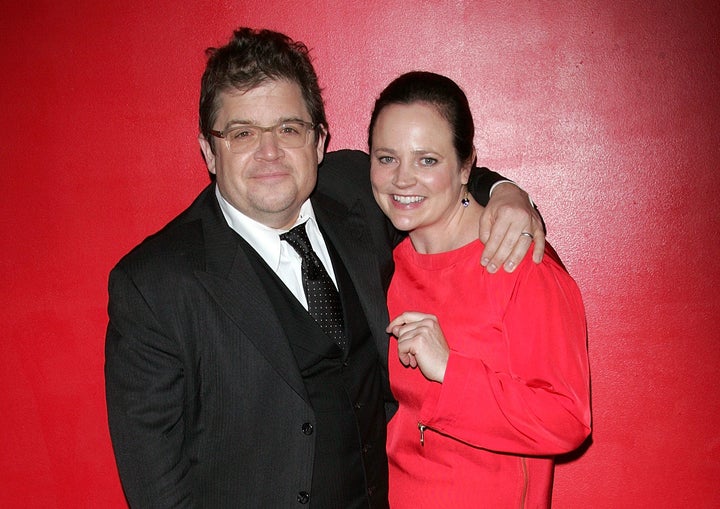 McNamara's book has become a bestseller since its Feb. 27 release. But asked whether it truly helped solve the case, an official at Wednesday's briefing said it had not but that the book kept the case top of mind. 
Oswalt suspects otherwise, writing on Twitter that his late wife's book did, in fact, play a part.
"[Michelle McNamara] didn't care about getting any shine on herself," he wrote. "She cared about the Golden State Killer being behind bars and the victims getting some relief."
He added: "She was Marge Gunderson in FARGO, not Chilton in SILENCE OF THE LAMBS."
Officials at the news conference credited the arrest to the diligent work of law enforcement, investigators and members of the public who sent in tips. Evidence from a "discarded DNA" sample provided the evidence needed, they said, without elaborating.
They did not say McNamara's name, but Oswalt said he considered every mention of the Golden State Killer ― a term McNamara coined ― as a credit to her.
Throughout the day, the Emmy-winning comedian shared with his fans a number of heartfelt and humorous congratulatory messages directed at his late wife.
Oswalt and fans were particularly struck by a final passage in I'll Be Gone in the Dark in which the author addresses the unknown killer in a letter ending, "Open the door. Show us your face. Walk into the light."
In an odd coincidence, police said Wednesday they apprehended DeAngelo by waiting for him to step outside.
But was DeAngelo ever actually on McNamara's list of suspects? 
Oswalt said her research partners are combing through her notes to find out. 
The man that McNamara dubbed the Golden State Killer has also been known as the East Area Rapist and the Original Night Stalker by various news outlets. He is thought to have committed about 50 rapes and 12 murders, in addition to more than 100 home burglaries from 1976 to 1986 across California.
Calling all HuffPost superfans!
Sign up for membership to become a founding member and help shape HuffPost's next chapter