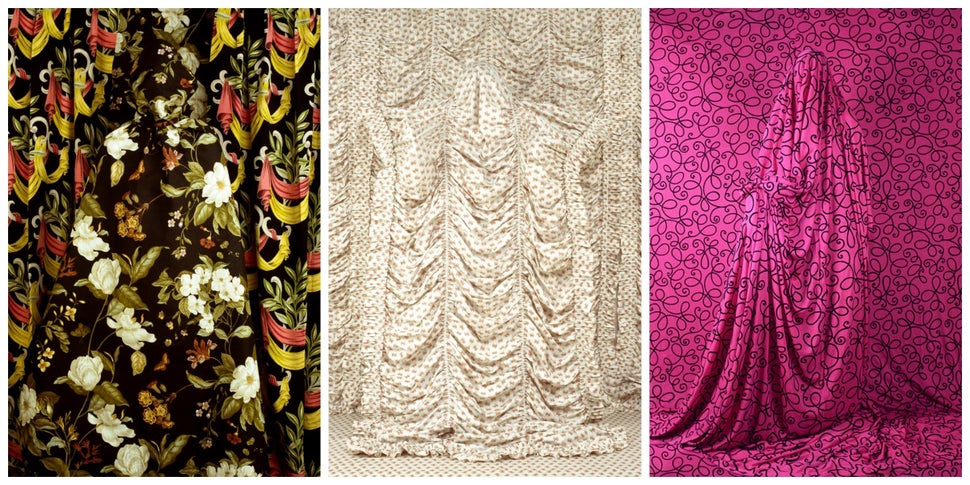 The right pair of drapes can snap the mood of an entire home into place, just like the right rug can really tie a room together. Decor is, after all, an expression of what you want your dwelling space to be, and, by proxy, what you want to spend your time doing and thinking about. Busy florals lend themselves to energetic conversation; calming hues create an air of contemplation. In this light, domestic spaces and the ways we arrange them are worth celebrating -- they can be artistic, expressive and deeply personal.
But when domesticity becomes a mandate rather than a passing interest -- as it has for women for centuries -- choosing, creating and discussing artful drapery can feel like a heavy burden. As you probably read in Charlotte Perkins Gilman's "The Yellow Wallpaper," the pressure and mundanity of being home-bound lends itself to a loss of individuality.
That's the premise of photographer Patty Carroll's cluster of photo series, "Anonymous Women." Taken over the course of two decades, Carroll's photos examine how femininity and domestic life drown out a woman's ability to express herself. The subjects in Carroll's images blend seamlessly with the textiles that make up their environments. A woman cloaked in a zebra print sheet can barely be differentiated from her zebra-clad home; a woman wearing warm floral hues is camouflaged by a backdrop in the same print.
Carroll recently launched a Kickstarter project to fund an anthology of her work bound in a hardcover book. On the site, she writes, "The project is not just about photography; it is about and for all sorts of women and their homes. I hope you will support the funding of this project, because it is really not just for me, but for the big picture of women."
Of her inspiration for the project, Carroll said in an earlier interview with The Huffington Post, "I always wanted to have a 'perfect' home where everyone got along, was sober, was home for dinner, and had towels from a store, not pilfered from the last motel we stayed in [...] Drapery becomes a symbol in this work for an established, traditional home environment where the decor is considered seriously. After all, a perfect home does not have mismatched furniture and styles."
PHOTO GALLERY
2015 Sony World Photography Awards Competition
Calling all HuffPost superfans!
Sign up for membership to become a founding member and help shape HuffPost's next chapter