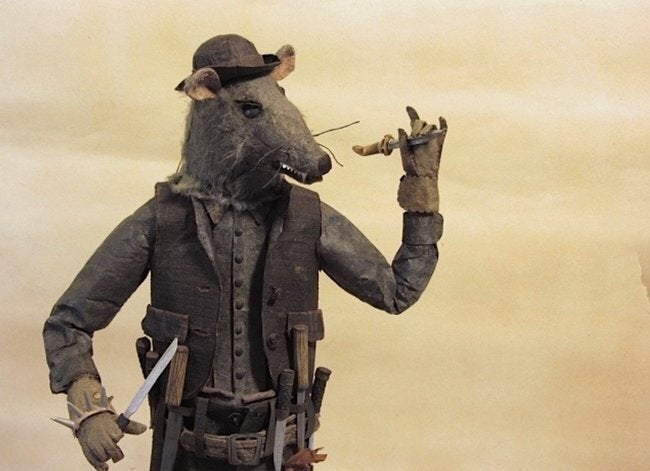 Patty Grazini is fascinated, even friends, with criminals. The criminals she's friends with though, are one foot tall and made entirely of paper. Grazini is a paper artist, and her most recent series of miniature paper characters received inspiration from New York criminals at the turn of the century.
From 1880 to 1915, New York was more strictly divided by great wealth and poverty, a slice of history that caught Grazini's interest. This dichotomy bred criminals, some worse than others, and Grazini began to bond with these characters through her research via the New York Times' articles of the time. Like Mary Largo, who became known as the Beggars' Queen after teaching the destitute the seemingly innocent art of peddling for money.
Scroll down for images of Grazini's paper criminals.
"I looked for criminals who interested me, not only for the crime they committed, but also in the way in which it was committed," she said, adding that some people committed crimes that were too horrible to portray. "I felt I needed to 'feel something' with the people who I selected."
Grazini's paper criminals are all decadently-dressed, one-foot-tall depictions of the originals. Though, instead of creating dead-ringers, she gave the criminals animal heads that related to the criminal and their crime. For example, August W. Eckhardt from 1898 was an expert knife thrower who killed his girlfriend while in a saloon on the Lower East Side. Appropriately, Eckhardt is a sewer rat dressed in all gray, a bowler hat atop his large ears, and knives slung around his hip. This almost whimsical conversion to animals is also a reference to political cartoons of the same era, which often used animal portraits of villains.
"I wanted to use the characteristics and personalities, attributed to a certain animal to give added value to the criminal and the crime committed," she said.
Grazini is completely self-taught and has worked with paper for around eight years, constructing intricate pieces, like Marie Antoinette-esque shoes. Her previous work is apparent in the costumes the criminals wear. Ada Turise, an underage opium smoker convicted in 1884, is depicted as a lamb in an ornate gold and red coat, dress and crown inspired by the East Asian countries the drug originated from.
In the end, the Seattle-based artist created the criminal paper features as an ode to a city she adores.
"Finally, I love New York," Grazini said. "I have spent countless hours wandering the city streets and dreaming about the past. [I am] saddened to see the rapid changes in recent years [and I] wanted to contribute something that represented another time in this ever-changing, incredible city."
Click through below for pictures of Grazini's work:
Watch below for a video profile on Grazini by Art Zone:
Calling all HuffPost superfans!
Sign up for membership to become a founding member and help shape HuffPost's next chapter