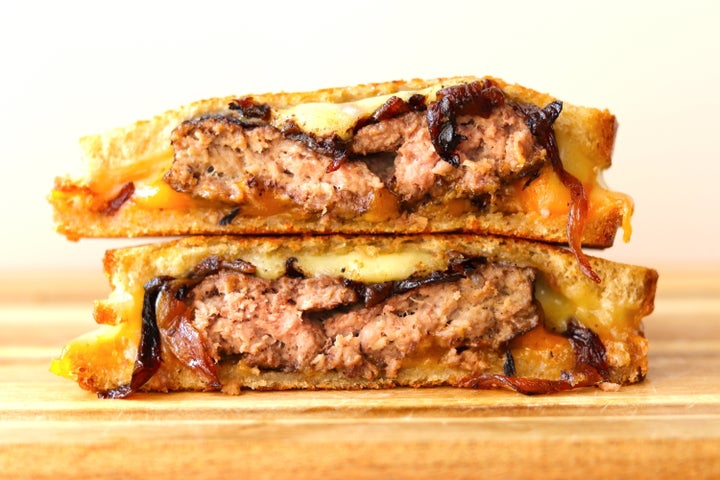 Is it just me, or does the patty melt not get the recognition it deserves? Buttery toasted bread, melted cheese, caramelized onions and beef. It's basically the combination of two of America's most beloved sandwiches: a grilled cheese and a cheeseburger.
The New York Times credits restaurateur Tiny Naylor with inventing the patty melt, which he put on the menu of his eponymous Los Angeles drive-in in the 1950s. His granddaughter Jennifer Naylor carried on the legacy by serving the sandwich at Wolfgang Puck's Granita in Malibu in the 1990s, when she was the executive chef. Now, it can be found in fast food restaurants, diners and hip new hotspots across the country.
Yes, you can easily go out to have someone make a great version of the sandwich for you. But it's just as easy to prepare a delicious patty melt at home.
It all starts with the bread. Rye is the classic choice, but really, any standard sandwich bread will do. Cooking the beef is pretty straightforward, but here's a tip: Don't form the beef into a round, burger-like shape. Rather, shape it to match your bread slices, so you'll get some in every bite.
Another tip: Don't move the beef around in the skillet while it's cooking. Leaving it alone will help form a nice crust.
Caramelized onions are essential for a patty melt, and getting the onions nice and brown will take a little bit of time, but they're totally worth it. I like mine a little darker than your standard caramelized onion, so feel free to go as far as you like. Bonus points if you use the pan you cooked the burgers in, since the onions will soak up some of the delicious beefy flavor left behind.
As far as the cheese goes, Swiss is the traditional option, but in this recipe, I wanted to add a little bit more flavor with some sharp cheddar. You'll want two slices of cheese to sufficiently cover each slice of bread, but one slice will do if you're so inclined. (But then again, why? This is meant to be a bit of an indulgence.)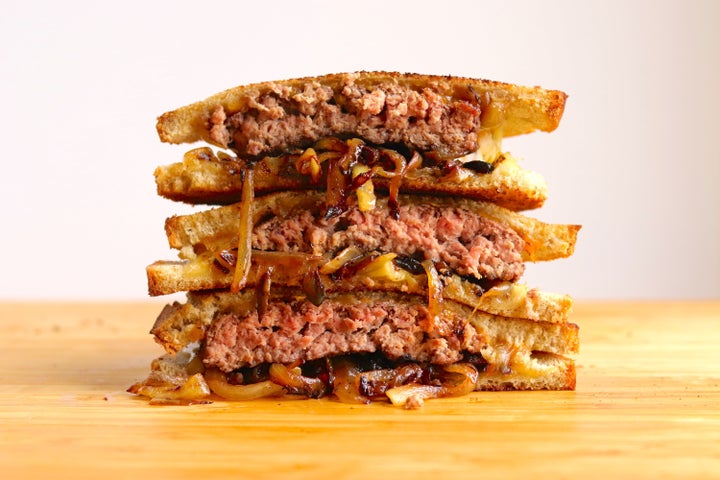 Patty Melt Recipe
For the hamburger patties:
2 tablespoons vegetable oil
1 pound ground beef, divided into four patties
Kosher salt, to taste
Black pepper, to taste
For the caramelized onions:
1 large onion, sliced
2 tablespoons vegetable oil
1 teaspoon kosher salt
4 tablespoons unsalted butter
8 slice rye bread
8 slices sharp cheddar cheese
8 slices Swiss cheese
1. Cook the hamburger patties: Heat the oil in a large skillet over medium-high heat. Season the burger patties with salt and pepper on both sides and cook in the skillet, without moving, until browned, 2 to 3 minutes; flip and cook for 2 to 3 minutes. Remove patties from pan and set aside.
2. Make the caramelized onions: Put all of the ingredients in a skillet over medium-low heat and cook, stirring occasionally, until softened and browned, about 25 minutes.
3. Make the sandwiches: For each sandwich, start with 2 slices of bread. Take 2 slices cheddar cheese and tear to cover one slice of bread. Take 2 slices Swiss cheese and tear to cover the other slice of bread; top with a quarter of the onions.
4. Melt 1 tablespoon butter in a large skillet over medium-low heat. Add the prepared bread slices, moving them around to soak up the melted butter, and cook until the cheese is melted and the bread starts to toast. Add 1 hamburger patty, close the sandwich, pressing down with a spatula, and continue to cook until nicely browned on both sides. Repeat with remaining ingredients to assemble the rest of the sandwiches. Serve.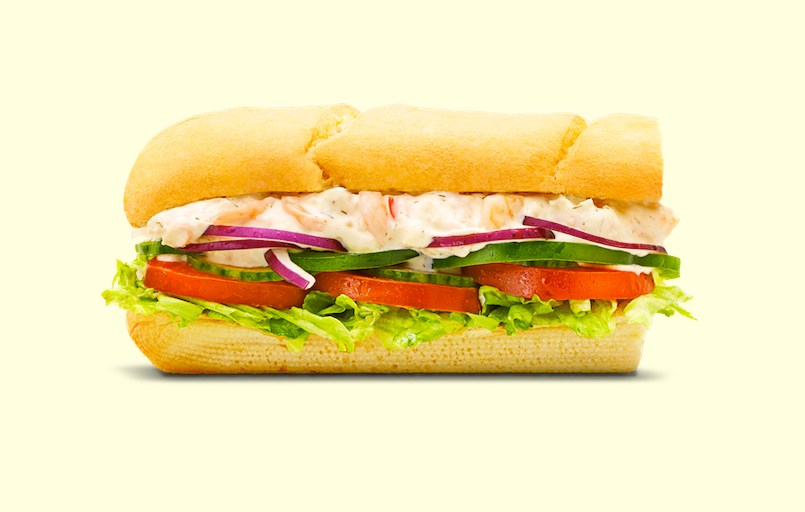 Subway Sandwiches Around The World