But across the building, with little fanfare, the Senate quietly made history: It elected Sen. Patty Murray (D-Wash.) to be its first female president pro tempore. The position represents the second-highest ranking in the Senate, after the vice president, and it puts this senator third in line to the presidency.
The role was established 234 years ago, and it's been held by men until now.
"It sounds funny, doesn't it? I'm the first?" Murray told HuffPost in a Tuesday interview. "I mean, what happened for so many years?"
Asked how it feels to be third in line to the presidency, the Washington Democrat quipped, "Well, today I'm second because Kevin McCarthy's not speaker."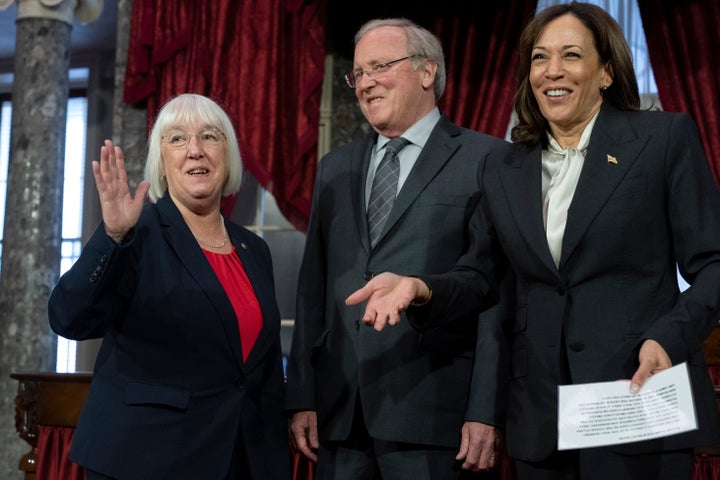 Murray, who has been in the Senate since 1993, was elected to this post because of her seniority. She's the second-most senior Democrat in her caucus, just after Sen. Dianne Feinstein (Calif.), who passed on the role. Her new responsibilities include signing all the bills that come out of the Senate and opening the session each day, as well as overseeing floor operations. She's clearly eager to use the role to be an inspiration to girls.
"I hope that my election to president pro tem is a message to young girls everywhere: Work hard, believe in yourself, don't let anybody tell you you can't do something, plow through, and you too can really make a difference," she said.
Murray, 72, takes her role in the line of succession very seriously, too.
"Should that horrible moment that no one ever wants to have happen, happen, I need to be ready for that," she said. "I'm trying to make sure I am up to speed on all domestic issues, international issues, making sure if that should happen, I could step in and the country can feel confident."
The Washington Democrat said the Senate has come a long way in welcoming women into its ranks. She said she'll never forget a speech she gave on the Senate floor in 1993 in support of a family leave bill, during which she talked about a friend whose boss told her she'd be fired if she took time off to take care of her son, who had been newly diagnosed with leukemia.
After Murray walked off the floor, she was stunned when a male Republican senator came up to her and said, "We don't tell stories on the floor of the Senate."
"I just looked right at him and said, 'I came here to tell stories because that's what is happening in the country. If we don't tell stories, how will anyone ever know?'" she said. "I think that has dramatically changed. I think people understand the importance of relating this to people…. That whole dynamic of how we talk in the Senate and get things passed has changed."
Murray declined to reveal which senator that was, but she said he's not in the Senate anymore. Is he still alive? "I don't know. I haven't kept track."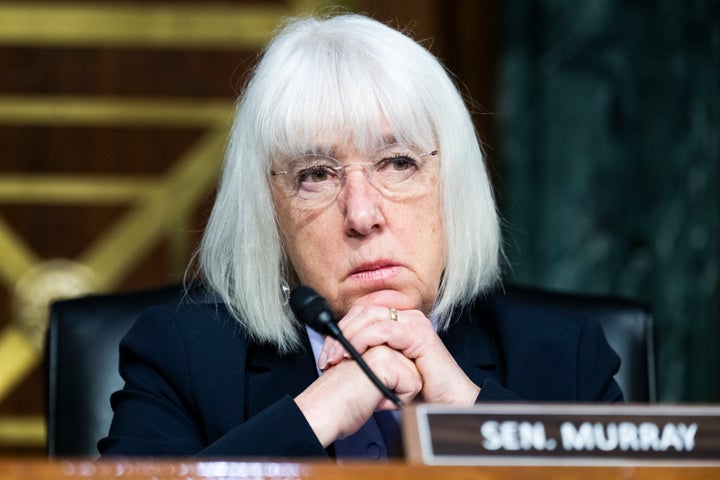 Besides being president pro tem, Murray will chair the Senate Appropriations Committee in the new Congress. Sen. Susan Collins (R-Maine) will be her GOP counterpart on the panel. In the House, their counterparts are Reps. Rosa DeLauro (D-Conn.) and Kay Granger (R-Texas). That means the top four appropriators in Congress will be women.
Asked if she thinks it will make a difference having women in charge of Congress's spending, Murray said she and Collins don't agree on everything, but they know how to work together. All four women have known each other for years, too.
Murray said a personal priority is securing more funding for child care.
"We know that you can sit down in a room," she said. "If there's two different numbers, there's a way to get to a number we can agree on."
Democrats have certainly elevated women into Senate leadership roles in recent years. In the new Congress, Sen. Debbie Stabenow (Mich.) will chair the Democratic Policy and Communications Committee. Sen. Amy Klobuchar (Minn.) will chair the Steering Committee, Sen. Elizabeth Warren (Mass.) will be vice chair of the Senate Democratic caucus and Sen. Tammy Baldwin (Wis.) will be vice chair of the Democratic Policy and Communications Committee.
That's in addition to a number of women chairing committees.
"Well, today I'm second because Kevin McCarthy's not speaker."
But that's not to say the Senate's history of being a good ol' boys' network ― one in which a handful of men are in charge and expect to stay in charge ― is gone.
In recent years, some Democrats have grumbled about concentrated power and lack of upward mobility within their caucus, particularly for women. Majority Whip Dick Durbin (D-Ill.), for one, frustrated some in his caucus last year with his efforts to keep his leadership role while also chairing the powerful Judiciary Committee. Murray considered challenging Durbin for his whip post in 2016, but Democratic Leader Chuck Schumer (N.Y.) intervened and created a position for her, assistant Democratic leader, which she has held until now.
On Tuesday, Murray only smiled when HuffPost asked if she thinks longtime male senators in her caucus aren't willing to let go of some of their power to clear the way for emerging leaders in the party, including women.
"I'm going to stay out of that fight," she said. "I'm sure there are people like that here, and I'm sure there's equally strong Democratic women in our caucus who are going to continue to be a critical part of those discussions."
She conceded, though, "We aren't there yet."
Popular in the Community