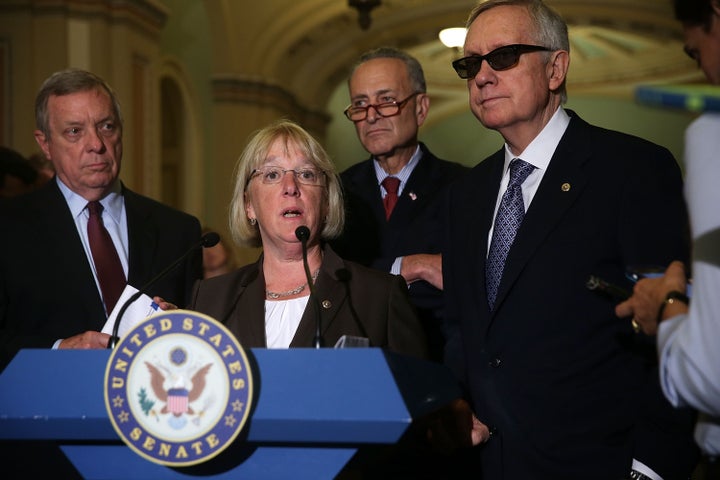 WASHINGTON -- Sen. Patty Murray (D-Wash.) announced her support for the Iran nuclear deal on Tuesday, becoming the final member of the Senate's main Democratic leadership team to weigh in on the agreement.
The endorsement of Murray, the secretary of the Senate Democratic conference, brings the final tally to three party leaders in favor of the Iran deal and one against. Minority Leader Harry Reid (Nev.) and Minority Whip Dick Durbin (Ill.) have stated their support, while Sen. Chuck Schumer (N.Y), the conference's vice chair and policy committee chair, is opposed. And the news is another indication that the nuclear accord will survive in the Senate. The deal faces a critical vote in both houses of Congress when lawmakers return from recess in September.
"After working my way through the details and the alternatives, losing a lot of sleep, and having a lot of good conversations with so many people -- I am convinced that moving forward with this deal is the best chance we have at a strong diplomatic solution, it puts us in a stronger position no matter what Iran chooses to do, and it keeps all of our options on the table if Iran doesn't hold up their end of the bargain," Murray wrote in a statement.
Among the holdouts in the Senate, Murray was one of the most critical of the deal, due to her leadership position and to the possibility that she will challenge Durbin for his position in the next Congress. She was considered a genuinely undecided vote within the White House and among fellow Senate Democrats.
Murray noted that in addition to meeting with several officials from the Obama administration, which has been aggressively lobbying Democrats to back the agreement, she spoke with Ron Dermer, the Israeli ambassador to the U.S. Dermer has criticized the nuclear agreement, saying it guarantees Iran will obtain nuclear weapons in the future.
Like several of her colleagues who have come out in support of the deal, Murray said her decision was based on conversations with ambassadors from the five countries that worked alongside the U.S. to negotiate with Iran. "There are those who say that we should go back to the negotiating table and try to get a better deal," Murray wrote Tuesday. "I respect that view, but I have heard directly from top ambassadors … that starting over is not an option."
With Murray's announcement, 29 senators have now pledged to vote against a resolution of disapproval of the deal, which would eliminate the president's ability to waive congressionally enacted sanctions against Iran. President Barack Obama has said he will veto the resolution, which, if enacted, would constrain his ability to fulfill the U.S.' obligations under the agreement. For the presidential veto to be sustained, Obama needs the votes of one-third of either the House or the Senate -- where, with Murray's support, he is now five votes shy.
Support HuffPost
The Stakes Have Never Been Higher
Popular in the Community