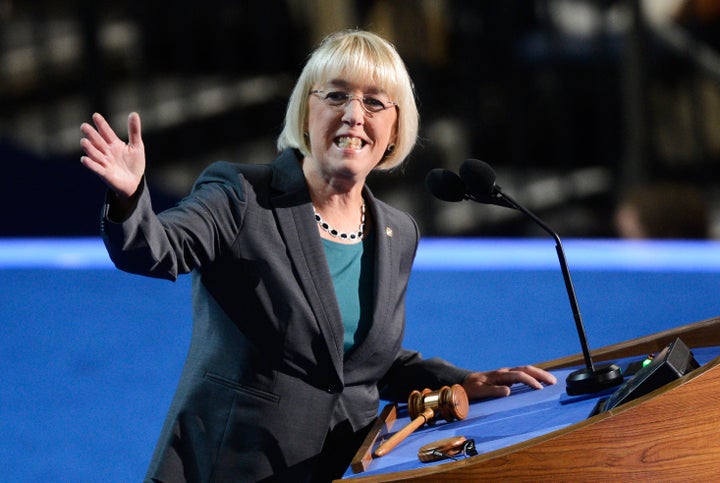 WASHINGTON -- You wouldn't know it by watching Sen. Patty Murray (D-Wash.) on the Senate floor Thursday, but history was being made and she was a big part of the reason why.
Murray was one of 20 female senators sworn in for the 113th Congress -- a record high. As chairwoman of the Democratic Senatorial Campaign Committee, she had specifically recruited women to run and, as it turned out, four of her five candidates won: newly elected Sens. Tammy Baldwin (D-Wis.), Elizabeth Warren (D-Mass.), Mazie Hirono (D-Hawaii) and Heidi Heitkamp (D-N.D.).
"I opened the door," Murray told HuffPost. "Others would have left it closed."
But as senators in both parties buzzed around the Senate chamber on Thursday, embracing each other and welcoming new faces, Murray sat quietly in the back and just watched.
"I was looking out at what was in front of me. And it was just great," she said. "I mean, when I first came here, there were six of us. And today I was just looking out at this roomful of us."
The Washington Democrat said seeing the new wave of female senators reminded her of how different the chamber was when she first stepped onto the floor in 1993, when she was left speechless after the late Sen. Ted Kennedy (D-Mass.) walked up and introduced himself. Even visually, she said, the Senate has shifted.
"To look at it today and see how it's changed, the colors, the bright colors," Murray said of the diverse attire of female senators, compared to male senators' typically bland mix of dark suits. "It looks more like America now."
HuffPost spent part of the day with Murray, shadowing her as she made stops around Capitol Hill at more than half a dozen receptions for newly elected Democratic senators. She met privately with reelected Sen. Claire McCaskill (D-Mo.) and her family for a few minutes, stopped by to say hello to Baldwin at her gathering, and when Warren wasn't around at her own reception, just worked the room for a while.
Two things were clear after spending hours with Murray: She walks incredibly fast -- HuffPost lost her a couple of times -- and some people view her as a rock star of sorts. Random individuals in the hallways of Senate buildings said "congratulations" as she passed. Strangers asked for photos or hugs, and others volunteered their plans to help prepare Democratic candidates for the next election cycle.
Some of those eager to see Murray weren't strangers. Jim Messina, President Barack Obama's 2012 campaign manager, greeted her warmly at a reception for newly elected Sen. Tim Kaine (D-Va.), who also sought out Murray when she arrived and thanked her for helping with his campaign.
Minutes later, Murray was speed walking down another hallway to another event.
For all the celebrating throughout the day, there was perhaps one moment that stood out the most for Murray. During the swearing-in ceremony on the Senate floor, Murray herself put on a lei and escorted Hirono to the front of the chamber to be sworn in by Vice President Joe Biden. She told HuffPost later that an ailing Sen. Daniel Inouye (D-Hawaii) had specifically requested that Murray escort Hirono down the aisle on his behalf, in the event that he wasn't there to do it. Inouye wrote his request in a note to his wife just before he died last month, Murray said.
"That was really special," she said. Asked why she thought Inouye had wanted her to take his place, Murray paused for a few seconds before responding.
"I think Danny just respected the work that women do," she said.
REAL LIFE. REAL NEWS. REAL VOICES.
Help us tell more of the stories that matter from voices that too often remain unheard.
BEFORE YOU GO
PHOTO GALLERY
113th Congress Facts