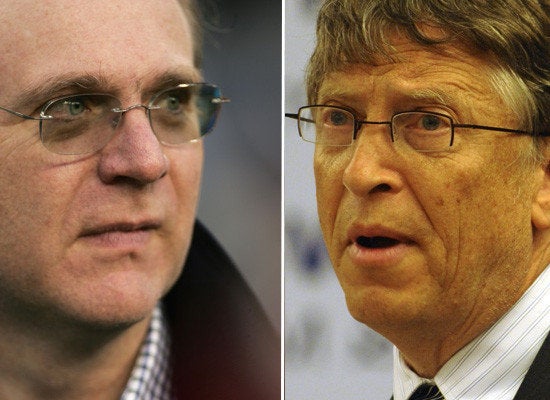 Vanity Fair has reprinted a lengthy excerpt from Paul Allen's controversial memoir, "Idea Man: A Memoir by the Co-founder of Microsoft," and it does not paint a flattering portrait of Bill Gates, with whom Allen established Micro-Soft in 1975.
The book begins in 1968, when tenth-grader Allen's fascination with his school's teletypewriter leads to his first meeting with Gates, "a gangly, freckle-faced eighth-grader" with a "scruffy-preppy look."
Allen describes his early relationship with Gates as somewhat fraternal, with Allen filling the role of the older brother Gates never had. Even as a schoolboy, Allen recalls, Gates had lofty goals and a fierce competitive streak. "He was 13 years old and already a budding entrepreneur," writes Allen.
Allen's portrait of Gates starts to darken after 1974, when Gates convinced Allen to leave college and the two began programming round-the-clock together. Gates, he claims, had a tendency to micro-manage and downplay Allen's contributions to their collaborations.
I tried to put myself in his shoes and reconstruct his thinking, and I concluded that it was just this simple: What's the most I can get? [...] I'd been taught that a deal was a deal and your word was your bond. Bill was more flexible; he felt free to renegotiate agreements until they were signed and sealed. There's a degree of elasticity in any business dealing, a range for what might seem fair, and Bill pushed within that range as hard and as far as he could.
Allen describes Gates as growing increasingly harsh as Microsoft grew: "[H]e thrived on conflict and wasn't shy about instigating it. A few of us cringed at the way he'd demean people and force them to defend their positions."
Allen goes on to accuse Gates of colluding with newly appointed CEO Steve Ballmer. The event takes place soon after Allen was diagnosed with early-stage Hodgkin's lymphoma. Allen's recollection reads:
One evening in late December 1982, I heard Bill and Steve speaking heatedly in Bill's office and paused outside to listen in. It was easy to get the gist of the conversation. They were bemoaning my recent lack of production and discussing how they might dilute my Microsoft equity by issuing options to themselves and other shareholders. It was clear that they'd been thinking about this for some time. [...] I helped start the company and was still an active member of management, though limited by my illness, and now my partner and my colleague were scheming to rip me off. It was mercenary opportunism, plain and simple.
Bill Gates, however, remembers the partnership differently. "While my recollection of many of these events may differ from Paul's, I value his friendship and the important contributions he made to the world of technology and at Microsoft," Gates said in a statement, posted on the Microsoft Blog.
The Wall Street Journal elaborates, "The Messrs. Gates and Allen were widely thought by associates to have a warm relationship in the years since Mr. Allen, 58 years old, left Microsoft. Even Mr. Allen says Mr. Gates was one of his 'most regular visitors' when Mr. Allen was recovering from chemotherapy two years ago [in 2009] from non-Hodgkin's lymphoma, describing him as 'everything you'd want from a friend, caring and concerned.'"
Carl Stork, a technical assistant to Gates at Microsoft told the Journal, "I am surprised that Paul would have felt that it helps his legacy to express dissatisfaction with the share of Microsoft he received [...] While all of us considered Paul a friend and valued his contribution, there is no question that Bill had a far larger impact on the growth and success of Microsoft than did Paul."
Related
Popular in the Community