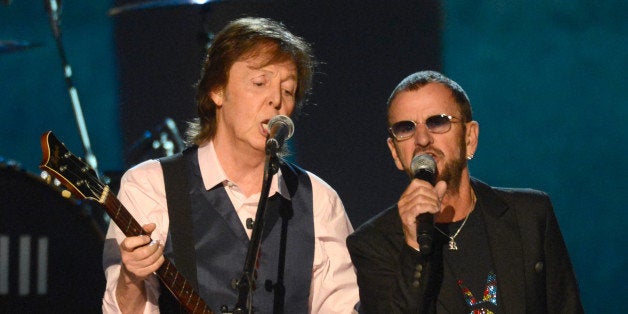 The Beatles were a constant, compelling presence in the lives of baby boomers for six years between 1964 and 1970. First generation fans, as young as 6 and up through high school and college age, were not only intrigued by the non-stop flow of dazzling new music, images and ideas the Beatles presented; they were also intrigued by the Beatles as people, and boomers emulated the Fab Four in a variety of ways.
Immediately, young people saw the Beatles' hair as a symbol of freedom, and boys began finagling longer intervals between haircuts. Millions begged their parents for Beatle boots or saved their allowance or chore money to buy a pair. Then there were polka dot shirts, Nehru shirts and round wire glasses. The desert boots George wore on the cover of Abbey Road were de rigueur for cool high school boys in the fall of '69. And when trying to understand and take a position on the war in Vietnam, some boomers came to oppose the war because "cool people like the Beatles were against it."
The Beatles inspired millions of boomers to learn how to play an instrument and to make music and other creative pursuits integral to their developing identities. Many first-generation fans are grateful to the Beatles for opening their ears to music and awakening their aesthetic sensibilities.
The Beatles were seekers and extolled the virtues of altered consciousness as a way of gaining deeper insight into life's difficult questions. Many young people emulated the band's use of marijuana and LSD. But, as Beatleness interviewees told me, these experiences were not always blissful; several knew a kid in the neighborhood who took a trip and never returned. Meditation became the thing when the Beatles got involved with the Maharishi, and many boomers took up the practice. Jerry Seinfeld and Howard Stern, both huge Beatle fans, are long-term meditators and big proponents.
As role models, the Beatles may have been a mixed bag back in the sixties. But today, Ringo at 74 and Paul at 72 are excellent role models for their aging fans. Here are five reasons baby boomers looking for a health and happiness boost -- and who isn't? -- should consider emulating Paul and Ringo again.
1. Paul and Ringo are vegetarians
Paul has been a vegetarian since the seventies and has been very outspoken about the health benefits of a vegetarian diet -- for people, for animals and for the planet. Ringo, too, says he feels healthier being a vegetarian and that he "eats broccoli with everything." It's never been easier to be a vegetarian and the health benefits are irrefutable.
2. Paul and Ringo work out regularly
For Paul, every show is a three-hour workout. He said recently, "I've been having cardiovascular exercise for years, but it's on stage." Ringo says he works out "most days" and also sees a trainer three times a week. Not everyone can spend time or money on a trainer, but adding exercise to our daily routines isn't that difficult. Take the stairs instead of the elevator, or leave the car home and walk whenever possible. Try hula-hooping while watching television. Quoting Sir Paul again: "I can't believe I do a three-hour show without taking a breath. You assume you would be feeling it now but it's the opposite." If we're healthy enough to get started, increased energy and stamina will follow. Maybe a new pair of Sketchers Relaxed Fit shoes -- Ringo is the brand spokesperson--would be motivating.
3. Paul and Ringo meditate regularly
Though the Beatles had an acrimonious split with the Maharishi decades ago, Paul and Ringo still meditate and they both speak of its many benefits, which include reduced stress, clarity of thinking, enhanced creativity and greater energy. According to Paul, meditation has helped him find "moments of serenity," and he says the Maharishi gave the Beatles a "great gift," a "lifelong gift that you can call on at any time." There are many meditation techniques, and it's easy to get started.
4 . Paul and Ringo quit cigarettes years ago
At the height of Beatlemania, a month after the U.S. Surgeon General's report on the dangers of smoking, one of the group's ubiquitous publicity shots, an image emblazoned on everything from loose leaf notebooks to handkerchiefs, showed Paul holding a cigarette. Fans saw the Beatles smoking in every scene in A Hard Day's Night, and while director Richard Lester used the smoke in artful ways, it's likely that millions of baby boomers started smoking because the Beatles made it look cool. But Paul quit smoking about 30 years ago, and Ringo has kicked a three pack a day habit. It's never too late.
5. Paul and Ringo seek new challenges and never stop learning
The Beatles were always changing and evolving, which is why growing up with them was such a rich experience. They were always doing something new. As George Martin said recently, "They would always want to look beyond the horizon, not just at it."
Whether working with people they've never worked with before or venturing into new genres and media, Paul and Ringo keep finding new challenges and trying new things. They keep up with current technology and are open to learning from young people. Keeping the brain active and taking on new learning curves is the best way to stave off cognitive decline.
Growing up with the Beatles, we came to trust them and we got the sense they had important things to tell us and show us, things that would enhance our lives somehow. Our futures were ahead of us and anything seemed possible. Decades have passed and two Beatles are gone. But through their healthy, globe-trotting, rocking ways, Paul and Ringo continue to tell and show boomers how to thrive.
Calling all HuffPost superfans!
Sign up for membership to become a founding member and help shape HuffPost's next chapter