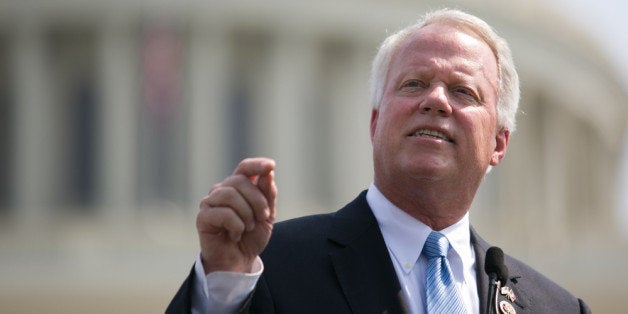 Rep. Paul Broun (R-Ga.) said Monday that Democrats will not win in Georgia for decades unless the state grants undocumented immigrants the right to vote.
"The only way Georgia is going to change is if we have all these illegal aliens in here in Georgia, [and] give them the right to vote," Broun said in an interview with Georgia Public Radio, which was noted by The Hill. "It would be morally wrong, it would be illegal to do so, under our current law."
"Actually, all these illegal aliens are getting federal largesse and taking taxpayers' dollars," Broun continued. "That's the only way that this state is going to become Democratic again, in the next number of decades."
Radio host Joshua Stewart asked Broun, who is running in the GOP primary for the seat held by Sen. Saxby Chambliss (R-Ga.), to address Georgia's changing demographics, which some believe will help Democrats be competitive there in the near future.
Broun said this shift "only helps the Democrats if we legalize all these illegal aliens in this county, who the Democrats want to put on federal welfare programs -- and actually they are on federal welfare programs today."
Broun is one of many candidates running in the May Republican primary, where Rep. Phil Gingrey (R-Ga.) currently is leading. Broun told Georgia Public Radio Monday that none of his opponents can match his conservative record.
Last month, Broun's primary opponent Rep. Jack Kingston (R-Ga.) was widely criticized for proposing that poor students sweep floors in exchange for school lunches, so that they get "the myth out of their head that there is such a thing as a free lunch." He later attempted to clarify, saying he never meant to single out low-income children.
Michelle Nunn, the daughter of former Sen. Sam Nunn (D-Ga.), is the frontrunner for the Democratic nomination. Nunn announced Monday that she raised $1.6 million last quarter and $3.3 million since entering the race in July.
Nunn received contributions from some notable Republicans, including a $5,000 maximum contribution from former Sen. Richard Lugar's (R-Ind.) political action committee and a $500 donation from former Sen. John Warner (R-Va.). Both senators were colleagues of Nunn's father.
REAL LIFE. REAL NEWS. REAL VOICES.
Help us tell more of the stories that matter from voices that too often remain unheard.
BEFORE YOU GO
PHOTO GALLERY
11 Ways Immigration Reform Helps The Economy