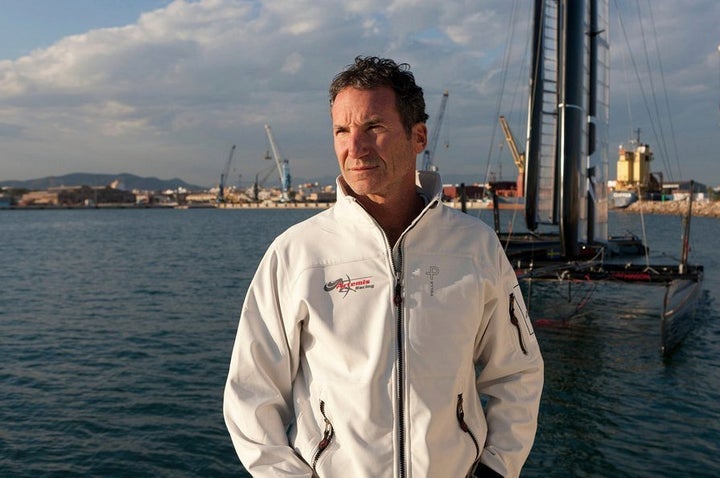 Who: Seven-time world champion professional sailor and yachtsman Paul Cayard.
Current Gig: Cayard is the CEO of Alameda-based Artemis Racing, the team currently representing Sweden in the America's Cup. Over his career, Cayard has won seven world championships and has competed in the Olympics twice. In 2002, he was inducted into the Sailing World Hall of Fame. Though Artemis is sailing for another country, Cayard was born and raised on San Francisco waters.
(SCROLL DOWN FOR PHOTOS/VIDEOS)
You're from the San Francisco. Tell me about growing up sailing in the Bay Area. I grew up on Twin Peaks and got into sailing by total happenstance. When I was in elementary school, my friend's family sailed a little bit and I got interested. My dad started taking me out to Lake Merritt in Oakland and we'd borrow boats from the rec center there. Eventually my dad built me a boat in our garage.
And how did that lead to a professional career in sailing, the Olympics, seven world championships… When I was young there was no such thing as professional sailing; we all just did it for fun. The year I graduated from San Francisco State I went to Rhode Island and volunteered for the America's Cup. We sailed all day and worked on the boat all night and didn't get paid a nickel. Then in 1992 the America's Cup started allowing sponsorship and it was a whole new ballgame.
Do you think growing up in San Francisco helped you as a sailor? Growing up here made me get used to very high winds and low temperatures. People who survive that have a certain skill set. A lot of very good sailors get in trouble when they get in conditions like the San Francisco Bay. I know that growing up on that, I can sail anywhere in the world.
You're an American from the hometown and your team is racing for Sweden. How does that work? It's funny, even though we're racing for Sweden, we have more Americans than any other team. The Skipper for Oracle [the team representing the United States] is from New Zealand. Countries hire racers just like any other sport: Michael Schumacher was a German who raced Ferraris; Major League Baseball hires guys from all over the world.
There seems to be a bit of a disconnect between the people of San Francisco and the America's Cup that some have blamed on the expense of racing. America's Cup CEO Stephen Barclay even estimated that a team needs between $30-100 million just to compete. Do you think sailing is a rich man's sport? A big goal of this event is making sailing more accessible and more appealing to the public. When it comes to the teams competing, it's kind of like car racing: the equipment is extremely expensive. But as a sailor, the path to the America's Cup is one that anyone can aspire to. I grew up sailing on a homemade boat on Lake Merritt, and there are youth programs all over the Bay Area. And for spectators, the America's Cup is absolutely free. That's the beauty of this event.
Why should people get excited about the America's Cup in San Francisco? The problem for spectators and sailing is that the races usually take place miles off the shore. So unless you have a boat, it's not very accessible. But with the San Francisco Bay, we have a stadium. This is something those of us from the Bay Area have talked about for 20 years. The race times have been cut to 30 minutes instead of two hours, we're racing bigger boats and spectators will be able to watch right up front, for free.
What do you do here when you aren't sailing or running a major company? Where do you go out with your family? I have a son who is a senior at Cal Poly and a daughter who graduated from St. Mary's in May. When we're together we like to go to El Paseo in Mill Valley or Rose's on Union Street in the city. There's also a restaurant called Bix on Gold Street in San Francisco; I love that place. A martini at the bar and then dinner upstairs: there's nothing better.
Favorite neighborhoods? We live in the Marina and I love just walking up Chestnut Street, checking out the Italian restaurants. North Beach is another favorite.
If your team wasn't competing, where would you be watching? I'll tell you the best place in the whole city might be the western side of the Fontana Apartments –- that's the best view in town. But you can watch it from anywhere. You'll have a great view of the course from Crissy Field, Aquatic Park, the Marina Green. I'll bet watching it from the Golden Gate Bridge would be pretty cool.
What do you think the future of sailing looks like? This America's Cup is a push to make sailing more appealing to a broader audience. Those of us involved are very hopeful that sailing will become a larger and better-known professional sport. Sometimes it's frustrating because we're so focused on making our sport useful commercially, but that's not the end goal. When you watch Tiger Woods or Phil Mickelson, they are making golf useful commercially. But the heart and soul of golf is not Tiger Woods and Phil Mickelson. It's those people who are waking up at 7 a.m. on a Saturday after a long week and taking an old set of clubs out to San Geronimo Golf Course. It's the same story for sailing. The important part of this sport is the kids who take their homemade boats out to Lake Merritt. What we do is just the tip of the iceberg.
Check out photos and video of the America's Cup World Series San Francisco so far below:
PHOTO GALLERY
America's Cup San Francisco
BEFORE YOU GO