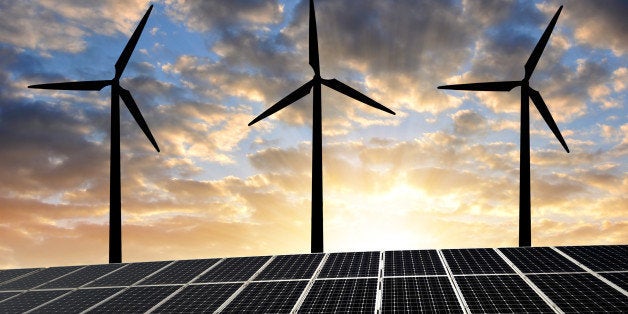 Paul Chesser, an anti-clean energy advocate who works for multiple fossil fuel-funded front groups, recently criticized technology companies for their investments in renewable energy. Chesser claims that the companies are still dependent on fossil fuels. But, companies like Apple, Google, and Amazon have invested millions of dollars to build new clean energy installations that will help transition the grid to provide more renewable energy. The reality is clear: these big technology companies recognize that clean energy sources are affordable, reliable, and make great business investments, in addition to producing environmental and public health benefits. 
In his criticism, Chesser cites Amazon's recent commitment to purchase wind energy from an installation under construction by Iberdrola Renewables in North Carolina. According to TechCrunch, Amazon estimated the facility would generate 670,000 megawatt hours annually, part of an expansion that will produce about 1.3 million megawatt hours annually for the company (enough power for about 122,000 homes). However, instead of recognizing the effort by tech companies to produce enough power to meet the demand of their data facilities, Chesser cites the fossil fuel-funded Institute for Energy Research to lambast these companies for "misleading claims."  
The biography of Paul Chesser, the author, includes a long list of fossil fuel-backed front groups in which he's currently involved, which may explain his blatant anti-renewable energy stance. He is a "special correspondent" for the Heartland Institute. The Heartland Institute is a fossil fuel-funded front group with over $800,000 in contributions from fossil fuel interests that has routinely attacked clean energy policies and the science behind climate change. Chester is also the director of "Climate Strategies Watch," which is organized by the John Locke Foundation (JLF). JLF is the primary State Policy Network member in North Carolina, and has received funding from the Kochs. Chesser is a "senior fellow" for the Commonwealth Foundation, a member of the State Policy Network in Pennsylvania that has received funding from the Kochs and dark money groups affiliated with the Koch political network. He previously ran the American Tradition Institute, now called E&E Legal Institute, that has harassed climate scientists and whose Senior Legal Fellow, Chris Horner, was recently exposed for receiving payments from Alpha Natural Resources, a now bankrupt coal company. And lastly, Chesser contributes to the fossil fuel-funded news websites, American Spectator and JLF's Carolina Journal.
Chester is correct that the specific electrons produced at the "Amazon Wind Farm US East" will not directly flow to Amazon's data centers in Virginia. However, Amazon's investment in wind power is helping to increase the amount of clean, renewable energy flowing on the grid. Additionally, this investment in wind power could avoid the need for the construction of an additional fossil fuel power plant to provide electricity for new data centers connecting to the grid.
Furthermore, companies like Apple, Google, and Amazon see the direct economic benefit for their shareholders and the companies' bottom-lines by investing in renewable energy. Google has committed $1.8 billion to renewable energy projects including wind and solar installations, according to Bloomberg Business. Earlier this year, Apple agreed to an $850 million power purchase agreement with First Solar, which will deliver power from a new facility in Monterey, California. Apple is the most valuable company in the world, and these investments in clean technology are not simply being pursued for environmental benefits – the company sees clear economic benefit from locking in the price for electricity with long-term contracts for renewable energy. 
The only problem? These investments are not a good deal for fossil fuel interests -- the same fossil fuel interests that have funded groups like Heartland Institute and John Locke and then pay Paul Chesser to make baseless attacks on renewable energy. 
REAL LIFE. REAL NEWS. REAL VOICES.
Help us tell more of the stories that matter from voices that too often remain unheard.