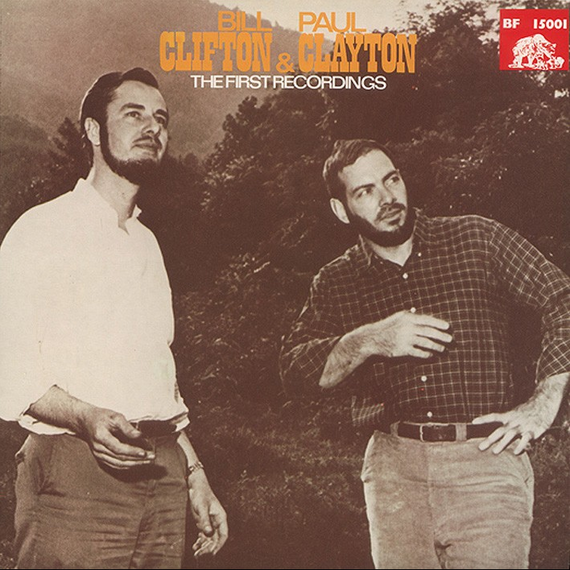 Paul Clayton (l) and Bill Clifton, Bill Clifton & Paul Clayton: The First Recordings
via Bear Family Records
Paul Clayton Worthington was born on March 3, 1931. If you don't know him, and his music, you should -- few performers have ever had a sweeter and more likeable voice, and a brighter, more liquid fingerpicking style on any instrument with strings.
Paul Worthington grew up in coastal Massachusetts, where he soaked up sea shanties and learned to play them on the guitar. As a student at the University of Virginia, he and Matthew J. Bruccoli, who would later flourish as the best-known F. Scott Fitzgerald scholar of his times, helped record and collect mountain folk songs from men - and women, like http://www.dailyprogress.com/lifestyles/voice-from-past-sang-of-a-social-time-in-history/article_de15a5f4-db94-5593-90cd-0e96a232e3c5.html and Etta Baker -- happy to pass them on in their infinite variety, and variations. Clayton began performing under his middle name at Charlottesville venues like the old Gaslight on Main Street, where family of mine in town heard him play.
Since the early 1950s, Clayton had been recording his own versions of traditional songs he'd learned, and three of his Folkways albums I grew up with and will always cherish, and keep with me. Folksongs and Ballads of Virginia and Cumberland Mountain Folksongs are my bedtime lullabies from childhood, and Foc'sle Songs and Shanties (with The Foc'sle Singers, including Dave Van Ronk) is a record that plunges you into past centuries, standing on the salt-sprayed decks of ships long sunk, singing along at the top of your lungs. Clayton's later albums, from 1958 to 1965, have particular charms. Unholy Matrimony (1958) is a series of cautionary tales about the institution, while Bobby Burns's Merry Muses of Caledonia (1958) is the dirtiest set of songs, delivered in the most good-humored and lyrical style, you will ever hear. Several of Clayton's records carry his beautiful recording of "Shenandoah," the first "Oh, Shenandoah" of which brings a lump to my throat straight away, every time. Paul Clayton: Folk Singer! (1965; rereleased by Sony, 2009) was his last album.
Forsaking his little log cabin near Crozet, Virginia (which still stands; I once spent a warm May night there, long ago) for Greenwich Village, Clayton was a popular performer in the Village folk scene during the early 1960s. He recorded a single of Woody Guthrie's "This Land is Your Land," released in 1959 with his own "Who's Gonna Buy You Ribbons (When I'm Gone)" (based on the old jail plaint "Who's Gonna Buy Your Chickens"), and put Guthrie's song on popular charts for the first time. During the most-written of years of his life, Clayton was a friend of Bob Dylan's. Dylan visited him in Virginia, road-tripped across country with him in 1963, and has credited Clayton in a 1985 interview with riffs in the melodies of "Don't Think Twice" and "Percy's Song." In his own liner notes to The Times They Are A-Changin' (1964), "11 Outlined Epitaphs," Dylan speaks of "the woven' spell of Paul Clayton / entrancin' me like China's plague / unescapeable...." Many decades later, Dylan paid a quiet and elegant tribute to Clayton, then long dead, in Chronicles Volume 1: "Clayton was unique -- elegiac, very princely -- part Yankee gentleman and part Southern rakish dandy."
Paul Clayton did not survive the 1960s. His sad last years, marked by a disappearing music career, drug use, mental illness, and crisis within himself about his own sexuality, are movingly recounted in Bob Coltman's excellent biography Paul Clayton and the Folksong Revival (2008). In March 1967, in his New York apartment, Clayton took his own life. He had just turned 36.
Clayton would be 82 today. I wonder what he would make of the Coen Brothers' Inside Llewyn Davis (2013), and Justin Timberlake playing a character who doesn't sound like, but who looks like, him. Timberlake, who, rather appallingly, thinks Clayton is "an Irish folk singer," found inspiration in a photo of Clayton. "I enjoy looking ridiculous in everyday life so that was not hard for me in the movie. I actually liked that beard." Unfacetiously, I DO like the beard.
Have yourself some fun on Clayton's birthday. Once you've listened to his songs here, buy a couple of his records. Enjoy the grin in his voice as he sings Robert Burns's entirely unsubtle "Nine Inch Will Please a Lady," the grim tragedy of "Lord Darnell," the bright picking on "Walk, Tom Wilson, Walk," and the exhilarating collective of The Foc'sle Singers on "Rio Grande." Paul Clayton is a singer whose voice never tires, nor makes you tired of it. Its pleasant middle range and great resonance make the absolute precision with which he pronounces and enunciates every word even more of a pleasure. Likewise, his playing -- whether on guitar, dulcimer, or anything else he might have in his hands -- might be folk or baroque or even jazzy, but always it is precise, with not a note askew, each clean and clear.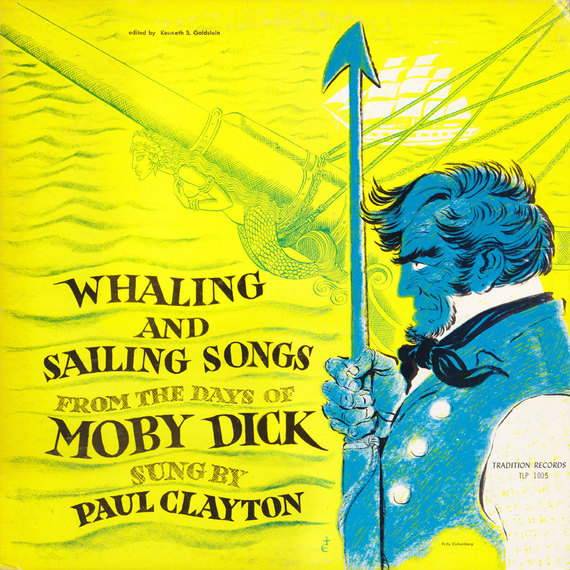 Tradition Records, 1956
© Anne Margaret Daniel 2014
Popular in the Community