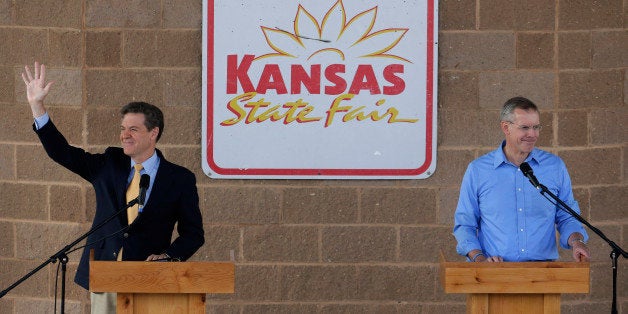 A 26-year-old man walks into a strip club with his boss. He gets up to some strip club shenanigans. While he is there, the police raid the strip club, searching for methamphetamine. The raid has nothing whatsoever to do with the man mentioned in the first sentence. Sixteen years later, the man -- after serving in the Kansas State House of Representatives for 11 years -- runs for Kansas governor against incumbent Gov. Sam Brownback (R).
The candidate, Paul Davis, said he was not arrested or charged in the incident and accused Republicans of "a desperate smear campaign."

"I was in the wrong place at the wrong time," Mr. Davis said Saturday during a meeting with campaign workers. "Nobody has ever accused me of any wrongdoing."
"When I was 26 years old, I was taken to a club by my boss — the club owner was one of our legal clients," Mr. Davis said in the statement. "While we were in the building the police showed up. I was never accused of having done anything wrong, but rather I was in the wrong place at the wrong time."
But word that Mr. Davis patronized a strip club in 1998, which was first reported Saturday in a small Kansas newspaper, could prove damning in a socially conservative state where there have been recent efforts to restrict or outlaw those businesses.
So the sort of Kansas voter that wasn't ever going to vote for Davis anyway will continue to be a sunk cost to his electoral hopes. Why did you guys run this story again?
Politico drew national attention to the report, which was published in The Coffeyville Journal, a small newspaper in southeast Kansas that publishes twice weekly.
"Now the question becomes, as an individual, is [Davis] fit to govern?" said [Kansas Republican Party Executive Director Clayton L. Barker], who added that the Democrat had revealed little about himself during the campaign and instead focused on Mr. Brownback's policies.
The dynamics of the Kansas gubernatorial race are pretty interesting, especially in light of the "fit to govern" question. See, throughout his term, Brownback has essentially had the leeway to do whatever he's wanted to do in terms of policy, and the end result has been that Brownback has made Suck Stew out of the economy. You can read more about it here and here. It's an interesting story. Sorry you didn't get it yourselves, New York Times.