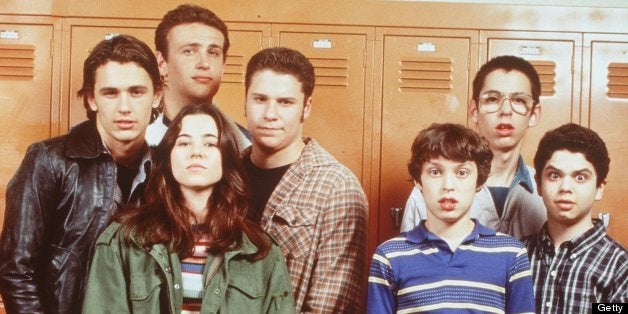 Paul Feig is now known for his work on everything from "Bridesmaids" and "The Office" to "Mad Men," but it all started with "Freaks And Geeks."
The well-known writer and director opened up about his cultural influences over the years and brought up J.D. Salinger's "Catcher In The Rye," which had a huge impact on the high school-centered comedy starring Linda Cardellini, James Franco, Jason Segel, Seth Rogen and more.
"That to me is like a sacred text," Feig told Vulture. "I can't read it that often because it sends me to a different world. When we were doing Freaks and Geeks, I bought the cast copies of 'Catcher in the Rye'. I remember giving it to James Franco and Franco rolling his eyes at me, because I was in my thirties, and he was like, 'This is Teenager 101.'"
As fond as he was of the short-lived series, which he worked on with Judd Apatow, Feig has no plans to recreate the magic.
"I've never seen a good reunion - in real life or on film," he told the LA Times. "There's always something that's wrong. Half the time, you're just thinking, 'Oh, look how old they are'."
But Rogen, who played a stoner Ken with a secret soft side, is all for a "Freaks And Geeks" reunion.
PHOTO GALLERY
TV Reunions We Want To See
Calling all HuffPost superfans!
Sign up for membership to become a founding member and help shape HuffPost's next chapter