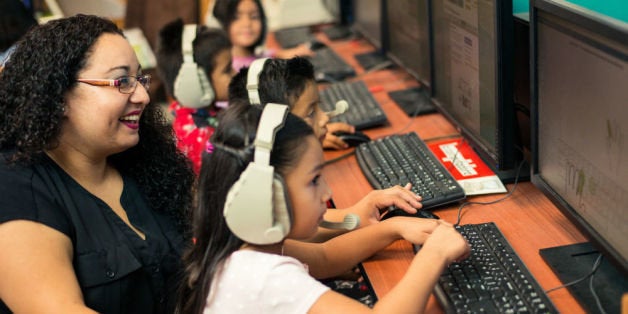 Every day, teachers are trying to inspire students, despite a lack of resources and supplies. The #BestSchoolDay funding burst is a way for everyone from philanthropic organizations like Vulcan to individual donors like you, to say to teachers in their communities, "We know how hard you're working. We want to give you your best school day, so you can give students their best school day." There are more than 17.5 million students, and the more donor participation we see on DonorsChoose.org, the more students will benefit. Today, Vulcan hopes teachers across Washington State will use this funding to create inspiring classroom experiences and help their students have the best school day ever.
When our public schools are underfunded, teachers and students pay the price. Washington State spends well below the national average in how much it spends per student, ranking 43rd in the nation. Teachers spend an average of $500 out of pocket each year on projects, supplies, trips and tools because they know students deserve to see adults investing in their educational experiences. Vulcan's education philanthropy supports innovative classroom experiences that champion creativity and help students across the country have their best school days.
Our founder Paul Allen's best school days were spent in a computer lab, and the result was Microsoft. When we give teachers the opportunity to teach with creativity and enthusiasm, we open more doors for more students to achieve their dreams. By participating in today's #BestSchoolDay flash funding, Vulcan believes students will have the chance to be inspired, and teachers will have the opportunity to offer their students a day of unforgettable learning experiences.
Vulcan is deeply invested in expanding education opportunities for students in Washington State and beyond. Our philanthropy supports innovative approaches to education, empowering teachers and helping more students reach their full potential. We believe public and private institutions should come together and support teachers' grassroots approaches to rethinking education. In 2014, Vulcan partnered with DonorsChoose.org to launch the Teach for the Planet Challenge, supporting innovative environmental and sustainable classroom projects from entrepreneurial teachers across the country. In 2015, we partnered with Getting Smart to identify 25 investment opportunities that have the potential to make a large impact in American education, and launched the Allen Distinguished Educators Program, which challenged teachers to develop innovative programs around computer science, engineering and/or entrepreneurship. By funding educators in creative ways, Vulcan hopes more students will feel inspired and more teachers encouraged, creating a stronger educational environment for all.
Dave Ferrero is the Senior Program Officer for education philanthropy at Paul G. Allen's Vulcan Inc.
This post is part of #BestSchoolDay, a national fundraising movement to ensure students have the supplies and opportunities they need to succeed. Visit here to see a map of all the classroom projects being funded and join more than 50 actors, athletes, entrepreneurs and philanthropists in supporting classrooms across America. To join the conversation on Twitter, use the hashtag #BestSchoolDay.
Calling all HuffPost superfans!
Sign up for membership to become a founding member and help shape HuffPost's next chapter