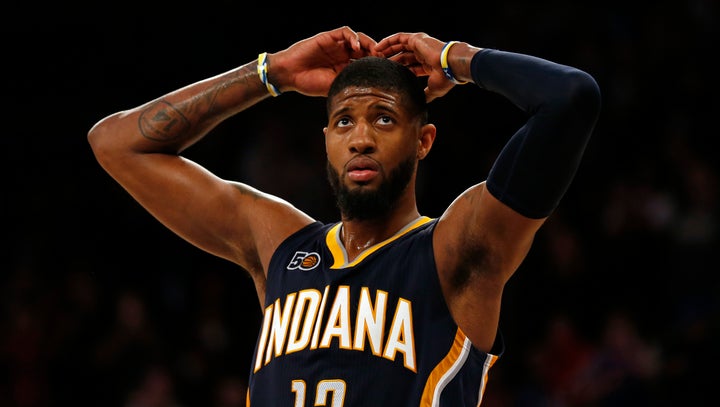 Indiana Pacers All-Star Small Forward, Paul George has one year remaining on his current contract and recently stated that he has no intention of signing again with the Pacers. He went further and specified that the Lakers were the team he wanted to play for. Making his intentions public has set into motion a series of events which will probably result in George being traded by Thursday night's NBA Draft.
The Pacers were put in a difficult position by George's comments because now the entire NBA knows that they will lose the player next off-season and receive nothing in return. This illustrates the Law of Unintended Consequences ― George believed that telling the Pacers of his plans would put the team in a better position to succeed after his exit. Instead, it becomes more problematic to keep him on the team and other franchises will not offer full value for one year of "rent a player". The Pacers may feel they have no choice but to move George and perhaps secure draft picks or veterans on Thursday in exchange. Cap space and free agency complicate any trade talks.
George averaged almost 24 points and 7 rebounds last year and will be a valuable addition to virtually any team with the cap space to afford him. Who are the likely franchises who will enter into talks:
1) Cleveland ― LeBron James acts as a quasi General Manager for that team and actively recruits the players he thinks will enhance their chance for an NBA Title. They may offer Forward Kevin Love in exchange. LeBron probably feels that once George arrives and plays a season in which the Cavaliers compete for the Championship, that they can convince him to stay. LeBron is also a free agent in 2018, but Akron is his home.
2) Lakers ― The Lakers have felt that George would finish out his last Pacer season and come to them in 2018 in free agency. If he is traded elsewhere this puts them at risk. The Lakers desperately need a superstar to put life in their franchise. They want to keep their core of young players together - Julius Randle, D'Angelo Russell, and Brandon Ingram- but they could revisit the "untouchable status". They also have the number two pick in the 2017 Draft.
3) Boston ― The Celtics have tried to trade for George before. They are loaded with draft picks with three first-round draft picks in 2018 and as many as four in 2019. They want the firepower to challenge the Cavs in the East.
4) Clippers ― They have three starters entering free agency this year―Chris Paul, Blake Griffin, and J.J. Redick. They could potentially do a sign and trade with one of their stars. The Clippers now have the greatest executive ever to arrange trades or convince players to stay, in Jerry West.
It seems likely that even with the complexities of NBA trading, that Paul George may be traded by Draft Day. It has always been a maxim that the more public a players dissatisfaction with his current situation becomes, the more unpredictable the outcome is. This is why discretion is the favored strategy lest unintended consequences follow.
Calling all HuffPost superfans!
Sign up for membership to become a founding member and help shape HuffPost's next chapter
BEFORE YOU GO