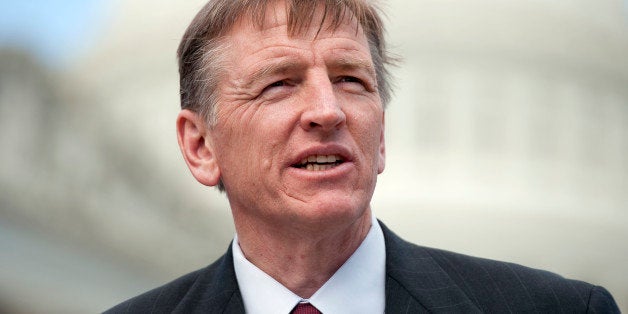 If a new bill proposed by House Republicans is any indication, drug warriors are finding it harder and harder to whip up moral outrage over marijuana use.
The legislation, according to a letter describing it obtained by HuffPost, would ban food stamps or welfare benefits from being used to pay for weed -- a largely redundant stipulation, given that pot is already illegal on the federal level.
"Current federal law prohibits TANF" -- Temporary Assistance for Needy Families, commonly known as welfare -- "benefits from being used for purchases or withdrawals at ATMs in strip clubs, liquor stores, and casinos. My commonsense bill will add all pot dispensaries nationwide to this list of prohibited locations," Rep. Paul Gosar (R-Ariz.) wrote.
Gosar is expected to introduce the No Welfare for Weed Act on Tuesday. In a Monday e-mail to House colleagues, Gosar outlined his bill's main provisions in an attempt to gain co-sponsors. Reps. Trent Franks (R-Ariz.) and Ann Kirkpatrick (D-Ariz.) have already signed onto the measure.
The No Welfare for Weed Act would ban TANF benefits from being used at marijuana dispensaries. Strip clubs, liquor stores and casinos are already prohibited from receiving such funds under federal law. The proposal would also bar Supplemental Nutrition Assistance Program (SNAP) benefits, or food stamps, from purchasing marijuana-related products, including edible weed.
"This bill is about cutting waste, fraud and abuse in the federal government," Gosar said in a statement to HuffPost on Tuesday. "Regardless of your feelings on States' Rights, 'medical' marijuana or recreational marijuana, hard-earned taxpayer money shouldn't be used for people to get high."
Gosar would not say whether he would approve of people spending their own money on marijuana.
Reps. Cory Gardner (R-Colo.), Scott Tipton (R-Colo.) and Dave Reichert (R-Wash.) have proposed a similar piece of legislation titled the Preserving Welfare for Needs Not Weed Act.
The concerted GOP hysteria over welfare abuse in pot shops comes after a Feb. report by Fox31 Denver that claimed "welfare clients used state-issued debit cards inside marijuana retail stores to collect cash at least 56 times for a total of $3,895" in one month.
BEFORE YOU GO
PHOTO GALLERY
Legal Marijuana Across The U.S.