In a statement to Deadline.com on Thursday, Deborah Rennard said she has come forward because while she has "an unwavering support for the brave women, and some men, who have come forward to speak out against sexual predators in the film business," she "cannot sit by in silence″ while Haggis "is being impugned."
Rennard was married to Haggis for 12 years starting in 1997, and she still works with him on various movie projects.
The "Crash" director is accused of raping one unidentified woman, sexually assaulting another and sexually harassing a third. In addition, Haggis' former publicist Haleigh Breest filed a $9 million lawsuit last month accusing him of raping her in 2013.
Haggis quickly filed a countersuit against Breest. Rennard said he told her he cannot directly address any charges until that case plays out in court.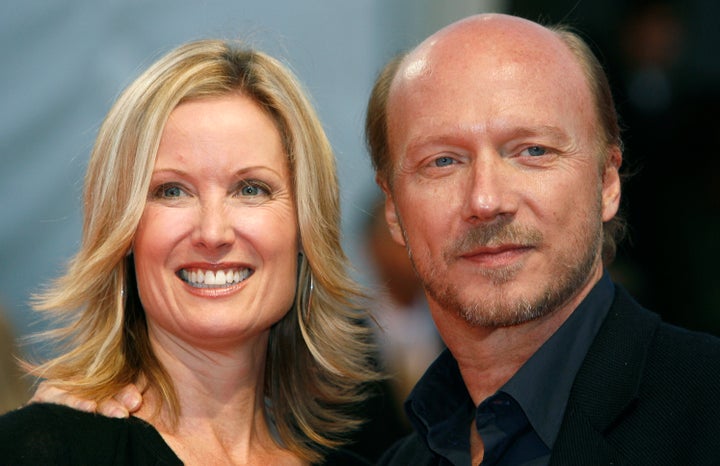 In her statement, Rennard said that her ex-husband is "not the type of man who would ever commit an act of violence or aggression against a woman."
She then attacked two of the allegations made against Haggis, including that from Breest.
Rennard claimed that at the time Breest was allegedly raped, January 2013, Haggis had just had "serious back surgery" and wore a brace under his shirt until early March. Since he had to be careful how he stood or sat, his former wife said he "was no physical condition to restrain a young woman against her will."
Rennard criticized Haggis' other accusers for not identifying themselves:
I don't know the women who are making these allegations against Paul; because they are anonymous. How is it even possible, in America in the year 2018, that someone can destroy another's reputation and not even have to give their name?
Then she focused on the allegation made by one of the anonymous accusers. That woman said she was working for Haggis as an in-house publicist when the alleged rape occurred, but Rennard said that wasn't possible:
There was no in-house "publicist" working in our offices – I would know, I had the office adjacent to Paul's. We frequently worked late, and I always stayed with Paul and we always left together. Although we were not yet married, we were living together, and together we would make the half hour drive home. Every morning. Every night.
Deadline said it was printing Rennard's letter because "it seems fair to allow voices from both sides to be heard."
Popular in the Community