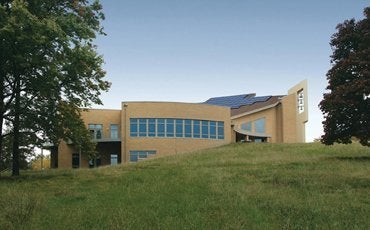 Paul Hoffman has made something of a niche business building buildings that serve the community. Instead of skyscrapers or department stores, Hoffman specializes in constructing YMCAs, religious buildings, health-care clinics, and schools. In other words, he builds the backdrops that are known as Americana, the type of places Norman Rockwell would have felt comfortable painting. And it's quite possible Rockwell may have done just that at some point -- Hoffman LLC is a fifth-generation business that's been around since 1892.
But it's his company's latest project, the Holy Wisdom Monastery, that has been generating rave reviews. The facility is now the greenest monastery in the nation, and was designed to eventually generate 100 percent of the energy needed for its operation, meaning its carbon footprint will be zero.
"We weren't aware that we were going to build a monastery that has the highest platinum rating" -- a high Leadership in Energy and Environmental Design score from the U.S. Green Building Council -- says Sister Mary David Walgenbach, the monastery's prioress, and one of the three nuns who worked closely with Hoffman. "But it was very important to us to build this in a way that would take care of the Earth and use less energy."
Hoffman is quick to praise the sisters' vision -- and points out that sustainable buildings generally do not cost more to build or operate, despite a popular misconception. It's something, he says, that every entrepreneur today should consider.
So is this the first monastery that you've built?
Well, we've worked with 25 women's religious orders, like the Congregation of Sisters of St. Agnes Motherhouse in Fond du Lac, Wis., the Holy Cross Sisters Office in Merill, Wis., and the Sisters of the Humility of Mary in Villa Maria, Pa. But there's been no other project quite as unique and as worthy of attention as this project has been, because of the multifaceted storyline. If you think about it, three nuns choosing to do something very ambitious and forward-thinking, and then to be able not only to achieve a high sustainable rating -- the highest possible for any new construction -- and to do it for a very low cost with a building that's only 30,000 square feet.... I wish I could take credit for all the great decisions that were made, but when we started off, we started with relatively simple criteria for decision-making that were developed by the sisters.
And what are some of the energy-efficient highlights you're proud of?
Prior to building this, we had to tear down the old structure -- a 60,000-square-foot, five-story building -- and 99.75 percent of that building and all the construction waste on the product was recycled and reused and diverted from the landfill. Forty percent of all landfill comes from construction waste, so if you think of being able to divert all but 0.25 percent of that from the landfill, and if that could be done on a consistent basis, think what an impact that would have for the world. You have to build a discipline within your workers, though, and one of the tricks we've learned over the years is that the dumpster, where the materials go to the landfill, has to be placed at the absolute farthest point that it can be from the building, and all of the recyclable containers should be near the building.
Now, as for some of the exciting things with the monastery, the windows provide ample natural light to 85 percent of the regularly occupied spaces. It's very uplifting as you walk into the building -- there's a lot of spaciousness and natural light, and many of the windows are operable to provide natural ventilation and reduce the need for air conditioning. Four rain barrels collect and store water for plant care, and there are two rain gardens. Bamboo, which is a rapidly renewable resource, was used for the flooring in the assembly, gathering and dining rooms, and for the ceiling of the oratory and meditation chapel. It's kind of like walking into nature, in a very refined and beautiful way, and the courage the sisters had to do this.
The sisters took a big risk in some ways, starting this project around the time that the stock market took a nosedive. Sister Mary David said that this was a very green project in a very red economy, and I think the courage to make that decision was very important. Which isn't to say that this cost more than a non-green building would have.
Really? Isn't the conventional wisdom that it costs substantially more to build a "green" building, in part because so many alternative energy methods aren't being mass produced?
It's really a myth that it costs more to be sustainable. The problem is that most people don't have the knowledge to know the difference between cost-effective sustainable solutions and solutions that aren't cost-effective. So if I were going to give advice to any business owners who want a sustainable, energy-efficient building, I'd say that you really should do your homework to understand a builder's track record and approach to sustainability solutions -- and I'm not talking about just the process, but also the results. When we look at a project, I don't care what it is, we ask how your business is going to be better when you're done than when you started. And if we don't have the answer to that question, we'll talk people out of projects. It's tough to say no to anything in this economy, but we pay a great attention to financial feasibility.
Name: Paul Hoffman Company: Hoffman LLC Age: 56 Location: Appleton, Wis. Founded: 1892 Employees: 53 2010 Projected Revenue: $155 million in contracts, so far Website: www.hoffman.net
The original version of this article appeared on AOL Small Business on 5/26/10.
Calling all HuffPost superfans!
Sign up for membership to become a founding member and help shape HuffPost's next chapter