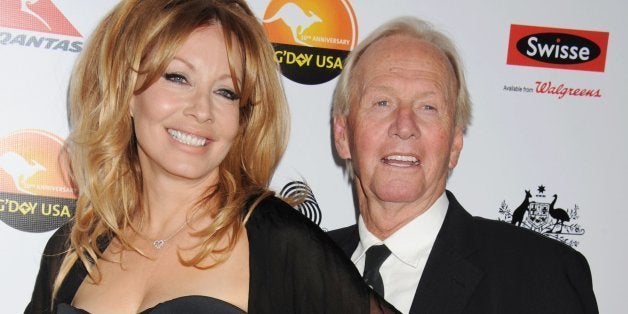 The pair met while co-starring in the 1986 action-comedy "Crocodile Dundee," for which Hogan is best known. And despite their 23 years of marriage, Hogan's wife has now filed for divorce, reportedly citing "irreconcilable differences" as her reason for the split. Just earlier this year the couple was photographed at a red carpet gala event looking quite in love, but what goes on behind the scenes of celebrities' lives is often more than a photograph can capture.
Linda Hogan plans to revert to her maiden name, Kozlowski, and will also petition for spousal support, as well as joint legal and physical custody of the pair's 15-year-old son, Chance. Keep in mind that Hogan's reported net assets amount to roughly $20 million, amassed over a four decade career both in the U.S. and in his native Australia. If the separation goes smoothly, both he and Kozlowski will be well taken care of in the years to come.
Some will remember that Hogan married his "Crocodile Dundee" co-star in the aftermath of what was reported to be Australia's "ugliest celeb divorce." It was rumored that Hogan cheated on his first wife, Noelene Edwards, whom he had first married in 1958, then divorced, then re-married in 1981. (The couple had five children together.) But in an archived article from People magazine, published shortly after the release of "Crocodile Dundee II", Hogan denied having any intimate relationship with Kozlowski, saying, "Unfortunately, we're not hot and heavy." And referring to his then-wife Edwards, Hogan insisted, "We're so much a family."
It is unclear whether Hogan was evading the topic or speaking honestly, but "hot and heavy" is exactly what he and Kozlowski became. At 74, Hogan is once more a single man, practically for the first time since he was 18. Only time will tell what the Crocodile gets up to next.

BEFORE YOU GO
PHOTO GALLERY
Celebrity Splits