Bay Area fans of organ concerts feel a sense of celebration whenever Paul Jacobs is in town. The best of The Best is back. This coming Sunday afternoon at Davies Symphony Hall, Mr. Jacobs will be working the magnificent Ruffatti organ through an Olympian program that includes Bach's Sinfonia to Cantata No. 29, followed by Mozart's Andante in F major for Mechanical Organ, the Organ Sonata No. 1 in D minor by Alexandre Guilmant, and culminating with Max Reger's Introduction, Variations, and Fugue on an Original Theme. It is Reger's ultimate composition for the organ -- the kind that rattles a flying buttress or can blow the roof off. According to Paul, it's like looking at Mount Everest.
I've possessed a desire for several years to study this composition and bring it to audiences. Reger demands so much from the performer -- technically as well as interpretively. In the past, that's what has been so off-putting to musicians. And not just to his organ work, but to all of his compositions. In this work, the fugue is intensely demanding. For the variations, just reading the notes on the page is a feat in itself -- all the accidentals, the thick chords, etc. There are constant contrasts of the complex and the simple. There are moments when Reger is on the verge of atonality. Though he never quite crosses the line, he is just bursting at the seams. In the next variation, he brings the listener back to something comfortable and tonal and voluptuous.
Paul will open the program with Bach's Sinfonia from Cantata No. 29, Wir danken dir, Gott, wir danken dir ("We thank you, God. We thank you"). In its entirety, Cantata No. 29 shimmers with four stellar arias, a full choir and an instrumental ensemble boasting three trumpets. Bach's decision to add an introduction by solo organ would not have gone unnoticed -- especially one as animated and jubilant as this. The Cantata was created in 1731 to celebrate the inauguration of newly-elected members to the Leipzig Town Council. For some of the attendants at Saint Nicholas Church, the Sinfonia might have suggested that Heaven itself had influenced the election results.
"I hope that it will lure the listener into the program," said Paul,
and set the right tone. It is the first movement to a larger work and has that sense of celebration about it. It will set up nicely what is to follow -- the Mozart Andante, which is much more intimate in character, and conclude with the Guilmant Sonata before we take a break and come back with the Reger -- which is demanding of the organist, to be sure, as well as the audience. But that should not frighten people away. Because love is demanding! That's how I look at it. Love implies a sense of responsibility and obligation, of searching and digging. That's what Reger is doing.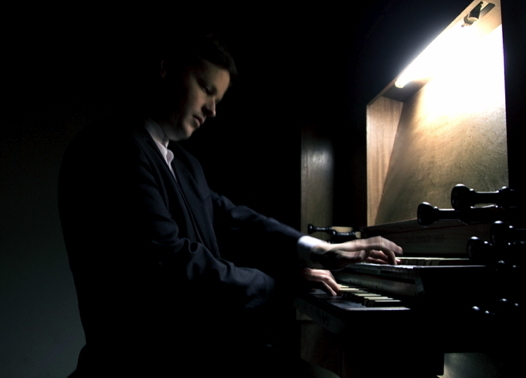 PAUL JACOBS. Photo, Felix Broede
Even organists don't know this work exists, partly because it is so wickedly difficult. It's been criticized as being unplayable, wild and crazy. There is more black ink on the paper than white space! One critic said that if the listener did not have either a score in hand or knowledge of the work -- God help him. I have a different take on it. I came to the music through the performance of one of my students at the time, Isabelle Demers who has also performed at Davies. She brought the work into one of her lessons. I was spellbound by its creativity, color and passion. These words are so frequently used to describe music. I wish I were a poet and could conjure up other adjectives to describe it. Reger is really after passion and emotion. He was an arch romantic, concerned with red-blooded music making. The work is about 35 minutes. I believe it was his first crack at the large scale 'theme and variation' form. What came from that in years ahead were his Bach Variations, the Mozart Variations for Orchestra, and the Variations and Fugue on a Theme of Telemann. Reger took this genre to another level. Few composers since Bach have been able to create such strong emotional effects through fugal writing. Certainly there were capable fugue writers throughout history, but Reger was really after the emotive power. Because the fugue is one of the most disciplined of musical genres, it's very easy to become a bit academic when writing one. Reger's fugues always dance and play and sing.
Mozart's Andante in F major is the last of his eight organ compositions -- and not exactly for an organ, but a mechanical device known as a "fluteclock." Composed in the last year of his life, the work was a commission, an offer which the indebted Mozart could not refuse. Also known as a "clockwork organ," these extremely clever novelties came in a range of sizes, played throughout the day, and jump-started many a parlor exchange. Although Mozart resented the assignment, he would have been delighted at the Andante's many subsequent transcriptions for full organ, piano, and wind ensembles, plus the fact that there are over forty successful recordings of it available on-line right now. With his extensive knowledge of the Ruffatti at Davies, I asked Paul how he would treat this perfectly sweet work.
The flute clocks were marvels of engineering for the period. Some of them could be quite large pieces of furniture. They possessed tiny wooden pipes that we know Mozart was not fond of. The piece can have a variety of tone color, but must reflect the spirit and essence of the music -- which is charming and joyful. So, it can't be heavy or overbearing. I also don't believe it has to be limited to a single stop or two. Some organists might say that if you want to be authentic about it, then you have to play it on limited tonal resources. I believe that one can still honor the spirit and essence of the music through a kaleidoscope of color.
Composer Alexandre Guilmant not only generated an enormous amount of music for the organ but was a bonafide showman. For nearly three decades he was the organist at Sainte-Trinité in Paris, being inspired and motivated by its majestic instrument built by Aristide Cavaillé-Coll. In 1904, Guilmant toured the U.S. with a schedule that included over forty concerts. His Sonata No. 1 in D minor is a true crowd-pleaser, loaded with fireworks and most certainly would have appealed to American tastes.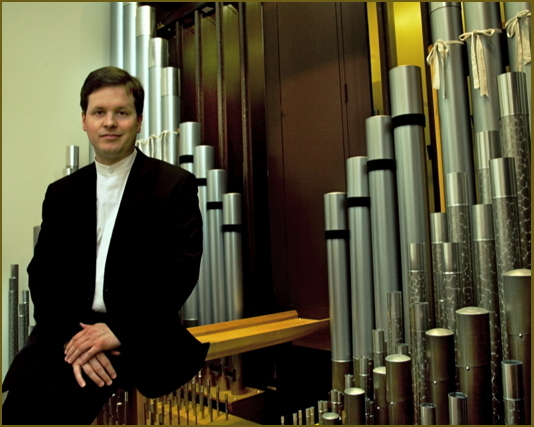 PAUL JACOBS. Photo, Felix Broede
I won't have a day off until March 23! It's a particularly intense period of touring and teaching. But all of the activity is exciting to me. The only downside is the traveling and flying. I adore the destinations and the people, but the getting-to the airport is not getting any more pleasant. But, I'm a defender and a proponent of music which is so often ignored and neglected -- even by those who profess a love of music. Organ literature is not always a part of the mainstream of classical music -- whatever that means -- let alone the culture at large. I'm convinced, without a shadow of a doubt, that this great music has tremendous power and impact and relevance to our current age. It is often a very sad thought to recognize that it's not always given its due. On the other hand, I believe in fighting the good fight. The music that has passed through my being - that I study and am devoted to -- gives me that energy to want to connect with all of humanity really, in a joyful and loving way.